#1: The HP Elitebook 745 G2 (Kaveri, A10 PRO-7350B)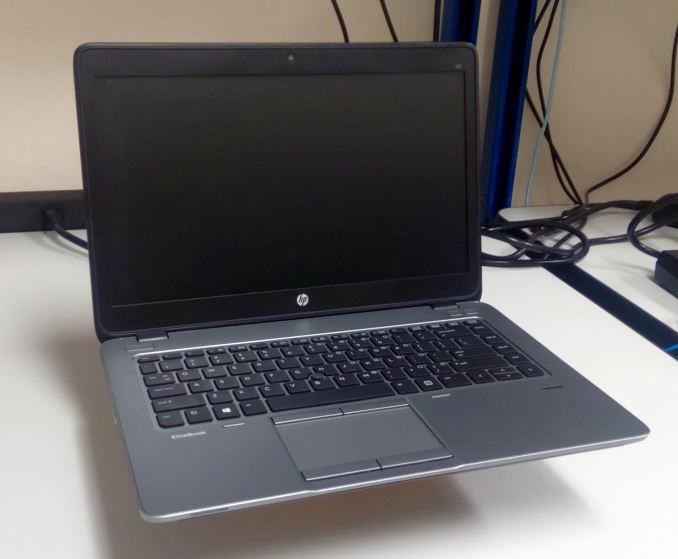 The Kaveri system chosen was selected as a pinnacle system – one of the best 19W Kaveri devices currently on sale. This is an A10 PRO-7350B system, which translates as a dual module/quad thread processor with a base frequency of 2.1 GHz and a turbo mode up to 3.3 GHz. The APU contains integrated 'R6' level graphics based on GCN 1.1, for 384 streaming processors at a frequency of 533 MHz. The 1600x900 TN display was certainly nothing to write home about, but unlike some other devices in this test it came with a 256GB SSD and is strangely enough the only device in our test with dual channel memory (2x4GB, DDR3-1600 C11). This memory aspect is one we're going to revisit a fair bit as it explains a significant angle surrounding the binary decisions that AMD has to make in a platform.
HP Elitebook 745 G2 (Kaveri) Specifications
Size and Resolution
14-inch, 1600x900 TN
Processor
AMD A10 PRO-7350B
Dual module, 4 threads
2.1 GHz Base Frequency
3.3 GHz Turbo Frequency
Graphics
Integrated R6
384 Shader Cores
553 MHz maximum frequency
GCN 1.1
TDP
19W
Memory
8 GB in Dual Channel Operation
2 x 4GB at DDR3L-1600 C11
2 SO-DIMM Slots
Storage
256GB SSD
Battery Size
50.27 Wh
3 cell Li-Po design, rated to 10.25 hours
WiFi
Broadcom 802.11n 1x1
Optical Drive
No
Dimensions
33.9 cm x 23.7 cm x 2.1 cm
Weight
1.7 kg
Webcam
1280x720
Other Features
Gigabit Ethernet
4 x USB 3.0
DisplayPort
VGA
Smart Card Reader
Operating System
Windows 8.1
Website Link
link
The Wi-Fi on hand in the G2 was a single stream Broadcom 802.11n solution, which is broadly disappointing. A remark I will probably make several times in this piece is that if I can get 2x2 802.11ac on a sub-$150 motherboard, why is it not in a laptop >$600? A positive on the battery life side is that the G2 had the biggest battery out of all the devices we tested, coming in at 50.274 Wh, although unfortunately our battery life test failed and we ran out of time to run another.
As for the device itself, the HP Elitebook line is typically focused on premium business customers, and comes in as one of the more stylish elements this field, relying on an aluminium clamshell and a polished design to set the tone. HP is one of AMD's top tier partners for laptops, which is in itself somewhat surprising perhaps, but most of their business is in the professional line. This means features such as a VGA port and a fingerprint sensor come standard.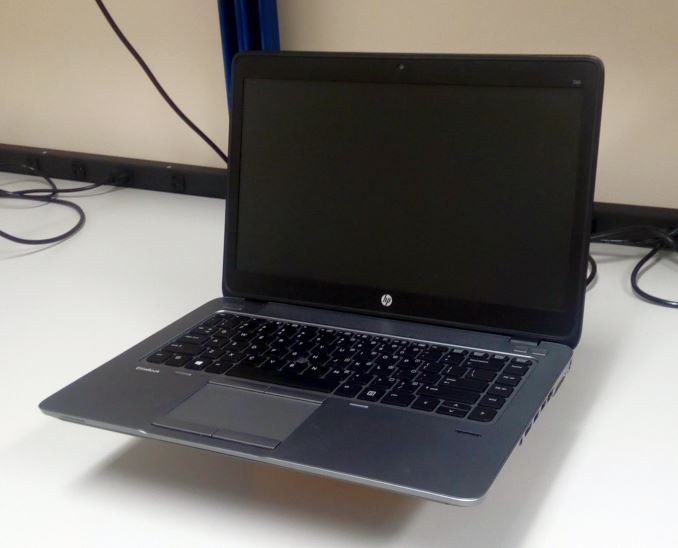 It certainly does not look out of place in any meeting room or on a flight. The bezel around the display is noticeable but not too large, with a 720p webcam at the top.
On the sides we get a total of four USB 3.0 ports, and a DisplayPort to compliment the VGA. To fit with some business use, the smart card reader is on the left, as well as the docking port on the right hand side between the circular power cable and the Ethernet port. The Ethernet port is interesting, given that in the 'thin is best' mantra for laptops an Ethernet port is quite bulky, so many devices eschew them all together and provide a USB-to-Ethernet adaptor. But instead we have an expanding Ethernet port which makes room for the RJ-45 connector. It saves having to remember another cable in the work bag.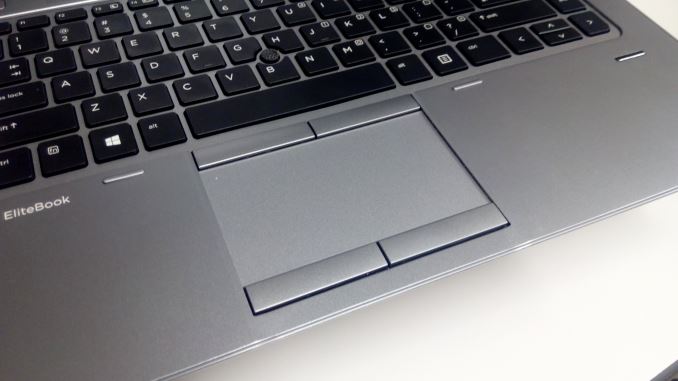 Mouse movement comes from both a trackpad and a nub in the center of the keyboard, with each having a mix and match set of left and right mouse buttons. Personally, using the trackpad during testing was a nightmare as it was not particularly responsive, requiring exertion and exaggeration to get the cursor to move, meaning for most of the time a mouse was plugged in anyway. Technically this G2 sample is actually an old one from stock, perhaps suggesting it has been 'lightly used'. This is shown by the front of the device.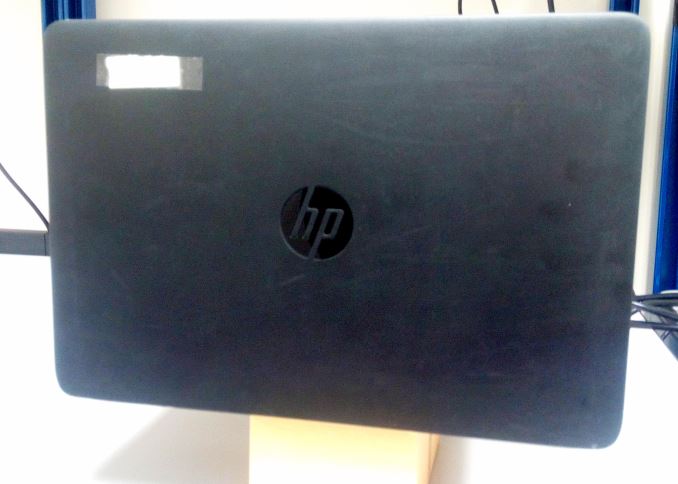 Even a bad camera can't hide some scratches. Then again, a number of business devices are held in pouches to save from scrapes, perhaps belying the 'we kept this in a stack of other laptops that could scratch it' mantra.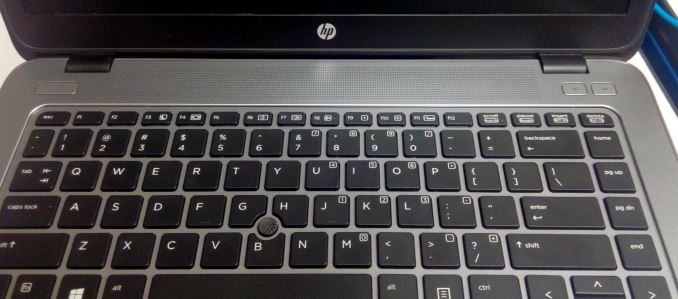 The keyboard was a little different to what I am used to, with odd half-height up and down arrows as well as having the home/end and page up/down keys on the right hand side. There are a couple of immediate second function keys, including the Wi-Fi and Mute buttons on the top right next to the speaker (and also right next to the delete key). The power button on the top left is near the escape key, and in a week I hit it at least twice by accident.
The full aluminium design of the clamshell bodes well for cooling, although there is only a single vent on the left hand side for an exhaust. Depending on the power of the fan, and corresponding heat soak, performance may be temperature affected in the long run.
HP Elitebook 745 G2 Specific Testing
With i1Display Pro colorimeter on hand (sorry, we didn't have a spectrophotometer for more accurate color measurements), the G2 display running at 1600x900 with a TN panel came very low on our scoring. The high brightness was low (267 nits), and the low brightness was high (1.69 nits), giving an overall contrast ratio of 157. On the plus side, one could argue that the white point, at 6476K, was pretty good.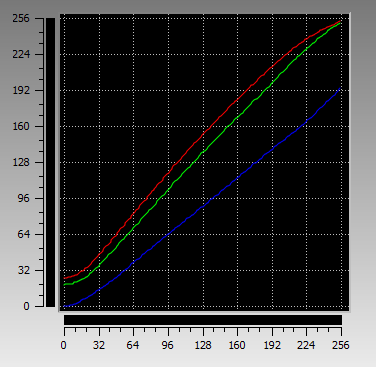 The color displacement in the calibrated display showed blue was way, way off what it should have been. Both red and green at low settings were also off target, with green having the best default line.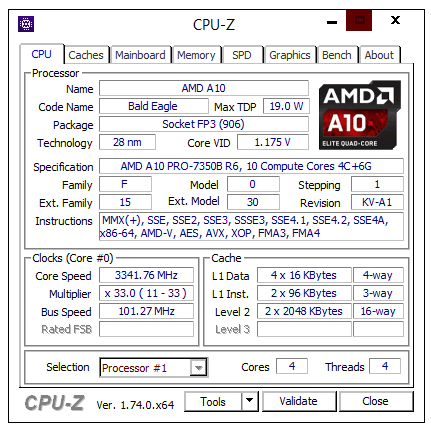 Here is the A10 PRO APU, showing the 19W TDP in the Bald Eagle platform. Kaveri and Carrizo are still both on 28nm, and it's worth noting that these chips do not have any L3 cache but a super-associative 16-way L2 cache to reduce cache misses.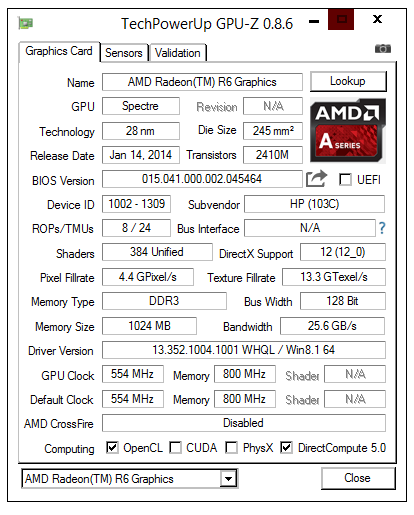 The G2 graphics are integrated into the APU, showing here the link to DDR3 memory at 25.6 GB/s (that's dual channel, DDR3-1600 C11) for 384 streaming processors. This falls under the Spectre code name, and is DX12_0 compatible with the right OS and drivers.