Battery Life
The name LG X Power can be interpreted in two ways. You might think that it means the phone is very powerful, or you might think that it has a massive battery. Of course, it could be both, but the phone would probably cost a bit more than $130 if that were the case. In the case of the LG X Power the name does refer to its battery, which comes in at a massive 15.58Wh. This is much larger than many phones that are actually thicker, larger, and heavier than the LG X Power, and I discussed in the previous section the likely reasons why LG was able to fit such a large battery into the phone.
It won't be surprising if the LG X Power outlasts every other device that I compare it to, but I did want to preface the review with our battery life tests instead of performance tests. I believe that the LG X Power's appeal will be to users who need an exceptionally long period of usage on a single charge, but it's not immediately clear based on the battery capacity alone how much longer the LG X Power can last than competing devices. The battery life advantage will have to be balanced against any potential disadvantages that the LG X Power provides, and so it makes the most sense to start off with the battery results before examining other aspects like performance, display, and camera quality.
As always, I'll begin with our internal web browsing battery test, followed by PCMark's battery test. Normally I would also include our GFXBench Manhattan ES 3.1 battery benchmark, but the LG X Power's GPU and drivers do not support OpenGL ES 3.1 which prevented me from running it.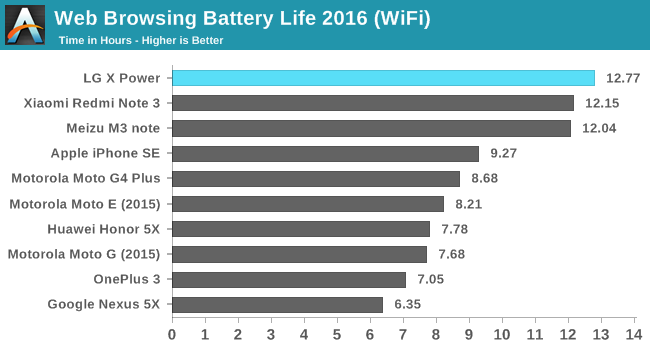 In our WiFi web browsing battery test the LG X Power comes in at the top of the chart. At 12.77 hours it lasts much longer than most mid-range devices like the Moto G4 and the iPhone SE. When compared to devices of similar battery capacity like the Xiaomi Redmi Note 3 and the Meizu M3 note you can see that it only lasts a bit longer. This is important to note because while the LG X Power is a smaller and lighter device than either of those, it's not a great deal smaller, and it doesn't compare very favorably as far as specifications are concerned either.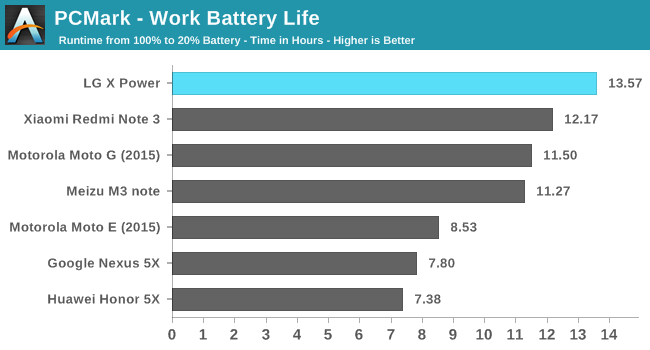 In PCMark's battery test the LG X Power continues its lead over the other smartphones. In this case the gap between it and the competition from Xiaomi and Meizu is much more significant, and PCMark is a good representation of the usage that a device can provide on a single battery charge, so this is arguably a more important test for the LG X Power to excel in than the web browsing test. In the following section it will also be important to make note of how the LG X Power performs in PCMark compared to those phones.
As expected, the LG X Power does well in our battery benchmarks. It would be hard to do anything else when you pair a 15.58Wh battery with fairly humble hardware, but we've seen stranger things happen with mobile devices. I don't really have much else to say here except that the phone definitely lives up to its name.
Charge Time
Smartphone charge time has been an issue in the past for mid-range smartphones. In some cases I've received chargers that aren't even your standard 5W blocks, and some were only half that at 2.5W. Thankfully we've seemingly moved past that time, and even though the LG X Power packs such a large battery one would hope that the time to charge it isn't extensive.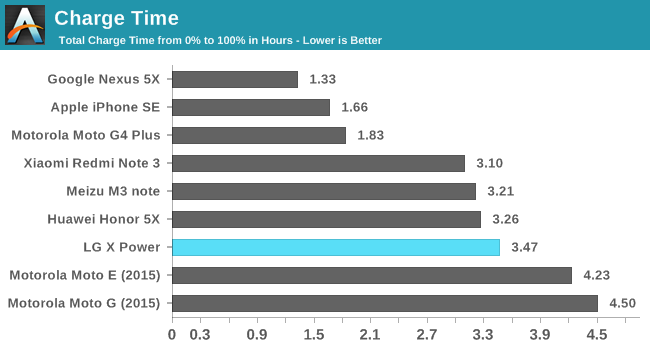 With its stock charger, the LG X Power takes about three and a half hours to go from 0 to 100% charge. Considering the size of its battery, this isn't a bad result, although the Meizu M3 note and Xiaomi Redmi Note 3 both charge a bit quicker. Given the fact that LG's charge time is similar to the Honor 5X which has a 25% smaller battery capacity there's not really anything to complain about.