Construction
The drive came with a fairly decent bundle of media and documentation.
Dantz Retrospect (Demo), Roxio DVDMax Player, Easy CD & DVD Creator 6 and one DVD+R are included in the box. Typically, we favor Nero over Roxio in terms of bundled burnware, but the contents were acceptable. Undoubtedly, ASUS' DRW-040P/D and Gigabyte's W0404A both come with far better bundles. One CD+R seemed kind of weak too, as most of our combo drives at least come with one DVD+R and one DVD-R. Fortunately for Plextor, there are a lot of things they are better at than bundling media.
The included documentation was excellent. However, it is clear that ASUS, Pioneer and NEC have a little more experience with "short and sweet" type documentation. One interesting item we found was that Plextor's 60-page manual continued to misidentify DVD-R as "DVD minus R" (it's "DVD dash R", according to the DVD-R forum).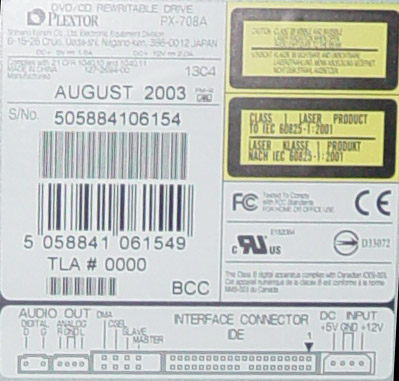 Click to enlarge.
Compared to some of the other DVDR drives on the market, the 708A deserves an award for design. Most noticeable is the black stripe in the front of the unit. Ejecting the tray reveals that the inner contents of the unit are black. While it might be a stretch, the 708A manual claims that the tray components are black to reduce optical distortion on the read lasers.

Similar to the Pioneer A06, Plextor cut a few holes in the rear of the unit for exhaust.