Introduction and Construction
We have looked at several optical drives from MSI in the past. After all, MSI is still one of the largest optical storage OEMs.
Today, we got our hands on MSI's best DVD recorder to date, the DR8-A. At first, we overlooked the DR8-A, thinking it was just an update on the DR4-A. The DR4-A received mild reviews and did not stir much excitement. As it turns out, the DR8-A is a very capable and potent burner that still has some life in it, particularly for those who favor the DVD+R medium. Does the DR8-A have what it takes to be a low cost equivalent of the Plextor 708A?
MSI bundled the same media package with the DR8-A as it bundled with the DR4-A. Nero Burning ROM 5.5, Sonic MyDVD, PowerDVD and one blank DVD+R were included.
Again
, we have to be slightly critical of MSI for including only a 1-page quick help guide for documentation. MSI's website is very helpful and easy to find information, but clean, concise manuals will always trump online documentation.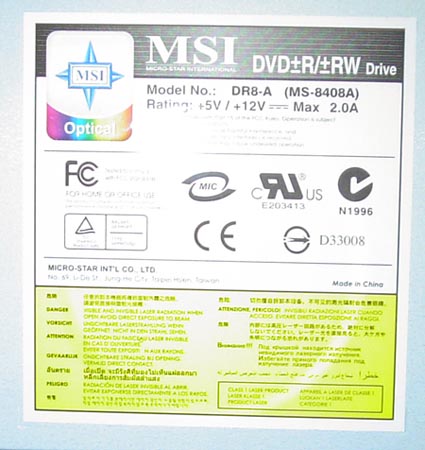 Click to enlarge.
Asthetically, the DR8-A looks identical to the MSI DR4-A. The drive includes a play/fast forward button and an eject/stop button. Many of our favorite drives, including the Plextor 708A, do not have this capability. However, as we will soon see, the internals of the DR8-A have changed significantly.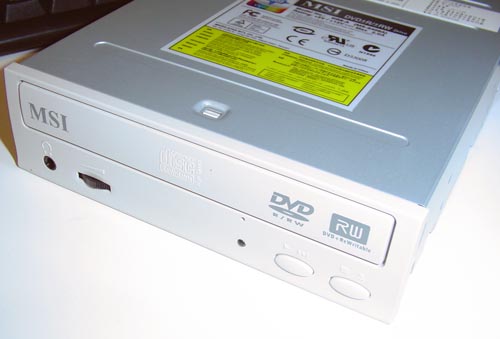 Click to enlarge.
There is no rear cutout for fan or exhaust. The components that MSI chose for the DR8-A are mature enough to function only on passive cooling.
Much to our surprise, after disassembling the MSI DR8-A, we discovered the drive is based on the same Sanyo LC897490 chipset found in the Plextor 708A.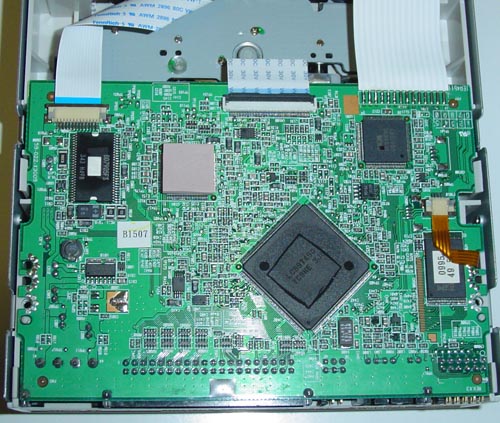 Click to enlarge.