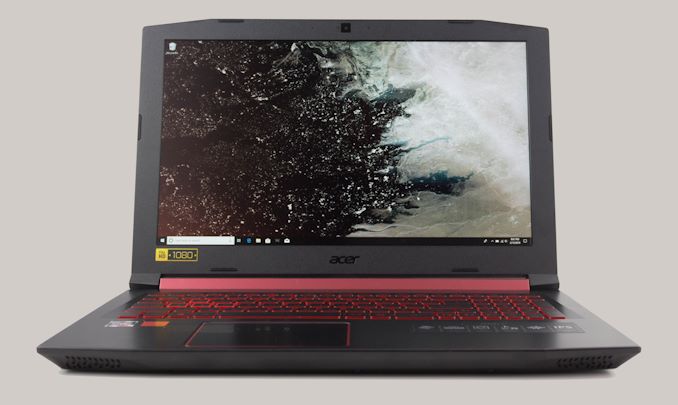 In the last year we've taken a look at a couple AMD Ryzen APU-powered (Raven Ridge) laptops, and while these laptops have had their ups and downs in terms of battery life, one area where AMD has never shied away from is total performance. Even in a mobile form factor, the Zen architecture is fast. And in AMD's APUs, this also gets paired with AMD's highly capable integrated Vega iGPU.
Overall a performant combination, a single APU is still at times limited – if not by its own innate performance than by the clockspeeds and total throughput the low-TDP part can sustain. So what do you if you need more performance, particularly GPU performance? As always, you go the tried and true route: you add a discrete GPU. Acer has done just this with their Nitro 5 laptop, which in the case of the model we're looking at today, pairs up a Ryzen APU with a Radeon RX 560X GPU in order to produce a thrifty, entry-level gaming laptop.
All told, the Acer Nitro 5 is one of the least expensive ways to get into laptop gaming. Acer offers several models, with the lowest cost offering coming in at just $669.99 MSRP, while the top of this range capping out at $999.99. Regardless of the price range you are looking at, all of the Acer Nitro 5 models offer pretty reasonable feature set, with a dGPU at least 8 GB of RAM, and other than the lowest-priced tiers, SSD storage as well. There's a lot of laptop here for the price, and Acer has options for this entire end of the market with the Nitro 5.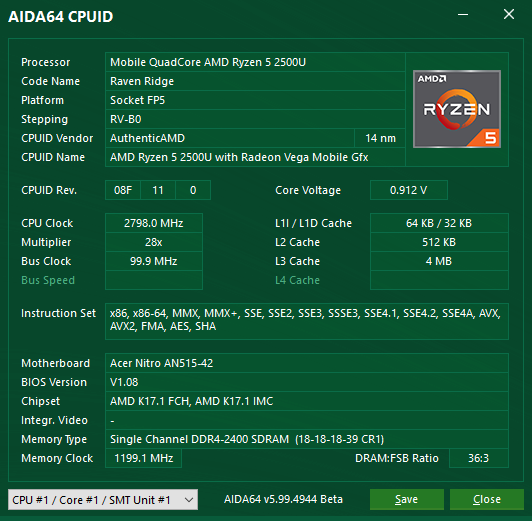 The Nitro 5 can be had with either AMD or Intel offerings on the CPU, and AMD and NVIDIA GPU offerings as well, which is rare to see. AMD sent us the Nitro 5 AN515-42-R5GT model, featuring an AMD Ryzen 5 2500U processor, and the AMD Radeon RX 560X GPU, coupled with 8 GB of DDR4 and a 256 GB SSD. The AN515-42 also comes in a slightly less expensive model which foregoes the SSD for a 1 TB HDD. With the size of today's games that might be tempting, but the everyday performance benefits of the SSD mean that it should be the default choice, especially since you can add the HDD later if necessary without having to reinstall the OS.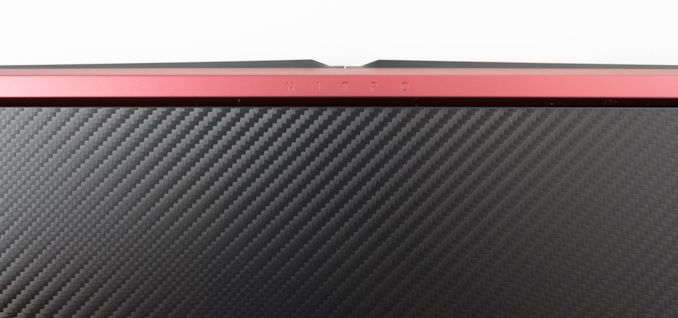 The dGPU coupled with the Ryzen CPU is the AMD Radeon RX 560X, which launched in April 2018. AMD hasn't had a lot of traction in the laptop gaming market, and although they've moved to their latest Vega architecture on the desktop and integrated with Ryzen, the RX 560X is based on Polaris 11, built on Global Foundries' 14nm node, and offering 16 CUs / 1024 Stream Processors coupled with 4 GB of GDDR5 in the Acer Nitro 5. Despite being an older architecture than the Vega GPU integrated with the Rzyen 5 2500U, there's far more GPU available, so it's still a significant boost in gaming performance over the integrated model.
Acer Nitro 5 - Model Tested AN515-42-R5GT
Models
AN515-42 Ryzen 5 2500U RX 560X
AN515-53 i5-8300H GTX 1050
AN515-53 i5-8300H GTX 1050 Ti
AN515-53 i7-8750H GTX 1050 Ti
CPU
AMD Ryzen 5 2500U
4C / 8T 2.0 - 3.6 GHz
4MB Cache
15W Nominal TDP
12-25W Configurable TDP
Intel Core i5-8300H
4C / 8T 2.3 - 4.0 GHz
8MB Cache
45W Nominal TDP
35W Configurable TDP
Intel Core i5-8300H
4C / 8T 2.3 - 4.0 GHz
8MB Cache
45W Nominal TDP
35W Configurable TDP
Intel Core i7-8750H
6C / 12T 2.2 - 4.1 GHz
9MB Cache
45W Nominal TDP
35W Configurable TDP
GPU
AMD Radeon RX 560X
1024 SP / 16 CU
16 ROPs
1275 MHz
4GB GDDR5 7Gbps
Polaris 11
NVIDIA GTX 1050
640 CUDA Cores
16 ROPs
1493 MHz
4GB GDDR5 7Gbps
GP107
NVIDIA GTX 1050 Ti
768 CUDA Cores
32 ROPs
1620 MHz
4GB GDDR5 7Gbps
GP107
NVIDIA GTX 1050 Ti
768 CUDA Cores
32 ROPs
1620 MHz
4GB GDDR5 7Gbps
GP107
RAM
8GB Single Channel
Two SO-DIMM Slots
8GB Single Channel
Two SO-DIMM Slots
8GB Single Channel
Two SO-DIMM Slots
8GB - 12GB
Two SO-DIMM Slots
Display
15.6" 1920x1080 IPS
Acer ComfyView
Storage
1 TB HDD (AN515-42-R5ED)
256 GB SATA SSD (AN515-45-R5GT)
1 TB HDD
256 GB SATA SSD
1 TB HDD + 16 GB Optane (AN515-53-70AQ)
128 GB SSD + 1 TB HDD (AN515-53-7366)
Network
802.11ac 2x2:2
Gigabit Ethernet
I/O
1 x USB 3.1 Gen 1 Type-C
1 x USB 3.0
2 x USB 2.0
HDMI
SD Reader
Headset Jack
Battery
47 Wh Li-Ion
135W AC Adapter
Dimensions
391 x 267 x 28 mm
15.4 x 10.5 x 1.1 inches
Weight
2.7 Kg / 5.95 lbs
MSRP
$669.99
AN515-42-R5ED
$699.99
AN515-42-R5GT
$749.99
$849.99
$949.99
AN515-53-70AQ
$999.99
AN515-53-7366
The 15.6-inch laptop does offer a 1920x1080 IPS display, which is great to see, since gaming laptops can tend to gravitate to TN panels. These are useful if you want a high refresh rate, but are much less useful the rest of the time. The 8 GB of DDR4 is unfortunately single-channel, but this is less of an issue on this machine because the dGPU has its own 128-bit GDDR5 memory pool. The upside is that the RAM is also upgradeable and easy to access.
Wireless in the AMD version is based on the Qualcomm Atheros 2x2 802.11ac adapter, and the laptop offers plenty of I/O with two USB 2.0 ports, one USB 3.0 port, and even a USB 3.1 Gen 1 Type-C port. The laptop also offers HDMI, and Ethernet.
To get to the price range, there's definitely some corners cut, but lets take a look at the design and see how they did.