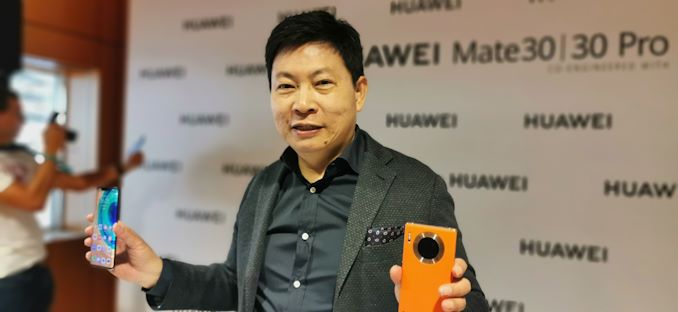 As the world's second largest smartphone manufacturer, the growth of Huawei over the last decade has been immense. Last year the company overtook Apple with smartphone unit sales, despite not being in the US market, by offering some of the best hardware and user experiences in a very competitive market. However, being placed on the US Entity List earlier this year has put a dent in that momentum, especially when it comes to talking about flagship smartphones. Huawei launched its new Mate 30 and Mate 30 Pro smartphones this week, without Google Play Store apps, with CEO Richard Yu committing over $1B to enhance the Huawei app ecosystem. After the launch event, Richard sat down with a group of press and took some questions.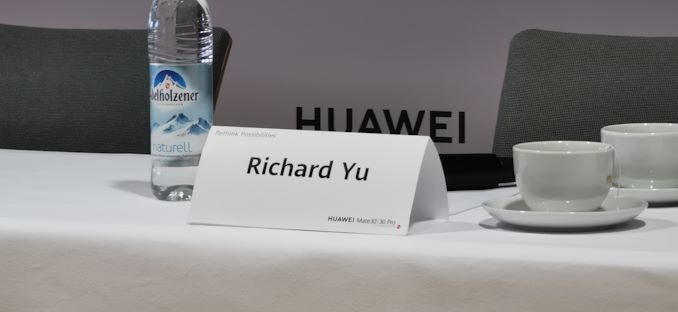 Fighting With One Arm Tied Behind Its Back
In recent years, it's hard to underestimate the effect that Huawei has had on the smartphone industry. The company has two major annual releases: the Mate series brings the latest in chip technology to market, while the P series offset by six months takes the Mate design and puts best-in-class photography inside. Each iteration comes with enhancements to the core elements of the Huawei ethos: design, performance, and user experience. Huawei is everywhere, except the US.
Being based in China, many individuals and users are sceptical about Huawei. The company says that it is 99% owned by its workforce – supposedly around 40% of its 190,000 employees have the equivalent of non-voting shares as part of a trade union, which translates into employee support and end-of-year bonuses, although these trade shares have zero voting power in a traditional sense - management takes the big decisions. Because the shares are technically owned by the union, they are non-transferable, and individuals cannot trade them - when employees leave the company, Huawei/the union buys back those shares for redistribution. Some people cite that Ren Zhengei, one of its founders, was a senior member of China's ruling Communist Party, and that being in China means having to comply with its data laws and share information with the government. Huawei insists it is not controlled or even directed by the state, just that it complies with all local laws, no matter what the country.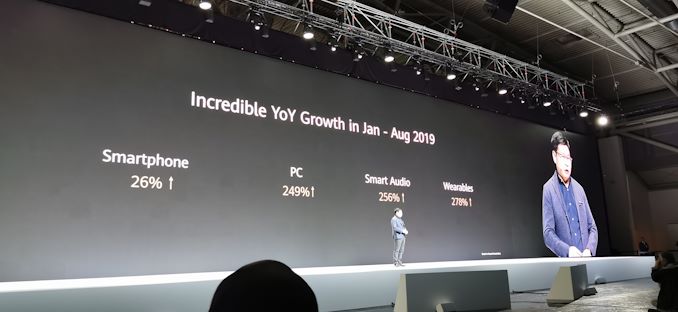 Despite playing almost everywhere in the world in smartphones and telecommunications, this scepticism has kept Huawei smartphones out of the US market. The US government, even under the previous administration, saw Huawei as a threat, and its attempt to enter the market in a big way in Q1 2017 was scuppered. Despite not playing in the consumer market in the US, Huawei has a lot of business with American companies. Huawei uses the Google Android operating system in its smartphones, and has been a leading partner in Android ecosystem development for a decade. Huawei uses Microsoft Windows for its PC business. Huawei also has had extensive research facilities in the US under the Futurewei name, and deals with a good number of smaller companies. In Huawei's own words, 'we bring a lot of profit to US companies'.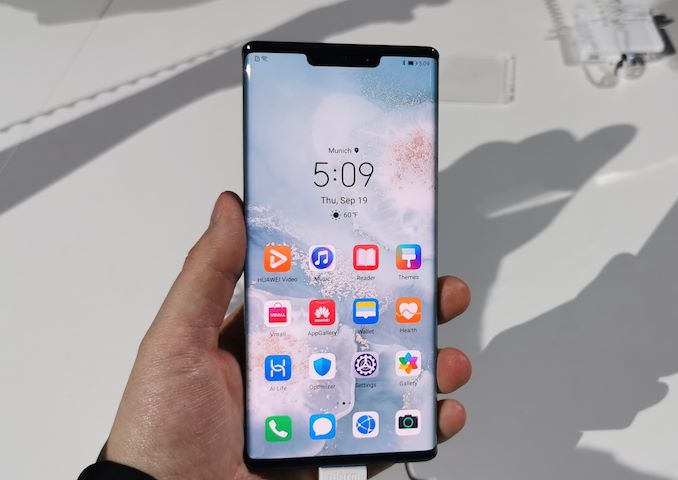 All this came to a head earlier this year, when the current administration due to its tariff war with China, placed 80 companies including Huawei on an Entity List, barring any US company (or any company with product development in the US) to work with Huawei without a licence. Almost immediately Google and Microsoft had to cut off all contact with Huawei, and companies with extensive facilities in the US, such as Arm, had to re-examine its product portfolio to see what could and couldn't be shared with Huawei. More than 100 companies have submitted requests for licences to work with Huawei, however none of those submissions have been approved at this time, despite six months after the initial ban.
This has put Huawei, and some US companies, in a bit of a pickle. Despite being as vertically integrated as possible, Huawei relies on several high-profile US companies and US operations in order to produce its products. By being unable to even communicate with Google on official terms places Huawei on the sidelines – open source only, with no way to licence Google services. With no way to work with companies like Microsoft on bug fixes or OS optimization, Huawei's products could potentially stagnate, and US companies lose out on not only revenue but a strong technically minded powerhouse that has the ability to help improve both sides of the equation. To that end, Huawei has put its resources into overdrive: where it has been reliant on US companies in the past, Huawei is moving to become self-reliant, ultimately removing its connections from the US technology industry, probably to the detriment of the US.
As a result, Huawei has been proactive in announcing initiatives such as HarmonyOS (Hongmeng OS), a unified microkernel platform to cover everything from microcontrollers to televisions. Huawei is putting $1B into its own version of the Play Store, known as the App Gallery, to encourage developers to port their apps under Huawei's APIs and SDKs. The sweetener there is that where Apple and Google take a 30% cut of all sales, Huawei will only take a 15% cut. Huawei is also expanding its AI efforts to more products, as well as the cloud.
Unfortunately, HarmonyOS is ultimately not ready for prime-time in smartphones. Huawei's representatives have been cagey about whether it is suitable for such devices, but in reality it just isn't ready for that sort of scale. As a result, for its smartphones, Huawei is turning to the open-source version of Google Android, known as AOSP (Android Open Source Project). At this level, Huawei does not need to interact with Google, but it does not get access to certain Google Services, like the Play Store, because it can't license them due to the US issue.
Roll forward to September 19th, and Huawei announces its first major product that is feeling the impact of this ban: the Mate 30 and Mate 30 Pro smartphones. The worldwide launch for the devices occurred in Germany, where the company has launched the Mate series for the last few years. Huawei CEO of the Consumer Business Group, Richard Yu, spoke for 88 minutes about the new hardware and the innovative user experience that the devices offer, and then two minutes about not having Google apps as well as the Huawei app ecosystem.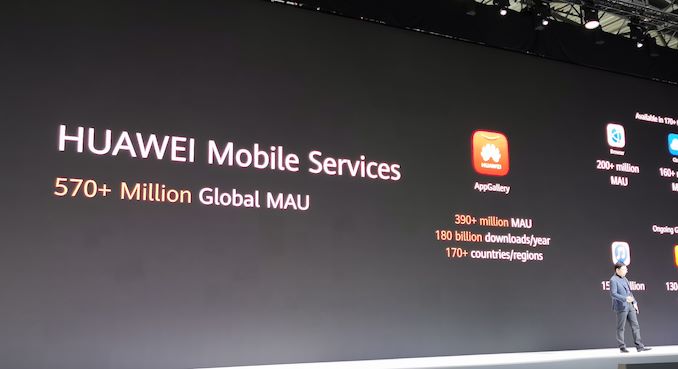 The key element here is the use of GMS, or Google Mobile Services. The GMS library forms a key part of certain Android apps, such as Maps, Docs, Gmail, Search, YouTube, Play Store, Drive, and Photos. Huawei no-longer has access to GMS, and so instead suggests to users that most of these features can be accessed through the web. By contrast, Huawei has its own mobile services, or HMS, and it is this library that the company is encouraging software developers to use, by dangling a high user install base, a higher percentage return, and Huawei's investment.
It was on these topics and more to which Huawei's CEO, Richard Yu, was grilled on by the press for around 45 minutes after the Mate 30 and Mate 30 Pro presentations. We were one of about two dozen press sat in a side room after the main event. This was, we were told, Richard Yu's only press session as part of the launch.
As always with our interview transcriptions, the transcription has been tidied for readability and some questions may be rearranged to assist with topic consistency. Where possible, we have noted the journalist and publication that asked the question.
Q: Can you explain clearly which operating system will work on?
A: This is Android 10. We use the Android Open Source Platform - consumer can download the apps they need from many app stores.
Q: Why Wasn't HarmonyOS used?
A: This year we are still using AOSP. We want to support Google and our partnership with them. We want to continue to partner with US companies like Google. If we cannot work with these companies because of the US ban, then we will create our own solutions. HarmonyOS is ready for deployment in certain areas, but we have postponed it at this time because we still want to work with Google. I think that this US ban has destroyed this industry. It has split the industry - it is harmful for US companies. The smartphone as a product has no relationship with network infrastructure or backbone 5G security. So why they are doing this – it is really difficult to understand why they are like this.
"This US ban has destroyed this industry"
Nirave Gondhia, TechnoBuffalo: With Huawei having zero interaction with Google, we no longer have Google-based applications. This will be a make-or-break deal with a number of potential customers outside of China. How will Huawei approach this?
A: With Google apps - some of the apps are web-based, or you can download them from other channels, other app stores. Huawei will aim to provide alternative solutions for our users - we cannot install the GMS core, and so using Huawei HMS and Huawei App Gallery is our solution. From next month on, we will ship this to global market.
Q: Specifically about the Google Play Store, can it be side loaded on the Mate 30 series?
A: We recommend the Huawei App Gallery, or other stores. Some Google apps are on the App Gallery store, or on other stores. There are many stores, you can download apps from other stores. You cannot use Play Store [on the Mate 30 series], because it requires the GMS core which we cannot use. This is not good for Google, for their business – we have made a big contribution to US companies, and now that is all forbidden. That's damaging to US companies. We [at Huawei] are very open and transparent.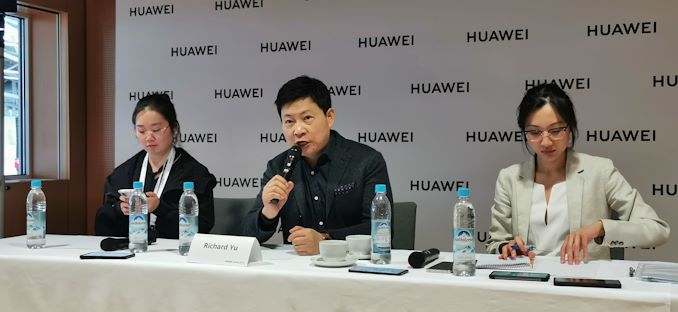 Q: Which Google Apps will or will not work due to GMS?
A: We hope that consumer can use Google's apps. There are web versions [through the browser] that still work if users cannot load the applications. However for example, Google apps work on iOS because iOS has the GMS core support. Users might be able to download the GMS core themselves through other stores or third party websites. Some consumers can do that.
Q: Will Huawei do anything to help people Google apps? Will sales people in stores help users? Or will software be installed to help others install Google apps?
A: We cannot help our users to do it. The retailer might help the user, but not with help from Huawei.
Q: Will the Mate 30 smartphones be preloaded with other app stores?
A: [At the moment, only] Huawei App Gallery. We are discussing to make the other app stores on our phones also. We are looking to preinstall them, or offer them through our app gallery. They can also be side loaded.
Q: If the issue with the US resolves in a positive way, how easy/difficult is it for Huawei to add Google services?
A: Over one night. We can do it immediately. In the past years, we have made big contributions to the Android ecosystem. We are leading many of the innovations. We bring a lot of profit to US companies.
Andy Boxall, Digital Trends: With regards the App Gallery - you've spoken before about partnerships and the $1b investment bringing developers. Can you explain how you are planning to expand the apps in the App Gallery?
A: We are working with developers to implement applications with the HMS core, rather than GMS core. Today Google and Apple take 30% of their app store revenue, with the developer getting 70%. With Huawei, we only take 15% and give 85% to the app developer. Huawei only takes 15%. More revenue for the app developer means more profit, and we like that kind of encouragement. We have to do this - we were forced to this. I hope you can understand that. But the US government forced us, we have no other choice. It's not good for the US companies.
Nirave Gondhia: Without the Play Store, it does hamper you slightly. What we've seen from other companies going this route is that there are only three big apps that most people care about: Facebook, Whatsapp, and Instagram. They are all managed by Facebook. Are you talking to Facebook about new apps for the App Gallery?
A: Those apps will work with our phones. Can run those without GMS core.
Dr. Ian Cutress: For the past couple of generations, Huawei has locked down the boot loader to its new phones, which has stopped users from adjusting the device and modifying the OS. With these new developments and the lack of interaction with Google, will this policy of the locked boot loader continue?
A: In the past we limited this feature to guarantee more security for the consumer. This time I think perhaps we need to give more freedom for the consumer. We are planning on the Mate 30 and Mate 30 Pro - consumers can do customization by themselves. Especially to download apps that they need from US companies.
"We Bring a Lot of Profit to US Companies"
Q: Huawei has showed great sales and revenue performance of the last couple of years. How will recent ban affect the sales of Mate 30 compared to previous devices?
A: Inside China, sales will increase. Outside China, might decrease. The market is more competitive in China, but the China market will have strong demand and growth. We will sell in the global market, but for sure some market will be influenced by the change. From May, the US ban means Huawei's retail sales dropped, but retail is now recovering quickly through Q3. I believe that this generation we can sell maybe more than 20 million units. This [the Mate 30 series] will be a very successful product, I do believe. Some consumers, even without Google apps, they love our products. We have influence, but the China market demand will be huge.
Q: For the Mate 30 / Pro, Huawei has over the last 18-24 months in the EU worked with carriers to bring handsets to users. With these new developments, are we still going to see them sold by carriers?
A: Yes. We still have good partnerships with carriers - they buy a lot of our products. That is because of the relationship, but more importantly the consumers love our products. [We have the] Best quality, the best user experience. That is why we still sell many products in the carrier channel. Fore example, our new P30 colors are selling very well. We have the Nova 5T, and some other new products in before the Google ban. We bring them to the European global market and our consumer feedback is still very positive. The carriers need us, and they have trust and support. The users love Huawei.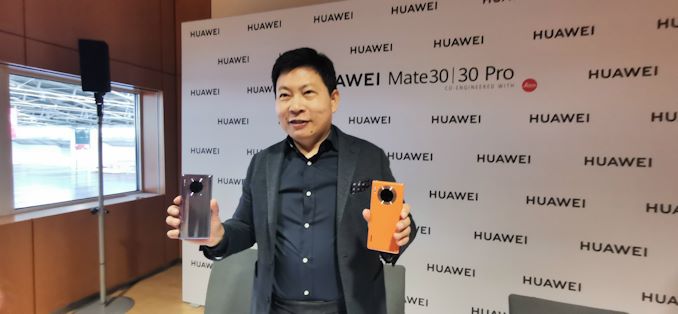 Q: When the pricing up came up for the Mate 30 series, it was in Euros. Can you say which European countries these devices are coming to?
A: We are planning to come to Europe from next month, step by step. We are still in the process and planning. Even without GMS core, and Google services, we still want to ship the AOSP version to our European consumers.
Q: Can you confirm when Huawei Mate 30 series is coming to the rest of the world (Middle East / Latin America)?
A: We are planning this. We cannot stop our business - our consumers love our products. Some products we don't need Google GMS, like the smartwatch.
Q: You have announced plans for the Mate 30 series to be released next month. Is there a chance there will be a delay?
A: We are planning to ship these devices next month in APAC. For the EU market, we are planning for some markets in the next month, so we don't expect any postponement to be too long. We are vetting the user experience across multiple regions, so countries can use the product. It's a flagship phone. I'm not humble - it's better than the other flagships!
"Huawei is a Bargaining Chip.

We Follow All Local Laws."
Q: Do you consider the situation with the US as static, or are there changes ahead with the US relationship?
A: It is a US-China issue, and Huawei is a bargaining chip for it. That's not good. Some politicians are playing games and making a lot of noise – that is unfair to us. They relate us with China, but Huawei is a global company. We have operations in over 170 countries. We follow all local laws.
Q: What are your personal feelings about the US issue?
A: This kind of trade war is not good for two great nations. This is like a real war. It damages both sides. I do believe this war will finish sooner or later - I believe sooner rather than later. It is too big a damage for two great nations, and that is not good.
"This is like a real war. It damages both sides"
Dr. Ian Cutress: Over the past couple of weeks we have seen your SoC competitors announce mid-range chipsets with integrated 5G for 2020, bringing this technology to the masses next year. Huawei has yet to say the same – can you comment on whether you think that the mid-range is ready for 5G next year, or what Huawei's plans are to do in this market?
A: With Huawei, 5G will come to mid-range and low-range next year. We also have 5G mid-range and low-range solutions next year. Our competitors are not yet ready for mid-range hardware, and we're not ready yet either. This year is all about the premium segmentation, and next year the battle is for mid-range 5G smartphones. 5G consumer demand is very high – users who want to buy a new phone, if they want to keep it for several years, don't want to be stuck on 5G in 2021-2023. In 2020, we will see increased demand for 5G in the mid-range. Users need to experience 5G and the speed.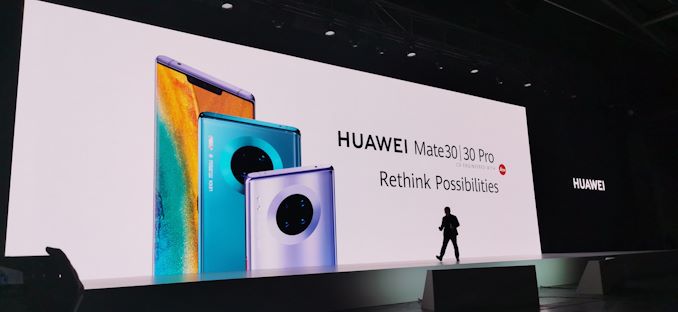 Q: During the presentation you covered the automation stuff around the home, such as using automation to turn on the TV, the vacuum, the lights. As far as we understand, that is mostly in the China market right now - are you bringing these features to other geographic regions?
A: Yes, we are planning the ecosystem to the global markets. One example, the phone working with the car, and the ecosystem, is important for next year. For sure we are planning this. Our software already supports this. We need some time to deploy the cloud and do the IoT testing. We are working with some European partners and we already work with these people. We will deploy our AI engine and our AI solution and our HiLink smart home solution outside China to global market from next year. Even today, Huawei Vision is coming to the global market.
Many thanks to Richard and his team for their time.