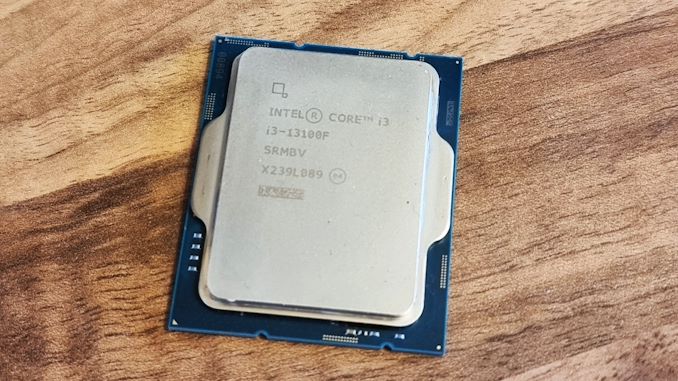 While we here at AnandTech tend to be focused at the high-end of Intel's Core CPU product stacks, the company has a far more comprehensive lineup than we typically have the time to take a look at. There are the flagship models, of course, such as the Core i9-13900K and KS SKUs, which feature the highest core counts, clockspeeds, and support for overclocking. Meanwhile for users requiring fewer cores but still want other performance, Intel also has its Core i7 and Core i5 series with many different SKUs, including some enthusiast-aimed K-series parts.
Getting away from these enthusiast parts though, Intel has a significant number of vanilla, non-K series chips. These parts typically offer a better balance of performance, power consumption, and efficiency at every level. This is also where you'll find Intel's cheapest parts– which don't have enthusiast variations – the Core i3 series. Aimed at the entry-level market, the i3 parts are built around four Performance (P) cores, dropping the efficiency cores in exchange for offering entry-level users a cheaper alternative for non-critical and less demanding tasks.
For this generation Intel technically only offers a single i3 tier, the i3-13100, which is further broken up into three configurations: the base version, the 35W TDP version (i3-13100T), and finally a version without working integrated graphics, the i3-13100F. Today we're taking a look at the latter of those chips, which at an MSRP of $109 is the single cheapest chip in the 13th generation Core lineup, making it the true entry-level part for this generation.
From a hardware perspective, the Core i3-13100F offers 4 P cores with a maximum turbo frequency of 4.5GHz, which are backed by 12 MB of L3 cache. As previously noted, the only feature difference for this part is that the Core i3-13100F doesn't include the integrated graphics (Intel UHD Graphics 730) normally found on the i3-13100, and as a result it's intended for use with discrete graphics.
As the cheapest of Intel's 13th generation Core series SKUs, is there any real value to be found? And does the i3-13100F deliver enough performance to justify it to users on a budget? Today we're digging in to see if the Core i3-13100F does enough to claim the quad-core top crown, and determine how it compares to the rest of Intel and AMD's entry to mid-range offerings.
Before we dive right into the Core i3-13100F review, below is a list of our detailed Intel 13th gen Core/Raptor Lake coverage:
Intel Core i3-13100F: Comparing Apples to Apples, Alder Lake Refresh?
Intel and AMD have options to cater to the entry-level market with their Core i3 and Ryzen 3/5 series. While we've seen a number of these high-end and flagship SKUs from both parties over the last couple of months, and the entry-level range is perhaps where the highest levels of value can be had, especially for users and gamers on a tight budget.
There is, of course, a significant gap in performance going from an i3 with four P cores to a 24-core (8P+16E) Core i9 processor in terms of raw compute performance, and the higher Core i9/i7 series will undoubtedly munch through tasks such as video rendering and encoding faster. For any workload or task that can utilize more than four cores, it's likely more advantageous for enthusiasts and professionals to opt for the Core i9/i7 series, but, of course, not every user needs that much power.
The Intel Core i3-13100F is an interesting proposition for those types of users that don't envisage doing hefty workloads, but require a functional system that still delivers solid performance at a lower overall cost than Intel's higher-end chips. It's based around four performance cores based on Intel's Golden Cove microarchitecture, which is the same core as Intel's 12th Gen core series performance cores.
Intel Core i3 Specifications
AnandTech
Cores
P+E/T
P-Core
Base
P-Core
Turbo
L3 Cache
(MB)
iGPU
Base
W
Turbo
W
MSRP
($)
i3-13100

4+0/8

3400

4500

12
730
60
89
$134
i3-13100F

4+0/8

3400

4500

12
-
58
89
$109
i3-13100T

4+0/8

2500

4200

12
730
58
69
$134
i3-12300
4+0/8
3500
4400
12
730
60
89
$143
i3-12300T
4+0/8
2300
4200
12
730
35
69
$143
i3-12100
4+0/8
3300
4300
12
730
60
89
$122
i3-12100F
4+0/8
3300
4300
12
-
58
89
$97
i3-12100T
4+0/8
2200
4100
12
730
35
89
$122
The performance cores of the Core i3-13100F feature a base clock of 3.4 GHz, with an all-core turbo of 4.5 GHz. When compared directly to the Core i3-12300, we reviewed last year; the Core i3-13100/13100F has the same cores, the same 12 MB of Intel Smart L3 cache, and the same turbo power rating of 89 W. The most significant difference between the top Intel 12th Gen Core i3 and the latest 13th Gen Core i3 is a 100 MHz variation in core frequency; -100 MHz on the base clock but a 100 MHz increase in the turbo clock speeds. All of Intel's 13th and 12th Gen Core i3 series chips can support either DDR5-4800 or DDR4-3200 memory, which adds some flexibility in terms of platform support available, particularly for users on a budget.
Given both the Core i3-13100F and the Core i3-12300 both have the same Golden Cove cores, very similar core clock speeds, and similar TDPs, it would be fair to think that the 13th Gen Core i3 series is basically a 12th Gen refresh here, and it's hard to argue that point. But underpinning hardware aside, this also reflects how Intel has compressed its i3 product stack for this generation of chips. Intel's previous 12th Gen Core i3 series had two variations – a (12)300 and (12)100 SKU – whereas Intel has rolled it down into just one primary SKU line for the 13th Gen Core i3: the 13100 series. This means that the i3 family really only offers a single performance level to pick from for this generation, though there are 3 variants in total. These are the baseline Core i3-13100, the Core i3-13100T for lower-powered computing, and the ultra-budget Core i3-13100F without integrated graphics, which we're reviewing today.
While we don't expect there to be any performance differences between the Core i3-13100F and the Core i3-13100 – they have the same cores, same clock speeds, the same everything bar the iGPU– the Core i3-13100F presents a straightforward improvement in Intel's CPU stack, especially at its current street price of $100. The Core i3-13100F all but replaces the $97 Core i3-12100F, offering 200 MHz more turbo headroom for what's essentially the same street price. Otherwise Intel's official MSRPs at least try to place the i3-13100F as a higher tier chip, but especially with the softening market for consumer tech spending, the i3-13100F has little choice but to fill in at $100 if it wants to more quickly move.
In any case, as with Intel's 12th Gen Core i3 processors, the retail versions of the 13th Gen Core i3 series CPUs also come with Intel's Laminar RM1 stock cooler. This reduces the overall system cost as an aftermarket cooler isn't required, but it's also a good move as an 89 W CPU doesn't need an AIO or a full-tower cooler such as the Noctua NH-D15. Sure, the Intel Laminar RM1 cooler doesn't feature flashy LEDs or RGB. Still, the crux is that the Core i3 series is designed as a mainstream offering to deliver proportionate levels of compute performance for an entry-level price.
The Entry-Level Segment: Core i3-13100F versus AMD Ryzen 3 5300G
Sizing up the competition, what's notable here is Intel's entry-level 13th Gen Core i3 parts end up being in a much cheaper product segment than what's available under AMD's flagship Ryzen 7000 lineup. AMD's hasn't released any Ryzen 3-grade quad-core offerings for their latest Ryzen 7000 series, so Intel isn't even going up against a current-generation AMD chip as their direct competitor.
instead, the most recently launched AMD Ryzen processor with four cores is the Ryzen 3 5300G processor, which was actually OEM only when it launched back in 2021. The Zen 3-based processor is currently available at retailers such as Amazon for $100 as well, making it the anchor of AMD's budget processor lineup and the direct competitor to the i3-13100F.
The good news for Intel here is that this means the 13th Gen i3 processors are going up against older Zen 3 designs, and not AMD's improved Zen 4 hardware – so this is basically the Alder Lake versus Zen 3 quad core fight all over again, a fight Intel won last time. The not-as-good news for Intel is that it means that AMD is offering a decent integrated GPU on their $100 chip when Intel is not, a potentially significant advantage on a budget system.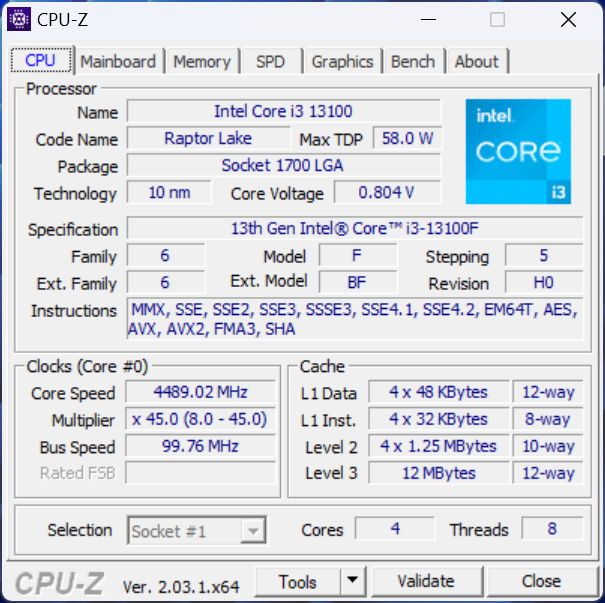 Intel Core i3-13100F CPU-Z screenshot
Otherwise, the next step up in AMD's stack is the Ryzen 5 5500G ($138), the six core version of the same die used in the 5300G. Two additional CPU cores are a significant gain among these budget processors, though the extra $38 is also a similarly big leap in pricing, relatively speaking.
Past that is AMD's cheapest Zen 4 processor, the Ryzen 5 7600 ($229). At over twice the price of the i3-13100F, there's a clear gulf between the parts in price and expected performance. Still, with six Zen 4 CPU cores turboing up to 5.1GHz, it's a chip that warrants a seat at the table, if only for the potential spoiler effect.
The Core i3-13100F is an interesting proposition for users and gamers on a budget. The Core i3-13100F and the rest of the 13th Gen Core series processors are supported by more affordable motherboards and a much lower price than the AMD Ryzen 7000 offerings. For this review and to create a level playing field, we've tested the Core i3-13100F (as well as all of Intel's 13th Gen CPUs) with DDR5-4800 memory as per the chip's JEDEC specification.
The Current CPU Test Suite
For our Intel Core i3-13100F testing, we are using the following test system:
Intel 13th Gen Core System (DDR5)
CPU
Core i3-13100F ($109)
4 Cores, 8 Threads
58 W Base TDP
89 W Turbo TDP
Motherboard
MSI MPG Z790 Carbon WIFI
Memory
SK Hynix
2x32 GB
DDR5-4800 CL40
Cooling
EKWB EK-AIO Elite 360 D-RGB 360mm
Storage
SK Hynix Platinum P41 2TB PCIe 4.0 x4
Power Supply
Corsair HX1000
GPUs
AMD Radeon RX 6950 XT, 31.0.12019
Operating Systems
Windows 11 22H2
Our updated CPU suite for 2023 includes various benchmarks, tests, and workloads designed to show variance in performance between different processors and architectures. These include UL's latest Procyon suite with both office and photo editing workloads simulated to measure performance in these tasks, CineBench R23, Dwarf Fortress, Blender 3.3, and C-Ray 1.1.
Meanwhile, we've also carried over some older (but still relevant/enlightening) benchmarks from our CPU 2021 suite. This includes benchmarks such as Dwarf Fortress, Factorio, and Dr. Ian Cutress's 3DPMv2 benchmark.
We have also updated our pool of games going forward into 2023 and beyond, including the latest F1 2022 racing game, the CPU-intensive RTS Total War: Warhammer 3, and the popular Hitman 3.