As one of the largest computer product companies in the world, Dell was of course present at CES with a large booth and plenty of new items to show off. They also brought us up to their hotel suite to give us the lowdown on some other products and not-yet-realized display concepts, but we can't discuss most of that stuff… yet. Let's start with their latest display models.
Dell Displays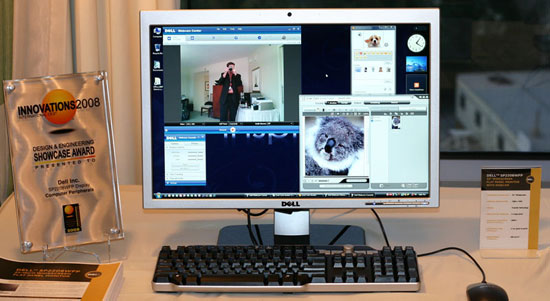 At the lower end of the spectrum, we have the new SP2208WFP. This is a 22" LCD that looks like the 2707WFP's younger brother. While it has all of the attractive styling, however, it does not sport the same feature set. Specifically, it lacks the ability to rotate into portrait mode, and it includes HDMI, DVI, and VGA video inputs. Since this is a display built more for the home market, it does add an integrated webcam to offset the lack of other amenities. It also has a TN panel, just like every other 22" LCD we've seen. This one is rated at 2ms GTG response times and 2000:1 contrast ratio; it comes with 300 nit, 92% color gamut CCFL backlighting - all good specs. We've been hard on TN panels, and we still prefer S-PVA and S-IPS, but the latest TN panels do look quite good. MSRP is $319 and the SP2208WFP is now available; there's currently an instant rebate that brings the pre-tax price down to $284. If you prefer the styling of the 2407WFP as opposed to the 2707WFP, Dell also offers an UltraSharp 2208WFP that includes height adjustment. MSRP is $339 on that model, but the instant rebate is larger bringing the current price to $275.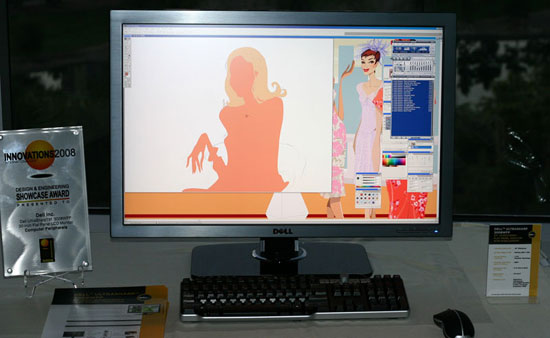 We'll cover the other 22" Crystal display below in detail, so let's skip that and talk about the 3008WFP next. Simply put, this is the 30" LCD that a lot of people have been waiting to see. It is a no compromise product that offers everything the display enthusiast could desire. The major technological addition relative to the 3007WFP/3007WFP-HC is a scaler that supports 2560x1600 panels. That allows Dell to add all the other input options that were previously missing - VGA, DVI (with HDCP), HDMI, DisplayPort, Component, S-Video, and Composite connections are present and accounted for! Now you can get a top-end 30" LCD that can still function as an HDTV as well as a console gaming display (sans speakers).
While the scaler is a great technological improvement, it's not the only change. New and improved backlighting now offers 100% of the NTSC color gamut. We'd be hard pressed to notice the difference relative to the 3007WFP-HC, but users of 72% CCFL backlighting should notice the change. We'll try to set up a side-by-side comparison once we can get a unit for a full review. In terms of the LCD panel, contrast ratio has been improved to 3000:1 (from 1000:1), and response time is now listed as 8ms (versus 12ms) – and if you were concerned about a change and panel type, rest easy, as Dell continues to use S-IPS panels in the 3008WFP. The final change is that the 3008WFP now sports the same exterior styling as the 2707WFP - apparently customer feedback on the updated design was very positive, though it does increase the price. MSRP for the 3008WFP is currently $1999, which is quite a jump from the now "outdated" 3007WFP-HC. If you don't need all the extra input options and are merely interested in a 30" LCD, however, you'll be happy to know that the 3007WFP-HC now has a $210 instant rebate, bringing the price to $1189. [Ed: Or not - it looks like the rebate is no longer available, but if you check back at Dell periodically it's sure to return.]