Can the GT627 bring balance to the GeForce?
It would be lovely if we could all just run out and purchase the fastest computers currently available. In fact, if money isn't an issue, you can buy the fastest current desktop and notebook, then purchase another laptop for the sole purpose of having sufficient battery life to work all day without plugging in... and while we're at it, throw in a netbook just for kicks! There are people out there able to do exactly that, but for the rest of us it's far more important to balance the various features and performance aspects against the almighty checkbook. MSI definitely targets the latter group of users looking for balance with the GT627, a gaming notebook that cuts a few corners in order to keep things affordable.
Gateway was the first to start this trend with the P-6831 FX, a 17" chassis that could actually provide decent performance in nearly all games at a price of $1350. We recently looked at the latest update to the Gateway FX line, the P-7808u, and found that the addition of a quad-core processor with a downgraded LCD at a relatively high price of $1700 pushed the balance too far towards the CPU without improving other areas. ASUS also made a go at the affordable gaming notebook market with the decent ASUS G50V, but the price was rather steep at over $1500.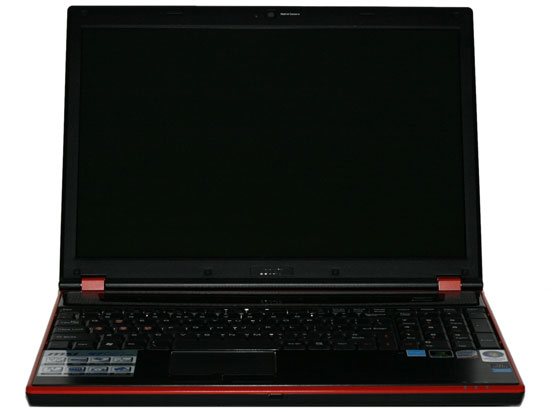 We now have the first real contender to challenge Gateway for the midrange gaming notebook throne. MSI's GT627 looks to provide an optimal blend of features and performance, and it does so at an extremely impressive price of only $1100. MSI even goes one better than most of the competition by packing this mobile gaming solution into a smaller, lighter 15.4" chassis. Sounds great so far, doesn't it? Unfortunately, there are a few blemishes that we'll get to in a moment, but let's start with a rundown of the features and specifications.
Note that we're reviewing the 216US model; the 218US is honestly the more interesting part, since it includes Blu-ray support and a WSXGA+ display, but we'll have to review what we received.
MSI GT627-216US Specifications
Processor
Core 2 Duo P8400 (2.26GHz 1066FSB 3MB L2)
Chipset
Intel PM45 + ICH9M
Memory
2x2048MB DDR2-800
Graphics
NVIDIA GeForce 9800M GS 1GB
Display
15.4" Glossy CCFL WXGA (1280x800)
Hard Drive
320GB 7200RPM
Optical Drive
8x DVDR SuperMulti
Networking
Realtek Gigabit Ethernet (RTL8168B/8111B PCI-E)
Intel WiFi Link 5100
Bluetooth v2.0
56K Modem
Audio
2-Channel Realtek ALC888 HD Audio (2.0 Speakers with 7.1 jacks)
Battery
6-Cell 52Whr
Front Side
None
Left Side
Kensington Lock
56K Modem
DVDRW Optical Drive
1 x USB 2.0
Four Mic/Speaker jacks supporting up to 7.1 audio
Right Side
Gigabit Ethernet
Heat Exhaust
1 x eSATA/USB 2.0
1 x USB 2.0
1 x Mini FireWire
ExpressCard/54
SD/MMC/MS/MS Pro reader
Back Side
HDMI
VGA
Heat Exhaust
Power Adapter
TV Tuner Input (?)
Operating System
Windows Vista Home Premium 32-bit
Dimensions
14.09" x 10.24" x 1.06"-1.22" (WxDxH)
Weight
5.6 lbs (with 6-cell battery)
Extras
2.0MP Webcam
104-Key Keyboard with 10-Key
15% Overclock "Turbo" Button
Warranty
3-year standard MSI warranty
Extended warranties available at various resellers
Price
Starting at ~$1100 online
We won't belabor the point much, as you can see all of the pertinent information the above table. Users get pretty much everything they would need or expect from a modern notebook. You do have to get by without a DVI connection, and during testing of external LCDs we've noticed that not all monitors play nicely when connected using an HDMI port (missing resolutions, scaling issues, etc. abound). However, the vast majority of people purchase a laptop to use it as a laptop, not to connect external displays. If you do intend on using an external LCD and you're worried about resolution support, just make sure you get an appropriate display. For what it's worth, Dell displays always seem to do very well in terms of supporting all of the expected resolutions, regardless of input. We've been testing the Dell SP2309W with our laptops, and the HDMI connection exposes and works properly with all of the expected resolutions: 1280x800, 1280x1024, 1440x900, 1680x1050, and 1080p. It's not a perfect display, but for the price it's quite good.
One item that some of you might overlook is in the "Extras" section: overclocking support. We tend to be a little hesitant about overclocking notebooks, even when they support the feature, as we definitely don't want to cause premature component failure. However, overclocking on the MSI GT627 is extremely simple: press the "Turbo" button above the keyboard and you're greeted with an instant 15% CPU/FSB overclock. We definitely wouldn't recommend that for when you're running on battery power, and in games it won't make that big of a difference if you're GPU limited. However, a free 15% performance boost in CPU intensive applications is definitely a nice extra that you can enable or disable on a whim. We will investigate how the overclocking affects performance later in this review.
MSI chooses to ship the GT627 with Vista Home Premium 32-bit installed, in contrast to most other notebook manufacturers who are now shipping 64-bit versions of Vista. That means users can't make full use of the 4GB of memory, but in most applications it won't make a difference. 64-bit operating systems really come into their own once you begin using more than 4GB of RAM, so unless you choose to upgrade the memory the OS should be fine. I also happen to be in the minority it seems, since I use Dragon NaturallySpeaking - an application that still doesn't work properly under 64-bit operating systems. GameTap is another application that has issues under 64-bit Windows, so there are benefits and drawbacks to either solution. If you really want to use 64-bit Vista, however, there shouldn't be any problems installing it on the GT627.
One final item that deserves a special mention is that MSI includes a standard 3-year warranty on MSI branded notebooks. Despite what you might find at resellers (i.e. Newegg), the MSI GT627 qualifies for this warranty. That's at least a $200 value and definitely deserves praise. We've seen far too many laptops fail on users after the 1-year warranty expires, and we've mentioned in the past that we recommend buying an extended warranty on more expensive models. The other option is to buy a laptop with a default 3-year warranty, which usually means a business notebook, but we're glad we can add MSI to the list of manufacturers that offer a standard 3-year warranty.