For better or for worse, most of the notebook manufacturers seem to be most interested in sending us their top-end gaming laptops for review. We hope to have a roundup of several "normal" laptops in the near future -- you know, laptops that weigh less than five pounds and hopefully get over three hours of battery life. In the meantime, we do have several monster notebooks to review, starting with the ASUS W90Vp-A1.
ASUS has a couple variants of the W90Vp; the A1 version we're looking at today is essentially identical to the X2 version, except for the fact that it has dual 320GB hard drives. Considering the difference in price, you might want to pick up the X2 if you can find it and add a second hard drive yourself. As for the rest of the components, this is one behemoth of a "laptop".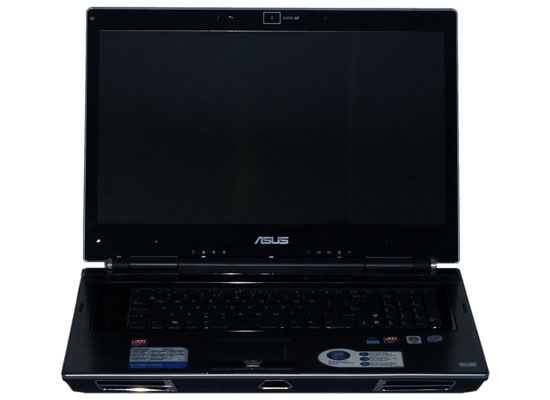 Several companies are now shipping 18.4" notebook chassis, generally loaded with high-end components. In the case of the W90Vp, you get a quad-core Q9000 processor, dual 320GB 7200 RPM hard drives, and 6GB (3x2GB) of DDR2-800 memory running at DDR2-667. The LCD is a high quality 1080p display, and although it uses standard CCFL backlighting it looks better than the vast majority of laptop displays we've used.
Obviously, the stars of the show are the dual ATI Mobility Radeon HD 4870 graphics cards in CrossFire. (Note that there are two GPUs on separate PCBs; this is not a mobile variant of the 4870X2.) This is the first high-end gaming laptop we've reviewed in a very long time that utilizes an ATI graphics solution, and as such we are very interested to see how it performs. On the desktop, NVIDIA still holds the crown for the fastest GPUs, but ATI is managing to compete very well in terms of overall price and performance. One of the main ideas in ATI's current GPU lineup is the use of multiple reasonably sized GPUs instead of a single monolithic GPU core.
What's interesting is that NVIDIA is sort of following that same approach for notebooks; the current top-end GTX 200M NVIDIA solutions do not stem from the desktop GT 200 series but instead build upon an enhanced G92M core. The new core is a 55nm part instead of 65nm, with up to 128 SPs. That should give it a similar die size relative to ATI's Mobility HD 4870 -- perhaps even slightly smaller. The desktop 9800M GTX+ has 754 million transistors, which should be relatively close to the GTX 280M. Needless to say, that's a far cry from the 1.4 billion transistors utilized in the desktop GTX 280! How will the GTX 280M compared to the Mobility HD 4870? Unfortunately, we can't conclusively answer that question yet, but we should have NVIDIA's competing solution in-house for testing soon. In the meantime, we do have an (aging) 8800M GTX SLI solution, with updated drivers. That brings us to the next topic.