CopperGate got hold of HomePlug AV silicon through their Conexant acquisition, and Sigma Designs got into the fray through the acquisition of CopperGate. Their Homeplug AV product CG2110 was unveiled in October 2009 In October 2010, I visited Sigma Designs and had the chance to see a working consumer product based on that chipset.

The interesting aspect was ClearPath, and this enabled the product to work in a much more efficient manner even in noisy environments and Power strips are a major no-no for the Intellon/Atheros based networking kits, but the units demonstrated by Sigma actually seemed to like communicating through them! The demonstrated product was supposed to ship to consumers in November, but they are yet to go on sale. Sigma currently says it will begin shipping towards the end of February.

The HomePlug product from Sigma also seemed to perform better than the Intellon/Atheros solutions in noisy situations. The reason for this attributed to ClearPath technology which relies on proprietary algorithms to find a way around the noise.

It would be ideal If what I saw in the labs translates to real world performance when products based on the CG2110 hits consumers. It looks like Sigma Designs is a generation behind Atheros in the HomePlug AV market. However, they seem to be delivering what Atheros should have done in the first place. All said, controlled lab demonstrations can only be trusted to a certain extent. The performance of these units once they are sent to reviewers and end consumers will reveal the true story.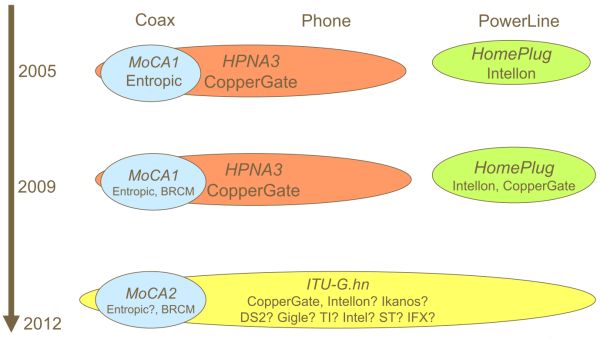 CopperGate's Vision of the Wired Networking Industry (March 2009)
Even as CopperGate was acquiring Conexant's HomePlug technology, it was envisaging that G.hn would win the ultimate battle for wired networking technologies. After all, it was the proverbial holy grail, encompassing support for coax, phone lines and powerline in one product with promises of upto 1 Gbps bandwidth. In the above timeline presented by CopperGate in early 2009, it was expected that G.hn would completely replace HomePNA and HomePlug for phone and powerline networking in 2012. CES 2011 presented Sigma Designs / CopperGate with the ideal opportunity to show us what was being done towards achieving that goal.