ASUS K53E: Enter Sandy Bridge Man
Last week, we looked at one of our final Arrandale laptops in the ASUS U41JF, a worthy follow-up to the U-series' legacy. Today we have another ASUS laptop, this time one of the first dual-core Sandy Bridge systems to grace our test bench. The K53E comes to us via Intel, and they feel it represents what we'll see on the various other dual-core SNB laptops coming out in the near future. Unlike the Compal quad-core SNB notebook we tested back in January, this notebook is available at retail, and it comes with very impressive performance considering the price, but there's a catch.
Intel has taken the stock K53E and fitted it with a faster i5-2520M processor, which should be a moderate performance bump from the K53E with i5-2410M and a healthy upgrade from the non-Turbo i3-2310M model. The i5-2520M runs at a stock clock speed of 2.5GHz with Turbo modes running at up to 3.2GHz; in contrast, the i5-2410M checks in at 2.3GHz with a 2.9GHz max Turbo, and the poor i3-2310M runs at a constant 2.1GHz. There are a few other changes as well, depending on which model you want to take as the baseline. The K53E-B1 comes with 6GB standard and a 640GB HDD, while the K53E-A1 comes with 4GB and a 500GB HDD; our test system has a 640GB HDD and 6GB RAM (despite the bottom sticker labeling it as a K53E-A1). Intel also installed Windows 7 Ultimate 64-bit instead of the usual Home Premium 64-bit, which means there's no bloatware on the system—and ASUS' standard suite of utilities is also missing.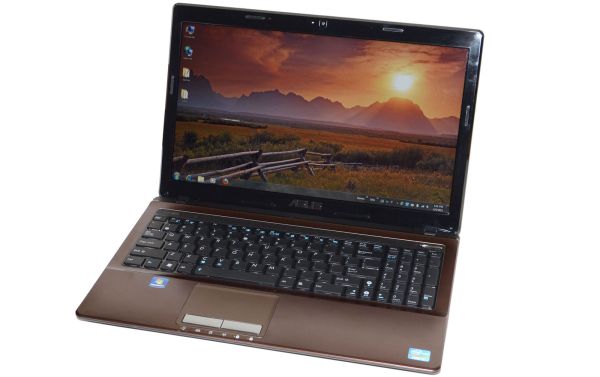 If you want a ballpark estimate of cost for a similar laptop, the Lenovo L520 has the same i5-2520M CPU, 4GB RAM, and a 320GB HDD with Windows 7 Professional 64-bit, priced at $826. Intel's pricing on the i5-2520M is $225, so around $800 total for the K53E would be reasonable, but like most OEMs ASUS gets better pricing for the i5-2400 series parts and thus chooses to save money there. For most users, the stock K53E-B1 will be more than sufficient, as the extra 10-15% performance increase from the CPU upgrade won't normally show up in day-to-day use—you'd be far better off adding an SSD rather than upgrading the CPU. Here are the specs of the laptop we're reviewing.
ASUS K53E (Intel Customized) Specifications
Processor
Intel Core i5-2520M
(2x2.50GHz + HTT, 3.2GHz Turbo, 32nm, 3MB L3, 35W)
Chipset
Intel HM65
Memory
1x4GB + 1x2GB DDR3-1333 CL9 (Max 8GB)
Graphics
Intel HD 3000 Graphics (Sandy Bridge)
12 EUs, 650-1300MHz Core
Display
15.6" WLED Glossy 16:9 768p (1366x768)
(AU Optronics B156XW02 v6)
Hard Drive(s)
640GB 5400RPM HDD
(Seagate Momentus ST9640423AS)
Optical Drive
DVDRW (Matshita UJ8A0ASW)
Networking
Gigabit Ethernet (Atheros AR8151)
802.11bgn (Intel Advanced-N 6230, 300Mbps capable)
Bluetooth 2.1+EDR (Intel 6230)
Audio
2.0 Altec Lansing Speakers
Microphone and headphone jacks
Capable of 5.1 digital output (HDMI/SPDIF)
Battery
6-Cell, 10.8V, 5.2Ah, 56Wh
Front Side
Memory Card Reader
Left Side
1 x USB 2.0
HDMI
VGA (D-SUB)
Gigabit Ethernet
AC Power Connection
Exhaust vent
Right Side
Headphone/S-PDIF Jack
Microphone Jack
2 x USB 2.0
Optical Drive
Kensington Lock
Back Side
N/A
Operating System
Windows 7 Ultimate 64-bit
Dimensions
14.88" x 9.96" x 1.11-1.37" (WxDxH)
Weight
5.84 (with 6-cell battery)
Extras
0.3MP Webcam
102-Key keyboard with Numeric Keypad
Flash reader (MMC, SD, MS/Pro)
Warranty
2-year standard warranty on some models
1-year standard warranty on others
Pricing
K53E-B1 (i5-2410M): Starting at $719
K53E-A1 (i3-2310M): Starting at $625
Like the U41JF, outside of the CPU we've already covered most of the items here. One new addition is the 640GB 5400RPM Seagate Momentus drive (previously we usually received 500GB models). With a higher areal density, sequential transfer rates will go up, but the random access speed is still going to be horrible. Also like the U41JF, there are quite a few missing features: USB 3.0, eSATA, FireWire, and ExpressCard are not here, so if you want any of those you'll need to go elsewhere. The DVDRW, LCD, audio, and other items all typical features; the 0.3MP webcam makes the sacrifice of resolution in order to work better in lower light conditions.
There are a lot of similarities to the ASUS X72D/K72DR we looked at in October, though we're running an Intel CPU and using a 15.6"-screen chassis this time, and there's no discrete graphics option. Of course, the HD 5470 is no performance beast, so Intel's HD 3000 actually posts similar results (albeit with perhaps less compatibility across a larger selection of games). Also interesting is that ASUS is using a 56Wh battery in place of the 48Wh units that have been so common; hopefully that will be the case on all of their midrange laptops going forward, though we're still partial to the 84Wh batteries in the U-series.
The real purpose of this laptop is to get dual-core Sandy Bridge out there for the lowest possible cost. While the notebook as configured would probably need to sell for around $800, the K53E-B1 with i5-2410M is going to perform very similarly and will set you back $720. Because Intel performance a clean OS install, we also skipped out on the regular set of ASUS utilities. Power4Gear is about the only one we usually find useful, with the ability to power off the optical drive usually boosting battery life a bit relative to other laptops. Since we're not looking at a stock K53E, though, we decided to just run the system as configured on both the hardware and software fronts.