Assembling the Lian Li PC-A05FN
The fundamental problem with trying to assemble a system in any kind of small enclosure is that the enclosure itself is going to make the work slow and cramped. That's not really the fault of anyone or anything but physics, but sometimes a manufacturer tries to make their case a little bit more "capable" than they probably ought. Such may very well be Lian Li's PC-A05FN, which ostensibly has space for our testbed components (and indeed, we were able to fit the standardized testbed inside with some work), but honestly, if you're interested in this enclosure you're going to want to be fairly selective about the parts you choose.
Lian Li was gracious enough to include standoffs built into the motherboard tray, but because of the reversed cooling design, I had to remove the HSF unit we use for testing and then rotate it 180 degrees. Another option for a build in the PC-A05FN may be to orient the HSF to exhaust out of the top of the enclosure (by adding a 140mm fan), thus giving the unit sole access to the air coming in from the back. By that logic, it might also be wise to turn the front fan into an intake as well. Either way, our full-ATX motherboard was able to be jimmied in, but I ran into a problem almost immediately.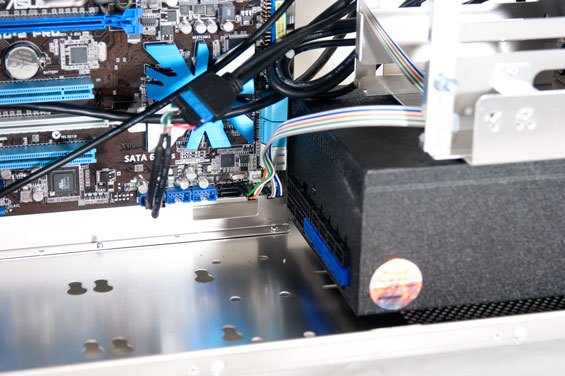 The SilverStone Strider Gold power supply we use for testing is 180mm, 20mm longer than Lian Li's specifications indicate. Thankfully I was still able to get it into the enclosure (I actually installed it first, though you can also install it by first removing the front bezel and then removing the mounting bracket) and get everything wired, but you're better off sticking with a 160mm or shorter unit. Note that clearance isn't good at all; the PSU completely blocks off the side-mounted SATA ports on the motherboard and prevents you from routing any cabling behind the motherboard tray (not that there's much reason to.) I do have to question whether that missing 20mm really matters, though; that's about enough to plug in a SATA cable but it cuts things awfully close.
I'm still not a fan of Lian Li's "rubber and rails" approach to installing 3.5" drives. You basically mount four thumbscrews with rubber rings into the sides of the drive, "unlock" the drive cage by removing the thumbscrew and lifting up the interior metal bumper, slide the drive in, then lower the bumper again and "lock" it by replacing the thumbscrew. I'm just not sure this is really that much easier than a basic, run of the mill drive cage where you have to screw the drive in by hand. And while the 5.25" optical drive at least benefits from a snap-to-close tool-less locking mechanism, that mechanism feels loose and you'll want to screw it in on the opposite side just to be safe (e.g. a loose DVD mount can cause increased vibration noise).
2.5" drives use a similar approach to their 3.5" cousins, but instead the screw and mount go into the bottom of the drive, and you have to use a screwdriver. From there, you pop the drive into a set of holes in the bottom of the chassis and then slide it into place. It feels remarkably secure, but any SATA power plug you use for these low drives is going to need to be at the end of the chain; clearance between the drive and the bottom of the chassis is basically nonexistent. I'd also recommend against using a mechanical drive in one of these mounts; these were clearly intended for SSDs and I can't vouch for how a mechanical drive will handle the vibration or the heat.
You can fit a 10.5" video card like our Zotac GeForce GTX 580 into the PC-A50FN, but you'll sacrifice at least one of the 3.5" drive bays in the process. Really you're better off with a smaller, shorter card like a GTX 560 or Radeon HD 6870; this is another one of those instances where "you can" doesn't mean "you should."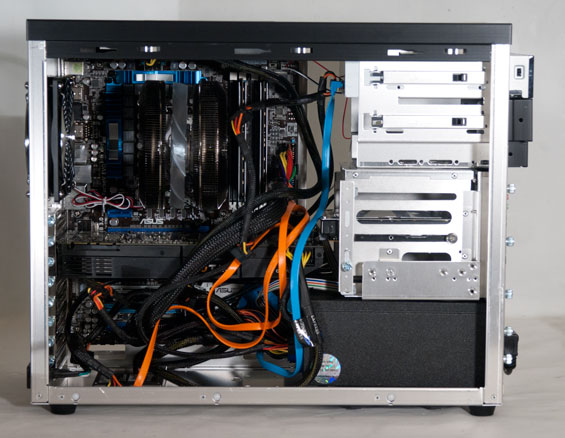 Finally, wiring the whole thing up was troublesome. Part of that is due to using a power supply that's admittedly a touch out of spec for this enclosure, but part of it is also the fact that while there's some space behind the motherboard tray, there's also really nothing to put back there or route. The result is a build that looks a bit messy internally, and worse, seems to crowd the video card something fierce. You could probably clean things up a bit more with some better component choices, but cable management is not the PC-A50FN's strong suit.
Honestly, I like the PC-A50FN more than the other Lian Li cases I've tested so far, but once again you really do need to choose your components carefully if you elect to build in this enclosure. That's not necessarily a bad thing, but this is most definitely not a "one size fits all" case.