As always we wrap up our review of a customized card with a look at overclocking performance. Since the HD 7870 OE is a semi-custom card - meaning it's using AMD's reference board - there aren't a lot of surprises here. With competent cooling overclocking comes down to the luck of the draw; Sapphire's basic binning process for their OE cards should push the better boards into the OE product line, but even then there's no real guarantee how much higher any of these boards can go.
When it comes to overclocking our HD 7870 SE topped out at 1150MHz for the core clock and 5.4GHz memory clock. This is a 100MHz (9%) core overclock and 400MHz (8%) memory overclock respectively. As with other 7870 boards a 5.4GHz memory clock is a rather constant factor since all of these reference boards start seeing diminishing returns on performance at higher memory clocks due to memory bus errors, while the core overclock is 50MHz lower than we've seen on other 7870s, but as we said before this comes down to the luck of the draw.
Radeon HD 7800 Series Overclocking
AMD Radeon HD 7870
Sapphire HD 7870 OE
HIS IceQ Turbo 7870
PowerColor PCS+ HD7870
Shipping Core Clock
1000MHz
1050MHz
1100MHz
1100MHz
Shipping Memory Clock
4.8GHz
5GHz
4.8GHz
4.9GHz
Shipping Voltage
1.219v
1.219v
1.219v
1.219v
Overclock Core Clock
1150MHz
1150MHz
1200MHz
1200MHz
Overclock Memory Clock
5.4GHz
5.4GHz
5.4GHz
5.4GHz
Overclock Voltage
1.219v
1.219v
1.219v
1.213v
So how well does the HD 7870 OE hold up once further overclocked?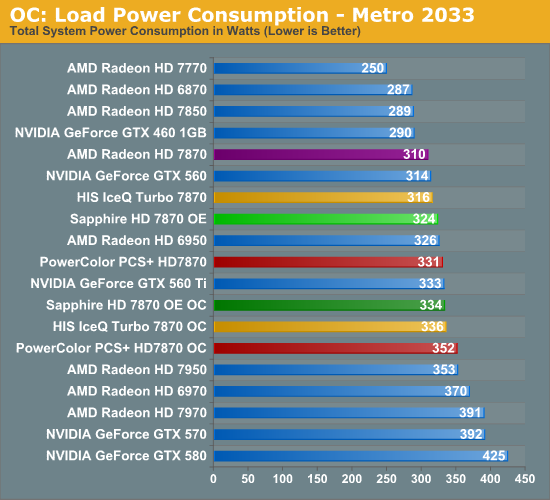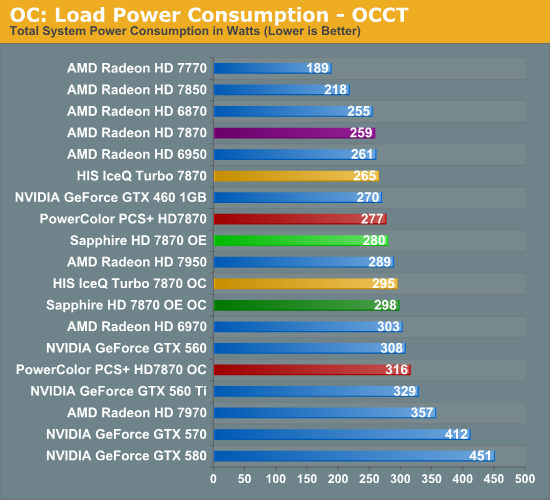 Our overclock pushed up power consumption by 10W under Metro and 18W under OCCT. Without any overvolting capabilities power consumption is largely kept in check, though we're still drawing nearly 40W more at the wall compared to a reference 7870.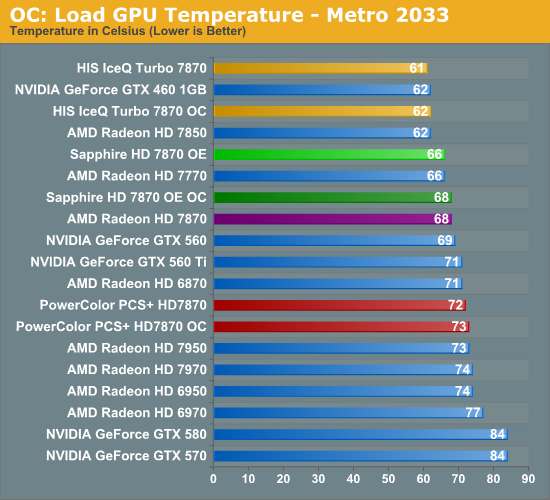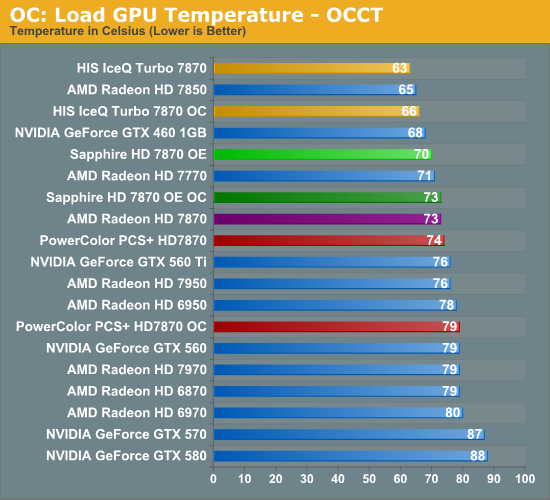 The slight increase in power consumption (and thereby heat generated) does little to faze the HD 7870 OE much here. Temperatures rise between 2-3C; even under OCCT the card is still relatively cool at 73C.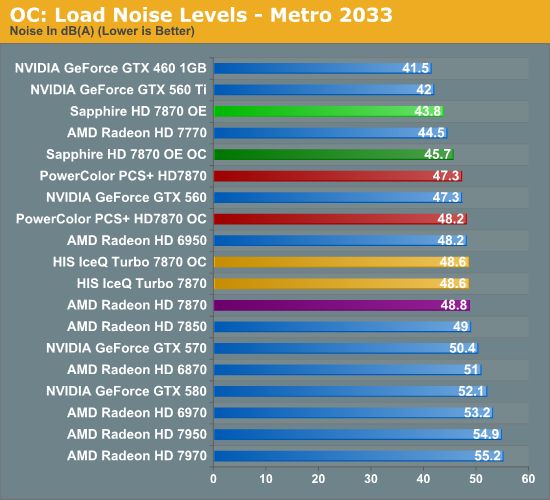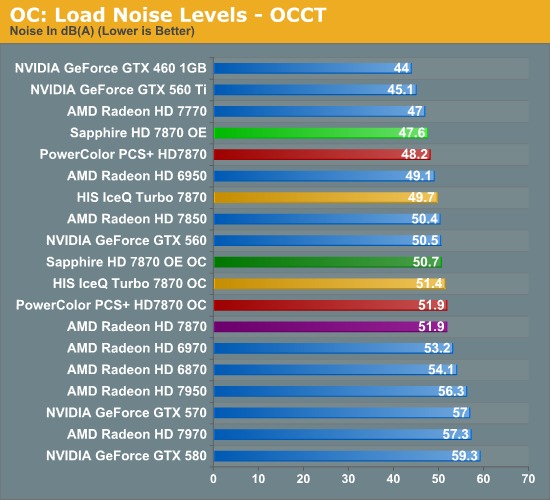 The tradeoff for holding those temperatures however is that the HD 7870 OE does give up some of its noise advantage. At 45.7dB under Metro it still easily maintains its reputation as the quietest 7870, but its lead has diminished and by the time you move into OCCT it's not significantly quieter than any other overclocked 7870.
Finally, how does performance look? We'll skip the running commentary on performance, but overall overclocking the HD 7870 OE has the expected performance improvements. In games where the 7870 was already close to the 7950 to begin with overclocking can push performance ahead of stock 7950 performance, which makes the HD 7870 OE's low noise all the more impressive. The fact that we only hit 1150MHz on our sample does mean that it slightly trails the other retail 7870s we've reviewed, however.