The HTC One S has an internal 1650 mAh 3.7V nominal battery, which works out to a capacity of 6.1 Whr. That's smaller than the 6.66 Whr battery (1800 mAh, 3.7V) in the HTC One X / XL, but still pretty big for a phone of this size and thickness. The question then becomes what battery life is like on the One S, and to test I turned to our current smartphone battery life tests which I've described before. The web browsing tests consist of a few dozen pages which are loaded every 10 seconds with the display set at precisely 200 nits (using a meter) until the phone dies - this is done over WiFi and cellular data. The tethering test consists of a single client notebook attached to the device using its onboard WiFi hotspot function, and four tabs of our page load test alongside a 128 kbps streaming MP3 station are loaded on that notebook until the phone dies.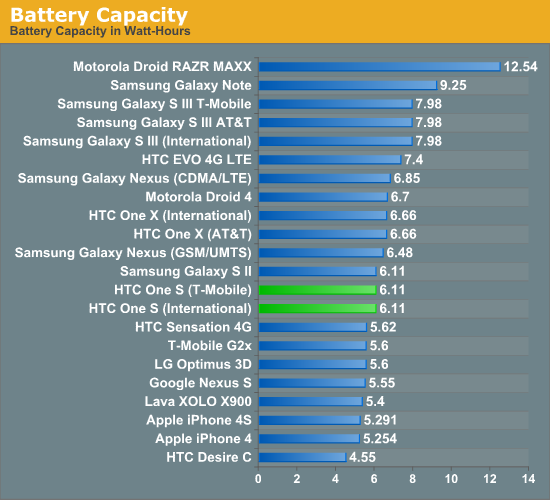 I should also note that the One S T-Mobile and International results differ somewhat because of the difference in air interface - the T-Mobile variant is on that network's DC-HSPA+, whereas the One S International I had to test on AT&T in an 850 MHz market (Pinal county) where AT&T holds an 850 MHz license just north of me. Where I live, AT&T is only PCS 1900 MHz.
Remember that DC-HSPA+ is aggregating together two 5 MHz wide WCDMA carriers on the downlink which in theory should require more power from the power amplifiers per unit time. The age old question, however, is whether the increase in throughput can result in the system both achieving a higher data/time rate, and suspending quicker, thus saving some power. Some of the One S International results are also absent because of my limited time in 850 MHz AT&T markets.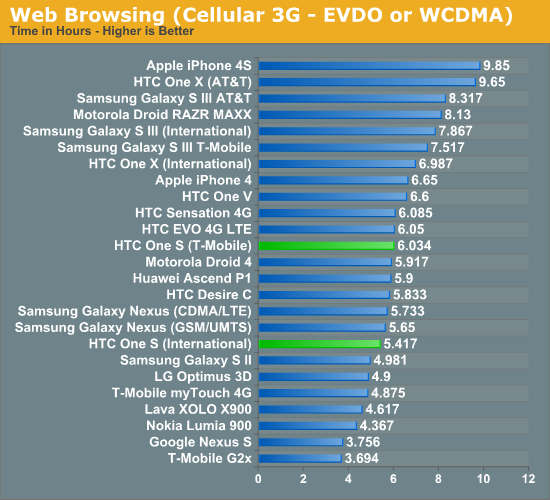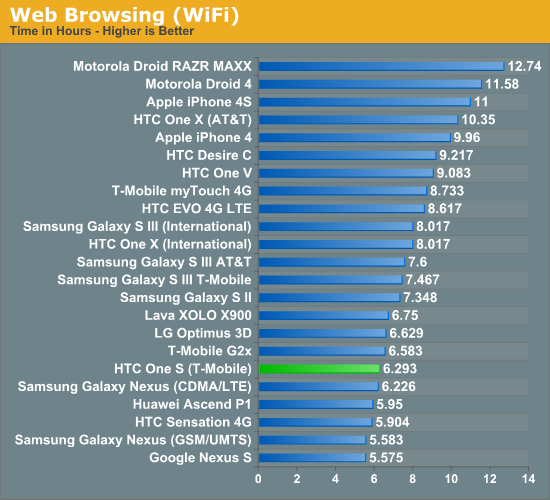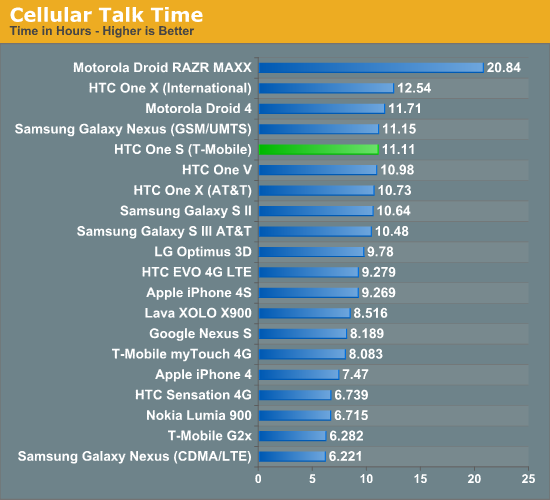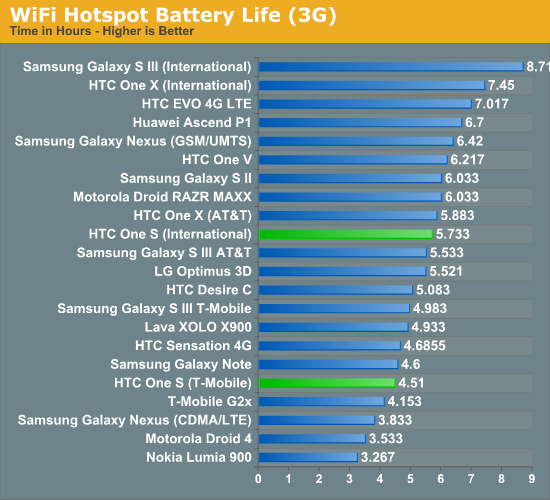 I've had requests to measure charge time on smartphones, and thankfully the One S makes this possible with the charging status LED. I measured 1.533 hours required to charge the One S from completely empty to full using the supplied charger; this is a pretty speedy charge time compared to some of the other devices I've reviewed as of late. I'll spare everyone the usual rant about USB charging spec and using the right charger that implements the appropriate data pin impedance.
While the One S has basically the same 28nm dual core Krait SoC as the One X (MSM8960 and MSM8260A differ in baseband), the One S also has to deal with a relatively power hungry SAMOLED display. We've shown before that this combination suffers in our battery life test especially because our test pages all have white backgrounds.
In day to day use with the One S on auto brightness, I have to say that I've never been want for more battery life at all. If you look at the web browsing test, the One S is just a half hour short of the iPhone 4 result. I'd say that's pretty impressive. If you're on a One S (or any AMOLED phone) and trying to eek some more longevity out of the device, as always my suggestion is to lower display brightness and set a black background on the home screen, which is what I do with all my AMOLED phones.