Introducing the Lian Li PC-A55
Marking our fifth venture into Lian Li territory in recent years, the PC-A55 enclosure we have on hand is another unique, slightly-off-the-wall design from a company we've come to expect this kind of thinking from. After all, at Computex they were showing off a case with 26 3.5" bays and another one that looks like a small train. It's not unreasonable to expect some unique cases from Lian Li, and the PC-A55 is definitely one.
What Lian Li has attempted to achieve with the PC-A55 is essentially to make a full ATX enclosure as small as humanly possible while still being easy to build and service. In some ways they've definitely achieved this, but a lot of sacrifices had to be made to get the PC-A55 to where it is and unfortunately, we're not sure they were worth it.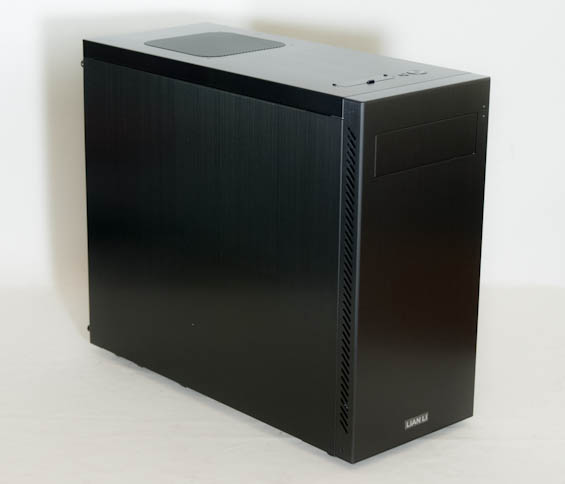 Before we get deeper into the review, yes, the Lian Li PC-A55 has a very unfortunate name for anyone familiar with leetspeak. Those of you with a juvenile sense of humor (like me, for example), are probably going to enjoy this review tremendously. I'm not sure how to address this otherwise; I need to refer to the model name to write the review, so hopefully we can get through this with a minimum of tittering and focus on the enclosure at hand.
Lian Li's design borrows a bit from Silverstone in that it's intended to be vertically cooled; air is drawn in from the bottom of the enclosure and out of the top. With Silverstone's cases, this is often very effective, but in my experience it has less to do with natural convection and much more to do with the clear path air has to move through the heat-generating components. Part of the reason why the FT02 is one of the best air cooling enclosures around (if not the best) is because air has a straight shot from the bottom intake up through the (preferably tower) CPU cooler and out of the top of the case, with virtually no obstructions. As you'll see, the PC-A55 doesn't share this crucial design point.
Lian Li PC-A55 Specifications
Motherboard Form Factor
Mini-ITX, Micro ATX, ATX
Drive Bays
External
1x 5.25"
Internal
2x 3.5", 2x 2.5"
Cooling
Front
-
Rear
-
Top
1x 140mm exhaust fan
Side
-
Bottom
1x 140mm intake fan
Expansion Slots
7
I/O Port
2x USB 3.0, 1x Headphone, 1x Mic
Power Supply Size
Standard ATX
Clearances
HSF
150 mm
PSU
160 mm
GPU
12.2" / 310mm
Weight
4.1kg / 9 lbs.
Dimensions
9.64" x 17.6" x 20.39"
245mm x 447mm x 518mm
Special Features
USB 3.0 connectivity via internal header
All-aluminum build
Price
$109
Lian Li advertises the PC-A55 as having a single USB 3.0 port and a single USB 2.0 port hidden under a door on the top of the case, but this is incorrect; the two ports share a single USB 3.0 internal motherboard header, and despite being black, the so-called USB 2.0 port does function at USB 3.0 speeds. Why they took the time to do this and advertise them as being different is beyond me.
As a whole, the PC-A55 is small and light, but because it supports ATX motherboards it's not quite small enough to notice the difference between a slightly larger, more standardized ATX case. Just the same, when we pop it open and assemble it we'll see that Lian Li made every single interior inch count; this really is about as small as they can get it while still accommodating ATX.