AMD unveiled their Opteron 6300 series server processors, code name Abu Dhabi, back in November 2012. At that time, no review samples were available. The numbers that AMD presented were somewhat confusing, as the best numbers were produced running the hard to assess SPECJbb2005 benchmark; the SPEC CPU2006 benchmarks were rather underwhelming.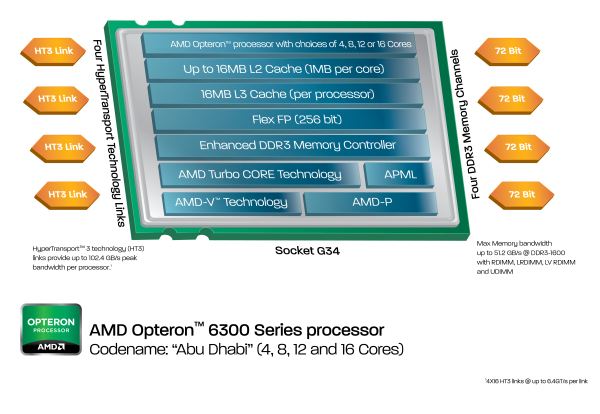 Compared to an Opteron 6278 at 2.4GHz, the Opteron 6380 (2.5GHz) performed 24% better, performance per Watt improved by 40% according to AMD. In contrast, SPECint_Rate2006 improved by only 8%, and SPECfp_Rate2006 by 7%. However, it is important to note that SPECCPU2006 rates do not scale well with clockspeed. For example an 8% clockspeed (6380 vs 6376) only results in a 3.5% higher SPECint_Rate2006 and a 3% higher SPECfp_Rate2006. And the SPEC CPU 2006 benchmarks were showing the Interlagos Opteron at its best anyway. You can read our analysis here.
Both benchmarks have only a distant link to real server workloads, and we could conclude only two things. Firstly, performance per GHz has improved and power consumption has gone down. Secondly, we are only sure that this is the case with well optimized, even completely recompiled code. The compiler setting of SPEC CPU 2006, the JVM settings of Specjbb: it is all code that does not exist on servers which are running real applications.
So is the new Opteron "Abu Dhabi" a few percent faster or is it tangibly faster when running real world code? And are the power consumption gains marginal at best or measureable? Well, most of our benchmarks are real world, so we will find out over the next several pages as we offer our full review of the Opteron 6300.