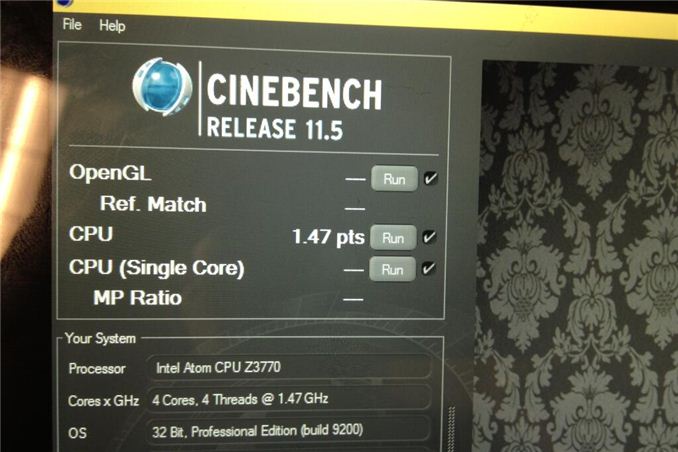 Intel's lone ranger and Principal Engineer, Francois Piednoël, published one of the first semi-official Baytrail benchmarks on his Twitter feed earlier today. The score is for the unannounced Atom Z3770, a quad-core Silvermont based (4C/4T) Baytrail implementation running at a nominal frequency of 1.47GHz (with I assume a > 2GHz max turbo). Francois was careful to only run the multithreaded Cinebench 11.5 test, tossing out a score of 1.47.
To put this score in perspective we need to dig into some of our own reviews. AMD's A4-5000, a quad-core Kabini based SoC running at 1.5GHz, manages a score of 1.5 in the same test. This is also roughly 86% of the performance of a dual-core Sandy Bridge based Pentium processor running at 2.2GHz. Compared to a dual-core Atom Z2760 (Clovertrail) the Atom Z3770 delivers nearly 3x the performance. Finally, this Baytrail SKU delivers similar performance to a mid-2GHz mobile Penryn based Core 2 Duo. Let that sink in for a moment - this tablet SoC delivers better multithreaded FP performance than a 2010 Macbook Air. The quad-core Silvermont vs. dual-core Penryn comparisons are a little unfair as there tends to be no replacement for extra cores in these thread heavy benchmarks. If Intel is able to equal a Core 2 Duo's single threaded performance however...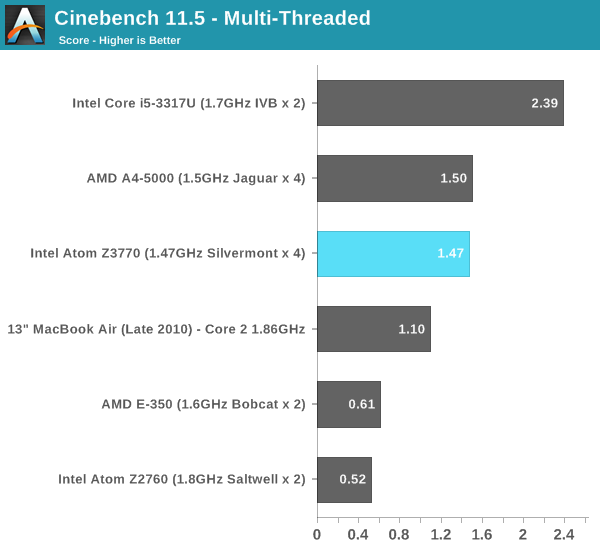 Single threaded performance typically scales down quite linearly in Cinebench, but that's assuming that single core turbo frequencies aren't insane. Regardless it's probably safe to assume a single threaded Cinebench 11.5 score somewhere north of a 1.5GHz Jaguar. We are also only looking at FP performance here, which is less important for most consumer uses than integer based workloads.
It's interesting to note that the test system (likely a tablet) seems to be running a 32-bit version of Windows. As there are no connected standby enabled versions of 64-bit Windows, that's likely why we're seeing the 32-bit version used here.
Obviously the big unknown here is power consumption. As Baytrail is destined for tablets, I'd expect lower average power than pretty much all of our comparison targets in the graph above. The big question I have is whether or not this is finally performance that is good enough. Although Clovertrail could run legacy Windows applications, it wasn't fast enough to actually run heavy legacy apps well. Paired with a decent IO subsystem (something I'm doubtful most OEMs will deploy), I feel like Baytrail could be on the cusp of delivering performance that's good enough. Part of the problem here is that we're only looking at multithreaded performance, which obviously looks pretty reasonable on a quad-core part. How well Intel is able to deliver good single threaded performance will really determine whether or not Baytrail makes for a great platform.
With IDF 2013 next week I'm guessing we'll see a lot more of Baytrail's performance soon enough.