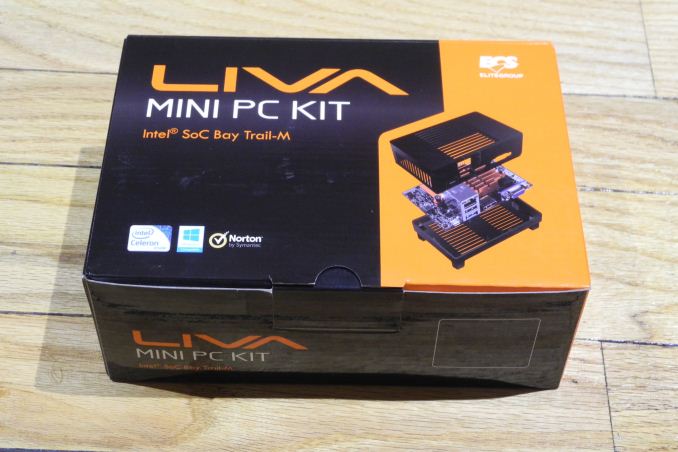 Introduction and Setup Impressions
Nettops and netbooks, as a class of products, have been on the decline over the last few years. The most significant issue with the nettops was obviously the anaemic CPU performance. As consumers realized that they could get much better performance per watt from other platforms, the shift to tablets well and truly buried the old nettops and netbooks. However, the introduction of SoCs based on the new Silvermont Atom cores has served to address some of these major drawbacks. But, are those enough to revitalize a market that is almost already extinct? ECS, emboldened by the success of the Intel NUC form factor, is all set to find out with their LIVA mini-PC kits.
Readers might recognize ECS as more of a motherboard vendor. The ECS LIVA mini-PC kits are a little bit out of the pure motherboard-play zone. ECS has created a small motherboard (BAT-MINI) for Bay Trail-M parts. Since all of those are BGA, the Intel CPU is soldered on-board. A bunch of other components are included in the kit so that only the OS is necessary to complete the system. The full configuration of the ECS LIVA review unit is provided below.
ECS LIVA mini-PC Specifications
Processor
Intel Celeron N2806
(2C/2T x 1.60 GHz (2.00 GHz Turbo), 22nm, 1MB L2, 4.5W)
Memory
2GB DDR3L-1066
Graphics
Intel HD Graphics
313 MHz / 756 MHz (Turbo)
Storage
32 GB eMMC
Networking
1 x Gigabit Ethernet, 2x2 802.11n Wi-Fi
Audio
Capable of 5.1/7.1 digital output with HD audio bitstreaming (mini-HDMI / mini-DP 1.2), 3.5mm Audio Jack
Operating System

Windows 8.1 (Retail unit comes barebones)

Pricing
$180
Full Specifications
ECS LIVA Specifications
Even though the retail unit is sold barebones, our unit came with a copy of Windows 8.1 Professional. Some of the above internal components didn't come pre-installed in our review unit package.
ECS BAT-MINI Motherboard with Intel Celeron N2806
WiFi / Bluetooth Combo Card with antennae
AC Power Adapter (5V @ 3A DC)
LIVA Case
Manual & Driver DVD
Assembling the unit was quite easy, with just the matter of sticking the antennae to the chassis, mounting the Wi-Fi card in the M.2 slot, ensuring proper orientation of the board inside the chassis and snapping in the top. Our initial review sample had a small issue with the power button in the chassis. It was resolved by leaving a small gap between the top and the bottom sides of the chassis in order to align the switch the power button on the motherboard. However, ECS immediately came out with a replacement that didn't exhibit the issue and that resulted in a clean build. In any case, the issue seemed to be a one-off, as other reviews on Amazon and Newegg don't seem to indicate anything similar.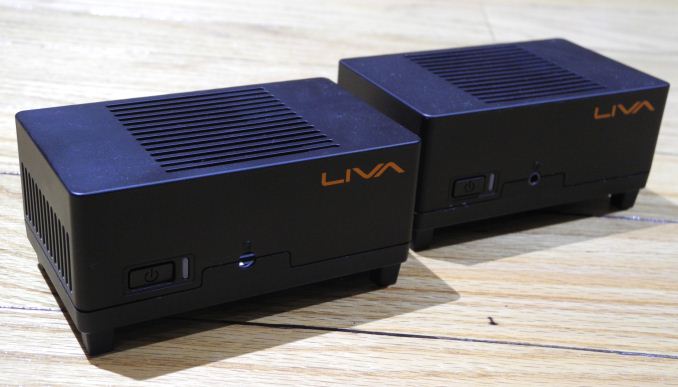 The chassis on the left had an issue with the power button's alignment, while the replacement on the right resolved that issue
In the rest of this review, we will first analyze the Bay Trail-M platform in detail and take a look at how ECS has managed to utilize it in the LIVA. We will follow this up with a benchmark section (which includes wireless and storage system evaluation numbers). The passive nature and size of the unit make it an ideal HTPC candidate, and we will take a look at how it fares in HTPC scenarios. Before the concluding section, we discuss the power consumption numbers and thermal performance. However, prior to all that, we have a table presenting the details of various systems that are compared against the ECS LIVA in this review.
Comparative PC Configurations
Aspect
ECS LIVA
CPU
Intel Celeron N2806
Intel Core i7-4770R
GPU
Intel HD Graphics
Intel Iris Pro Graphics 5200
RAM
SKHynix H5TC4G63AFR 4Gb x16 DDR3L
11-11-11-20 @ 1067 MHz
4 x 4Gb (2 GB)
Corsair Vengeance CMSX8GX3M2B1866C10
10-10-10-32 @ 1866 MHz
2x4 GB
Storage
SanDisk eMMC SEM32G
(32 GB, eMMC 4.41-compatible)
Samsung SSD 840 EVO
(120 GB, 2.5in SATA 6Gb/s, 19nm, TLC)
Wi-Fi
AzureWave AW-NB136NF (Broadcom BCM43143) 802.11n + BT 4.0 M.2 Adapter
(2x2 802.11n - 300 Mbps)
Realtek 8821AE Wireless LAN 802.11ac
(1x1 802.11ac - 433 Mbps)
Price (in USD, when built)
$180
$829
Note that this is only relevant to the networking and storage subsystem evaluation. For performance metrics, it doesn't make sense to look at the CPU and GPU credentials of the LIVA against devices in a much higher price class (We are trying to get in more Bay Trail systems for review, but currently don't have any in the $180 price range). Therefore, only the raw performance numbers will be presented. If readers are still interested in the comparison, reference can be made to our most recent mini-PC review for the corresponding numbers of others systems.