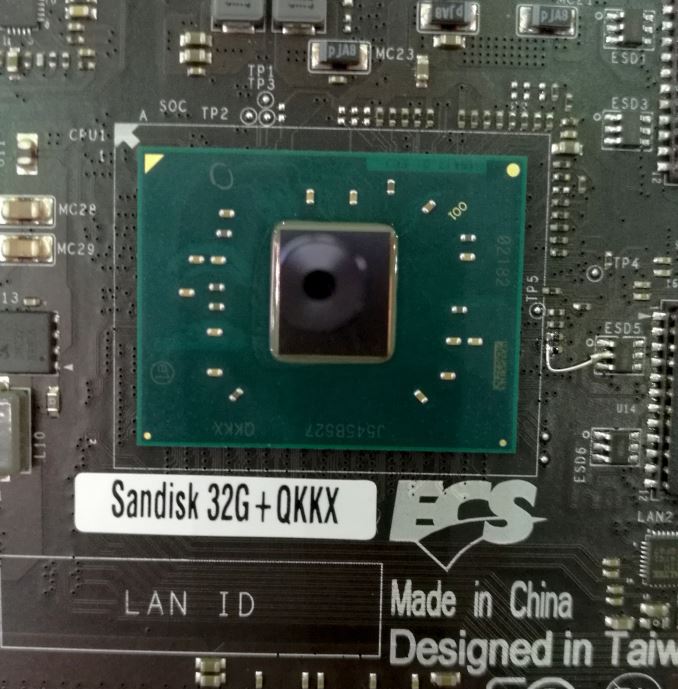 Further to our recent post about spotting Denverton silicon on display at Computex this year, we also caught an Apollo Lake mini-PC motherboard doing the rounds at the ECS booth. The mini-PC line from ECS incorporates many versions of the Liva, which run the gamut from dual core Atom all the way up to Core-M and Core i3, depending on how much power you need or how much you want to spend. Ganesh has in recent months reviewed the LIVA One with Skylake, the LIVA Core with Core-M, the LIVA x2 with Braswell and the LIVA X with Bay Trail-M. Based on that naming scheme, the motherboard we saw at Computex from ECS stands to be something like the LIVA x3.
Apollo Lake uses Intel's latest Atom cores, based on the Goldmont microarchitecture. We reported on Broxton for smartphones and tablets, also based on Goldmont, being canned earlier this year however the microarchitecture will live on in notebooks and mini-PCs for 2016 and 2017 (with servers/embedded even later). This motherboard shows an unknown Apollo Lake die, measuring in at 159.7 mm2 (11.24 x 9.98 mm), with DC-In power, dual network ports, three USB 3.0 Type-A ports, one USB 3.0 Type-C port, a HDMI output, a mini-DP output, two SO-DIMM slots and dual M.2: one for WiFi and one for storage.
Comparison of Intel's Entry-Level PC and Tablet Platforms
Bay Trail
Braswell
Cherry Trail
Apollo Lake
Microarchitecture
Silvermont
Airmont
Airmont
Goldmont
Core Count
Up to 4
Graphics uArch
Gen 7
Gen8
Gen8
Gen9
EU Count
unknown
16
12/16
unknown (24?)
Multimedia
Codecs
MPEG-2
MPEG-4 AVC
VC-1
WMV9
HEVC (SW only)
VP9 (SW only)
MPEG-2
MPEG-4 AVC
VC-1
WMV9
HEVC (8-bit software/hybrid)
VP9 (software/hybrid)
MPEG-2
MPEG-4 AVC
VC-1
WMV9
HEVC
VP9
Process Technology
22 nm
14 nm
14 nm
14 nm
Launch
Q1 2014
H1 2015
2015
H2 2016
We reported on Apollo Lake being unveiled at IDF Shenzhen back in April, with up to four cores and Intel's Gen9 graphics with an unknown amount of execution units. Apollo Lake supports DDR3L as well as LPDDR3/4, eMMC for storage, soldered down 802.11ac Intel WiFi and improved PMIC (power management) options. One of the headlines from the IDF Shenzhen presentation was the reduction in bill of materials cost (BOM) for the OEMs, up to $7, compared to the previous generation.
Along with a new 'cloudbook' category (i.e. Chromebook-style), Intel expects Apollo Lake to be in notebooks, all-in-ones and mini-PCs similar to ECS' design. ECS also had a number of mini-STX designs on display, along with a couple of Intel engineers with some alternative combination mini-PC configurations.