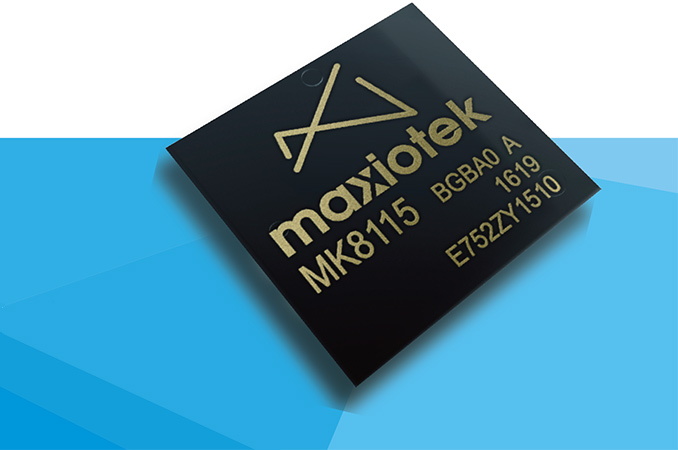 Maxiotek this week introduced its first SSD controller designed for affordable SSDs with an SATA interface, which is meant to be paired with new types of NAND flash memory, including chips with 3D architecture as well as ICs made using thin fabrication processes. The company is working with various makers of SSDs as well as OEMs, so actual drives based on the MK8115 will hit the market in the foreseeable future. In fact, one of the first drives featuring the chip is ADATA's SU700, which was demonstrated back at Computex.
The Maxiotek MK8115 is a quad-channel controller that supports a SATA 3.2 host interface as well as various types of SLC, MLC, 3D MLC, and 3D TLC NAND flash memory. Internally, Async, Toggle, and ONFi NAND interfaces are supported, with up to 400 MT/s transfer rates. The MK8115 controller supports the developer's AgileECC error correction (with programmable ECC parity that supports 1 KB code-word length correctable up to 76 bits, something that implies on BCH method) with virtual parity recovery; modern security capabilities like AES-256, SM4, TCG-OPAL 2.0, IEEE1667; low-power modes (Slumber/Device Sleep, etc.); advanced static/dynamic wear-leveling and so on. One of the key features that Maxiotek advertises about its MK8115 is the fact that it does not require DRAM, thus allowing to build very affordable SSDs.
Specifications of Maxiotek MK8115 at Glance
Host Interface and Interface Rate
SATA 3.2 at 1.5, 3.0, 6 Gbps
Supported NAND Flash Types
SLC (20nm-class)
MLC (10 nm-class)
IMFT's 3D MLC, 3D TLC
Supported NAND Flash Interfaces
Async, Toggle 2.0 and ONFi 3.0, up to 400 MT/s
Page Sizes
8KB/16KB page size up to 4-plane,
32KB page size up to 2-plane
Number of NAND Channels
4 channels with 8 CE per channels (32 targets in total)
ECC Technology

Hardware ECC module capable of correcting errors up to

76-bit/1KB
Maximum SSD Capacity
1536 GB (when using IMFT's 3D TLC ICs with 384 Gb capacity)
Maximum Sequential Read Speed
560 MB/s
Maximum Sequential Write Speed
530 MB/s with pSLC caching for 3D TLC-based drives
Maximum Random Read (4 KB)
100K IOPS
Maximum Random Write (4 KB)
75K IOPS
Encryption Technologies
AES-256 and SM4
Security Standards
TCG-OPAL 2.0, IEEE1667 for SEDs
Power Management
Slumber, Device Sleep, etc.
Package
12×12 mm2 288-ball TFBGA package
Voltages
3.3V/1.8V/1.2V power supply
When it comes to compatibility with actual memory, the MK8115 supports SLC NAND produced using 20 nm-class fabrication processes, MLC NAND made using all three iterations of 10 nm-class manufacturing technologies (1x, 1y, 1z) as well as IMFT's 3D MLC and 3D TLC NAND flash. The controller can support up to 1536 GB of memory (when coupled with IMFT's 384 Gb 3D TLC ICs), which should be enough for low-cost SATA SSDs for at least a couple of years.
Performance-wise, the MK8115 is on par with other SATA 3.2 devices: it can handle up to 560 MB/s sequential read speed and up to 530 MB/s sequential write speed. As for random operations, the new SSD controller is rated to perform up to 100K random read IOPS as well as up to 75K random write IOPS. In a bid to boost writing performance of 3D TLC NAND-based SSDs, the MK8115 can also use a part of the NAND in pseudo-SLC mode, which is what other controllers do these days as well. Maxiotek claims that the upcoming DRAM-less SSDs powered by the MK8115 will perform just like drives featuring DRAM cache (to store LBA tables) in typical workloads.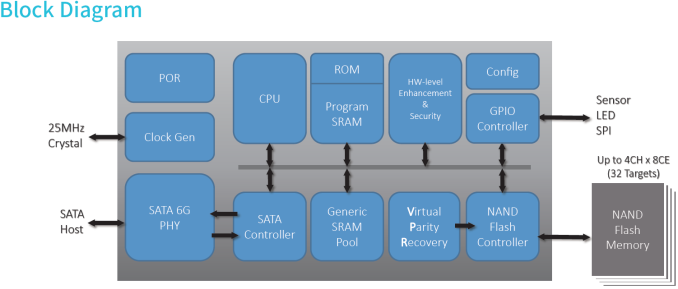 The Maxiotek MK8115 chip is available in 12×12 mm2 288-ball TFBGA package and use 3.3V/1.8V/1.2V power supply, which make it compatible with SSDs in M.2 and mSATA. Since SATA 2.5" form-factors require +5V and +12V rails, to build such SSDs featuring the MK8115, manufacturers will have to integrate a basic VRM into the package, which should not be too hard.
Maxiotek may not be a household name, but the company is basically a spin-off from JMicron, whom focuses solely on SSD controllers. The two companies are still based in the same building in Hsin-Chu, Taiwan, but we have no idea whether they share any resources. Nonetheless, a good news is that Maxiotek will not start to build itself from scratch, but will continue from where JMicron stopped. At least, the company says it has an experienced team of engineers as well as relations with partners, which include all major makers of SSDs as well as PC OEMs.
Source: Maxiotek