Tyan's GT75-BP012
Getting to the meat of today's article, we have the Tyan GT75-BP012. Anton has already described the Tyan GT75 servers in great detail here, so we will recap and add a few details.
The Tyan GT75 machines (just like the Tyan TN71-BP012 servers launched a year ago) are based on one IBM POWER8 Turismo Single Chip Module (SCM) processor, offering either eight or ten cores. This CPU finds itself paired with Tyan's Habanero motherboard, the same as in IBM's most affordable OpenPOWER server, the S812LC.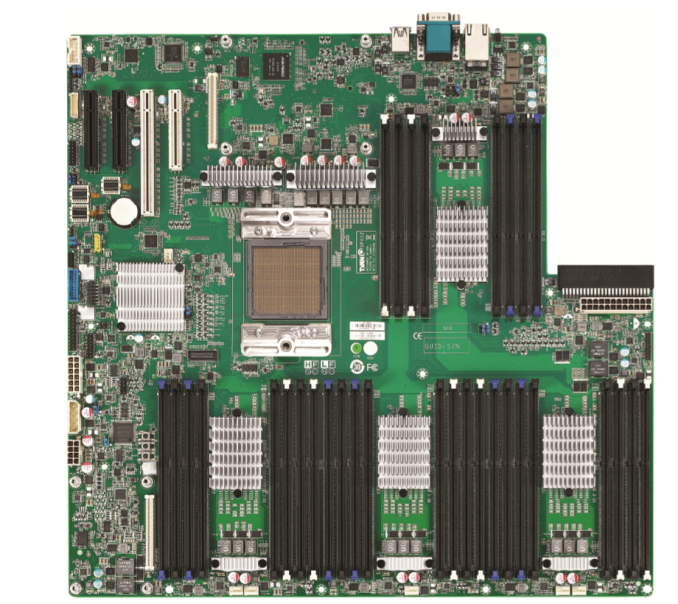 The board has 32 DIMM slots using four IBM Centaur memory buffer chips (MBCs). Since the operational voltage of the Centaur chip PHY maxes out at 1.43V, only low power DDR3 DIMMs are supported. The largest supported DIMMs are the quad ranked 32 GB DIMMs with 4 Gbit chips, allowing the server to have up to 1 TB of RAM. Unfortunately, the latest 8 Gbit based DIMMs are not supported. Tyan ships the server with eight 16 GB DIMMs – for a total of 128GB – if you take the standard configuration.
Tyan GT75: IBM POWER8 Turismo CPU Options
POWER8 8-Core
POWER8 10-Core
Core Count
8
10
Threads
64
80
Nominal Freq.
Turbo
2.33 GHz
3.025 GHz
2.095 GHz
2.926 GHz
L2 Cache
512 KB per core
512 KB per core
L3 Cache
8 MB eDRAM per core
64 MB per CPU
8 MB eDRAM per core
80 MB per CPU
DRAM Interface
DDR3L-1600 (Low Power Only)
PCI Express
3 × PCIe controllers, 32 lanes
TDP
130W
169W
130W
169W
As the OpenPOWER POWER8 has to fit and operate within a 1U home, the clockspeed is limited to 2.328 GHz nominal. However, that is just a paper spec just like the clockspeed of the Xeon E5. In reality, the power governor defaults to "on demand". In that case, the CPU runs at 2.06 GHz at low load, and boost up to 3.025 GHz when the CPU is fully loaded. The speedsteps are very small, only +/- 30 MHz, so the second highest speedstep is 2.99 GHz. Below you find the configuration table of all Tyan GT75 servers.
Comparison of Tyan GT75 Servers
BSP012G75V4H-B4C
BSP012G75V4H-Q4T
BSP012G75V4H-Q4F
CPU
IBM POWER8
8-Core
2.328 GHz
130 W/169 W TDP
IBM POWER8
10-Core
2.095 GHz
130 W/169 W TDP
IBM POWER8
10-Core
2.095 GHz
130 W/169 W TDP
Installed RAM
8 × 16 GB R-DDR3L
16 × 16 GB R-DDR3L
32 × 16 GB R-DDR3L
RAM (subsystem)
Up to 1 TB of DDR3L-1333 DRAM, 32 RDIMM modules, four IBM Centaur MBCs
Storage
2 × 512 GB SSDs
2 × 1 TB SSDs
4 × 1 TB SSDs
Tyan Storage Mezzanine
MP012-9235-4I
(4-port SATA 6Gb/s IOC w/o RAID stack)
LAN
4 × GbE ports
4 × 10 GbE ports
4 × 10 GbE ports
Tyan LAN Mezzanine
MP012-5719-4C
Broadcom 1GbE LAN Mezz Card
MP012-B840-4T
Qlogic+Broadcom 10GbE LAN Mezz Card-
MP012-Q840-4F Qlogic 10GbE LAN Mezz Card
In today's article we're review the basic model, the BSP012G75V4H-B4C. Notice the twelve (!) fans.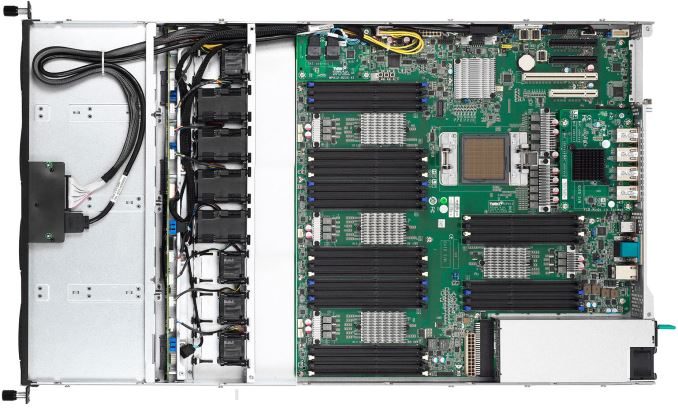 The Tyan GT75-BP012 makes use of Tyan's mezzanine cards for networking and for the storage controller. As a result, it can equipped with up to four 3.5" hot-swappable SATA 6G HDD/SSDs and four network controllers (1 GbE or 10 GbE) without using the 8-lane PCIe riser.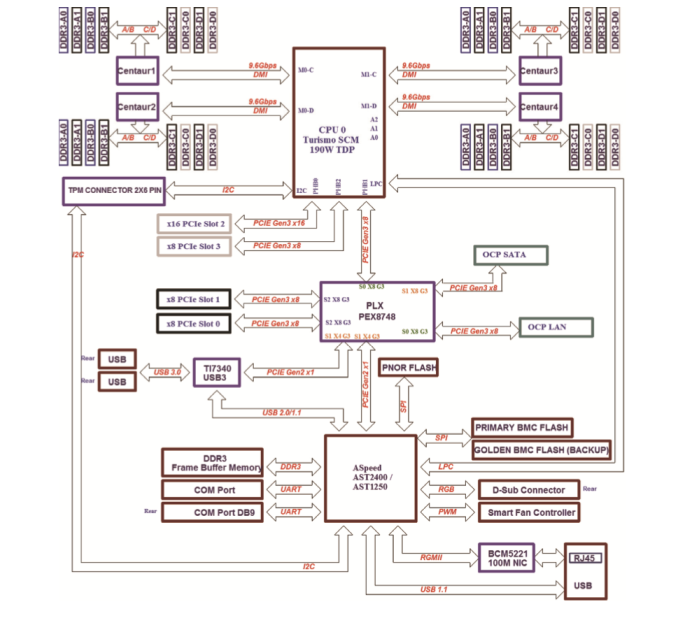 Now if you've been counting the CPIe lanes required for all of this, it seems like we should be a bit short, and indeed that's the case. Digging a bit deeper, we'll find that the server is using a PLX PEX8748 PCIe switch to take a PCIe 3.0 x8 root port from the CPU and switch it among the LAN riser, SATA riser, and the two black PCIe x8 slots.