After teasing the Exynos 9810 in CES related press material back in early November as well as having early announcement about the new modem capabilities last summer we now finally see the official announcement of the new SoC ahead of CES next week.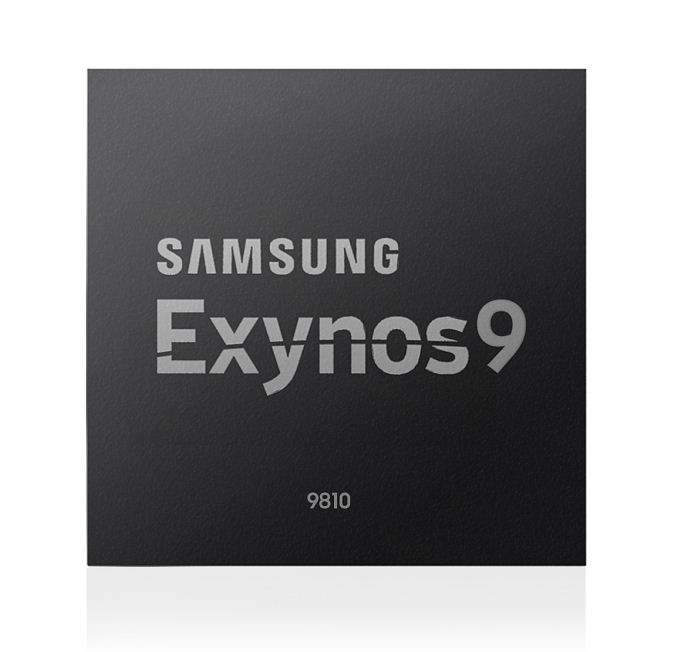 The new Exynos 9810 much like the Snapdragon 845 announced a few weeks ago in December, is a major upgrade on the CPU side of things as we do the migration towards a DynamiQ cluster configuration. Here we find Samsung's third-generation custom core, the Exynos M3. We don't know much about the micro-architectural changes of the new core, however Samsung has stated that the new CPU has a wider pipeline, and improved cache memory. What we expect is a large overhaul of the memory subsystem in the private L2 cache, as well as a larger L3 which will bring major performance uplifts in memory access during heavy workloads. Coupled with the M3 cores we see ARM's new A55 little cores used as the efficiency cluster.
Samsung Exynos SoCs Specifications
SoC
Exynos 9810
Exynos 8895
CPU

4x Exynos M3 @ 2.9 GHz


4x 512KB L2 ??



4x Cortex A55 @ 1.9 GHz


4x 128KB L2

4096KB L3 DSU ??
4x Exynos M2 @ 2.314 GHz
2048KB L2

4x Cortex A53 @ 1.690GHz
512KB L2
GPU
Mali G72MP18
Mali G71MP20
@ 546MHz
Memory
Controller

4x 16-bit CH




LPDDR4x @ 1794MHz

4x 16-bit CH
LPDDR4x @ 1794MHz

28.7GB/s B/W
Media

10bit 4K120 encode & decode




H.265/HEVC, H.264, VP9

4K120 encode & decode
H.265/HEVC, H.264, VP9
Modem

Shannon Integrated LTE




(Category 18/13)





DL = 1200 Mbps




6x20MHz CA, 256-QAM





UL = 200 Mbps




2x20MHz CA, 256-QAM

Shannon 355 Integrated LTE




(Category 16/13)





DL = 1050 Mbps




5x20MHz CA, 256-QAM





UL = 150 Mbps




2x20MHz CA, 64-QAM

ISP
Rear: 24MP
Front: 24MP
Dual: 16MP+16MP
Rear: 28MP
Front: 28MP
Mfc.
Process
Samsung
10nm LPP
Samsung
10nm LPE
Samsung hasn't announced all of the new CPU parameters yet, but they have announced a 2.9 GHz maximum frequency for the M3 cluster, which is a large step up over the 2.3 GHz of the outgoing model. This is thanks to the Exynos 9810 being produced on the second generation 10nm manufacturing node, 10LPP, which promises up to 10% performance increases at isi-power or a 15% decrease in power at iso-performance.
With the increased IPC that is expected from the new cores, and the faster frequency, this should be a significant increase in performance from the outgoing model, which we saw in our comparison test was fairly evenly matched with the Qualcomm Snapdragon 835. Samsung claims up to double the single-thread performance and 40% uplift in multi-thread performance. The single-thread performance claim would be the single biggest performance jump in the industry and if we're even just talking simple GeekBench scores that would put the Exynos 9810 at the performance levels of Apple's A10 and A11. Of course having this on a quad-core CPU begs the question of how it's achieved and if this 2.9GHz clock is on all cores or just a single-core boost clock? And at what kind of TDP does it achieve this massive performance boost?
The GPU follows the lead of the Kirin 970 in adopting the new Mali G72 Heimdall GPU IP from ARM. What stands out here is that Samsung has actually decreased the GPU core count from 20 to 18 while still managing to increase performance through an increase of the clock frequency from 546MHz to a higher undisclosed frequency likely in the mid 700MHz range. The performance increase is conservative at only 20%, but more importantly efficiency should be up thanks to the new GPU and process.
The modem as disclosed earlier in 2017 now adheres to 3GPP Release 13 and implements UE Category 18 up to 1200Mbps in its downlink capabilities through up to 6xCA and 256-QAM, slightly exceeding the capabilities of the Snapdragon 845 and Kirin 970 on paper, but likely something to be tested in practice. The Exynos 9810 modem also is the first one to employ 256-QAM in the uplink and thus achieving up to 200Mbps speeds as a UE Category 18 in the uplink as well.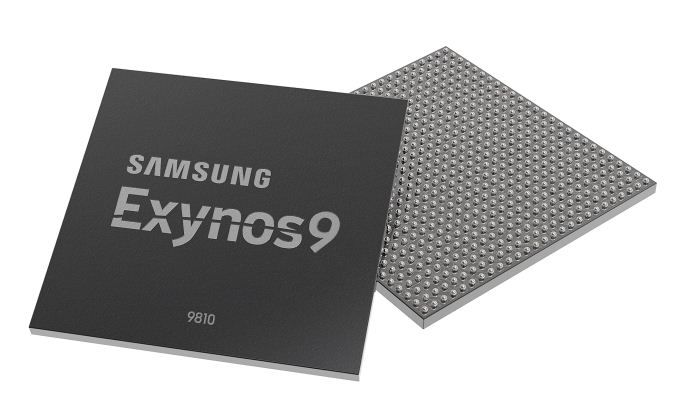 As is usual with new flagship Exynos announcements the SoC is likely already in mass production and waiting to be used in the new Galaxy S9 series which in turn will be expected in the MWC timeframe at the end of February.
Source: Samsung Newsroom