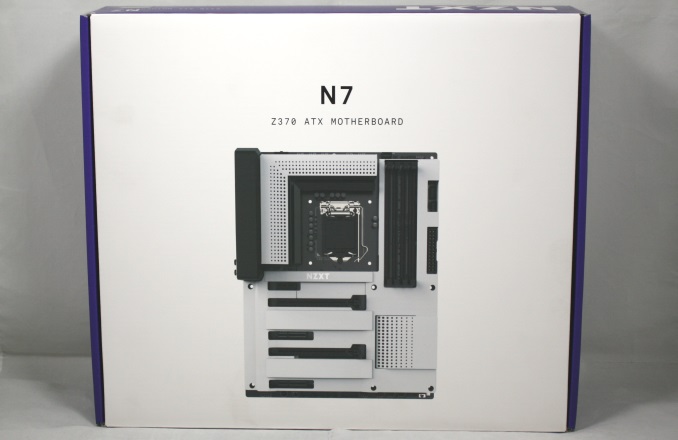 NZXT, a company much better known for products like cases, power supplies, and coolers, is dipping its toes in the motherboard waters with an Intel Z30 based motherboard named N7. The N7 is nearly completely covered with shrouds exposing only the pertinent parts, making for a unique looking motherboard. We'll put it through its paces and see where it stands after our testing.
The NZXT N7 Motherboard Review
A couple of weeks back an email was forwarded to me with the subject line reading along the lines of 'NZXT Review, It's not a case!' I think we all appreciated that humor as clearly, that is one of several product lines we are familiar with NZXT for. When I read it was a motherboard I think we were all surprised to hear about the entry into this market. But nevertheless, they came forward with the Intel Z370 based N7.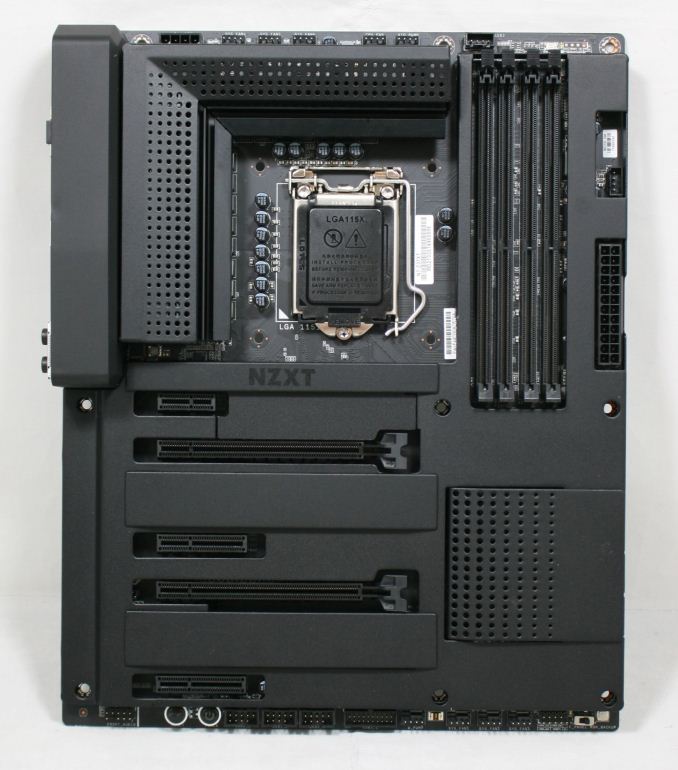 Default performance on this board was tough to compare as we only have datasets with varied Uncore frequencies. However, that seems to be a function of the motherboard and will vary throughout the Z370 testing. It is tough to compare it directly to the i9-7900X because of its difference in core/thread count as well cost. We can almost purchase three i7 8700Ks for one 7900X. When compared with its peers though, it was leading the small pack even with a slight Uncore deficit. As we saw in testing, only a couple of results really showed a significant difference, but certainly worth noting in comparison. Boot times were a bit slower, but that was also due to some curious issues with the monitor and when it turns on with this motherboard. Occasionally the monitor wouldn't detect a signal as the system booted, but when I switched to a different monitor (same cable), there wasn't an issue. It is difficult to pinpoint where the issue is, however, this is the first time I have seen this behavior.
As far as storage options go, the way the N7 is configured, with a total of four SATA ports, allows for the two M.2 slots to remain at PCIe 3.0 x4 bandwidth regardless if all are used. The chipset can support six, but instead of having all six on there and sharing, they went without. I have to expect for the vast majority of users this will not be a concern. Those who require more than four SATA ports will have to do so via expansion cards.
The N7 has a total of five PCIe slots with positions 2 and 4 (the full-length slots), connected to the CPU and intended for video cards. Slots 1(x1), 3(x4), and 5(x4) are all connected through the chipset. Back panel connectivity consists of four USB 3.0 ports and five USB 2.0 ports, CMOS Reset button, HDMI/DisplayPort Video outputs, the Intel RJ-45 port and the 6-plug 7.1 channel audio stack. The board does not have any USB 3.1 (10 Gbps) ports.

The NZXT has placed an MSRP of $299.99. That price point puts in in direct competition with some solid motherboards. The ASRock Z370 Professional Gaming i7 is priced at $300, the ROG Maximus X Hero (Wi-Fi AC) sits at $280 with the Gigabyte Z370 AORUS Gaming 7 prices at $250. At the same or lesser price point, the ASRock and ASUS include Wi-Fi and USB 3.1 (10 Gbps). Pretty stiff competition around the $300 mark.
EDITOR'S NOTE: On 1/19/18, NZXT released a statement acknowledging what many reviews said that the price was too high. The MSRP has been lowered to $249.99 in response. With this came some changes to what is included with the board. In order to offer the lower price, they have removed the bundled RGB LED strips and extensions. Additionally, NZXT has doubled down on their confidence of the N7 and have increased the warranty period from 3 to 4 years.
Information on Intel's Coffe-Lake CPU Desktop Processors
One important piece of information to note: technically these processors use the LGA1151 socket, also used by 6th and 7th Generation processors using the Z170 and Z270 chipsets. But due to several (albeit minor) difference in the pin-layout of these two sets of processors, the 8th Generation Coffee Lake will only work in Z370 boards and are not cross compatible. Back in October 2017, Ian Cutress reviewed a couple of processors (i7-8700K and i7-8400) in the Coffe Lake lineup - details on the rest of the product stack are listed below.
Intel 8th Generation 'Coffee Lake' Desktop Processors
i7-8700K
i7-8700
i5-8600K
i5-8400
i3-8350K
i3-8100
Cores
6C / 12T
6C / 6T
4C / 4T
Base Frequency
3.7 GHz
3.2 GHz
3.6 GHz
2.8 GHz
4.0 GHz
3.6 GHz
Turbo Boost 2.0
4.7 GHz
4.6 GHz
4.3 GHz
4.0 GHz
-
-
L3 Cache
12 MB
9 MB
8 MB
6 MB
DRAM Support
DDR4-2666
DDR4-2400
Integrated Graphics
GT2: 24 EUs
GT2: 23 EUs
IGP Base Freq
350 MHz
350 MHz
IGP Turbo
1.20 GHz
1.15 GHz
1.05 GHz
1.15 GHz
1.10 GHz
PCIe Lanes (CPU)
16
16
PCIe Lanes (Z370)
< 24
< 24
TDP
95 W
65 W
95 W
65 W
91 W
65 W
Price (tray)
$359
$303
$257
$182
$168
$117
Price (Newegg)
Sale until 10/12
$380
$315
$260
$190
$180
$120
Price (Amazon)
$N/A
$N/A
$N/A
$N/A
$N/A
$N/A
At the top of the stack are two Core i7 Coffee Lake processors. In previous generations 'Core i7' meant that we were discussing quad-core parts with hyperthreading, but for this generation, it moves up to a six-core part with hyperthreading. The Core i7-8700K starts at a 3.7 GHz base frequency and is designed to turbo to 4.7 GHz in single-threaded workloads, with a thermal design power (TDP) of 95W. The K designation means this processor is unlocked and can be overclocked by adjusting the frequency multiplier, subject to appropriate cooling, applied voltage, and the quality of the chip (Intel only guarantees 4.7 GHz). The Core i7-8700 is the non-K variant, with lower clocks (3.2 GHz base, 4.6 GHz turbo) and a lower TDP (65W). Both of these processors use 256 KB of L2 cache per core and 2 MB of L3 cache per core.
Kaby Lake i7-K vs Coffee Lake i7-K
i7-7700K
i7-8700K
4C / 8T
Cores
6C / 12T
4.2 GHz
Base Frequency
3.7 GHz
4.5 GHz
Turbo Boost 2.0
4.7 GHz
8 MB
L3 Cache
12 MB
DDR4-2400
DRAM Support
DDR4-2666
GT2: 24 EUs
Integrated Graphics
GT2: 24 EUs
350 MHz
IGP Base Freq
350 MHz
1.15 GHz
IGP Turbo
1.20 GHz
16
PCIe Lanes (CPU)
16
< 24
PCIe Lanes (Chipset)
< 24
95W
TDP
95 W
$339
Price (tray)
$359
$340
Price (Newegg)
$380
$351
Price (Amazon)
$N/A
When compared to the previous generation, the Core i7-8700K starts at a higher price, but for that price comes more cores and a higher turbo frequency. The Core i7-8700K is a good example of how adding cores works: in order to keep the same power consumption, the overall base frequency has to be lowered to match the presence of extra cores. However, in order to keep the responsiveness higher than the previous generation, the single thread performance is often pushed to a higher multiplier. In almost all situations this counts as a win-win, and makes pushing for the 6-core part, on paper at least, a no-brainer.