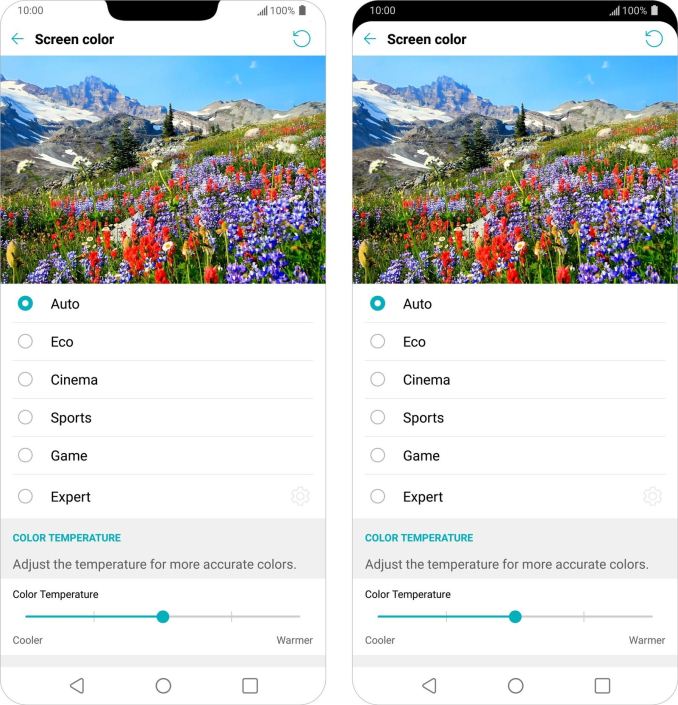 In a blog post by LG, we've seen the company announce the display specifications of the upcoming LG G7 ThinQ. The company confirms that the G7 will continue sporting an LCD display as opposed to the OLED type that was applied most recently on the LG V30.
The article details that we'll be looking at a 6.1" 3120x1440 display which comes at a very wide 19.5:9 aspect ratio. The G6 was a 5.7" phone with an 18:9 aspect ratio, which resulted in a screen width of 65mm. The G7's increase screen size is compensated by the wider aspect ratio, so we'll be looking at an identical 65mm screen width and thus we're expecting a similar body size to the G6.
LG promises a "Super Bright Display" technology with specifications such as up to a 1000nits brightness, as well as overall 30% less power consumption compared to the LG G6's screen. What I'm expecting here is that the LCD is of a RGBW type as it would be natural explanation for the improvements in brightness and power efficiency.
LG further explains that we'll be seeing the DCI-P3 gamut fully supported, as well as different screen modes adhering to different gamuts. It will be interesting to see if LG actually implements full colour management in the G7 as that would be the a great asset and leap for the new phone. The article states that the colour balance will be individually adjustable with R, G, and B controls, and we also see a colour temperature slider in the screen colour screenshot.
Finally, LG confirms that the G7 will feature a notch. The G7 is said to have reduced the bottom bezel compared to the G6, and expanded the screen with a "Second Screen" (translation inaccuracy possible) at the top which is essentially the "ears" alongside the notch. In the blog post picture it's notable that LG allows for the notch ears to be hidden in the software by blacking them out when integrated with the notification area, a feature Huawei first showed off in the P20 and P20 Pro.
We're expecting LG to officially announce the G7 ThinQ soon.
Source: LG Social