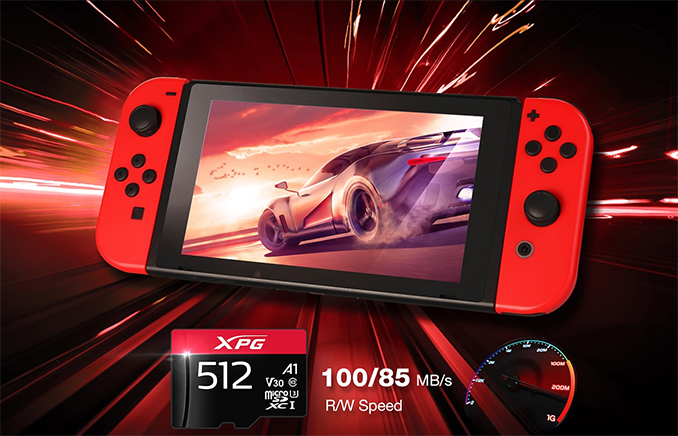 ADATA this week launched its lineup of microSD cards aimed at gamers. The ADATA XPG microSD cards offer capacities up to 512 GB, and are compliant with the 'App Performance Class 1' standard for guaranteed performance.
ADATA's XPG lineup of microSDXC cards includes 128 GB, 256 GB, and 512 GB models and are rated for up to 100 MB/s sequential read speed as well as up to 85 MB/s write speed. The cards are compliant with the Video Speed Class V30 requirements and therefore guarantee a minimum write speed of 30 MB/s. Being A1-compliant, the cards also provide a sustained performance of at least 1500 random read IOPS as well as at least 500 random write IOPS.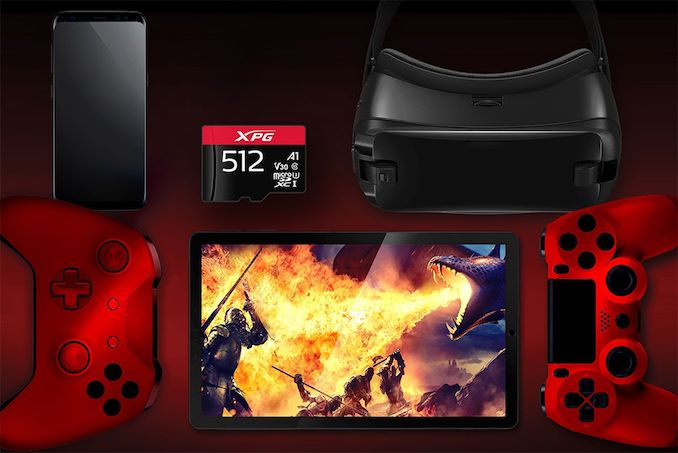 Being aimed at Google Android-based smartphones/tablets, Nintendo Switch consoles, various VR headsets, and other microSD devices, ADATA's XPG microSDXC cards feature an extended temperature range and can operate in the range between -25ºC to 85ºC (-13ºF to 185ºF), which makes them useful not only for gamers, but also for photographers (with cameras or drones) who many need to work in extreme weather conditions.
ADATA XPG microSD Cards
512 GB
AUSDX512GUI3XPGA1-R
256 GB
AUSDX256GUI3XPGA1-R
128 GB
AUSDX128GUI3XPGA1-R
Sequential Read Speed
100 MB/s
Sequential Write Speed
85 MB/s
Minimum Sequential Write Speed
30 MB/s
Minimal Random Read Speed
1500 IOPS
Minimal Random Write Speed
500 IOPS
Operating Temperatures
-25° to 85° C (-13°F to 185°F)
Interface
UHS-I
Availability
Q4 2018
SDA Labels
A1, V30, U3
ADATA is the sixth company to offer microSD cards with 512 GB capacity, alongside PNY, Lexar, Samsung, Kingston, and Integral. The top-of-the-range card will be offered at a premium, and we expect pricing of XPG 128 GB and XPG 256 GB microSD cards to be in line with competition offering similar performance and features.
Related Reading
Source: ADATA