What to do with 400GB?
Thanks to the extra platters, the 7K400 actually feels a little heavier than other 2 or 3 platter drives. It's nothing to worry about, but just an interesting thing to point out.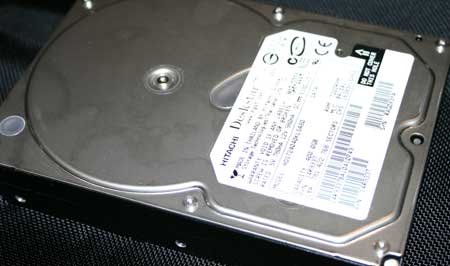 The drive itself looks much like the older IBM drives, but thankfully, it seems as if the old reliability issues have not been carried over to the new Deskstar line.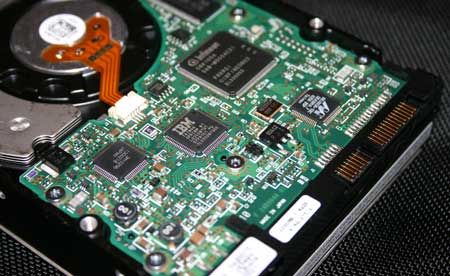 With a street price of around $450, the Hitachi Deskstar 7K400 is one expensive animal, but Hitachi has priced the drive about where 2 x 200GB drives would fall, so there's no cost benefit to going with two smaller drives vs. one 7K400 (or vice versa).
With 400GB of storage, the 7K400 offers a great place to store application installation files, disk images, movies, MP3s, games as well as meet any other archival needs that you may have. The thing to keep in mind with a 400GB drive is that the more you fill it , the more you have to worry about backing up. The old saying - the bigger they are, the harder they fall - applies quite well to the 7K400; don't buy a 400GB hard drive without having a good way of backing up that data.
Hard Drive Specification Comparison
 
 Hitachi Deskstar 7K400
 Maxtor MaXLine III
 Seagate Barracuda 7200.8
 Western Digital Raptor II
Maximum Capacity
400GB
300GB
400GB
74GB
Platter Density
80GB
100GB
133GB
37GB
Number of Platters
5
3
3
2
Average Seek Time
8.5 ms
9.3 ms
8 ms
4.5 ms
Maximum Buffer Size
8MB
16MB
16MB
8MB
Spindle Speed
7200 RPM
7200 RPM
7200 RPM
10,000 RPM
Interface
PATA
SATA
PATA
SATA (NCQ)
PATA
SATA (NCQ)
SATA (TCQ)
Availability
Now
Q3 '04
Q3 '04
Now
As you can see by the basic specification comparison, the 7K400 will look much older once the Maxtor MaXLine III and Seagate Barracuda 7200.8 hit the streets next quarter. But for the time being, the 7K400's specifications are competitive with other present-day 7200RPM desktop drives.