Cold Test Results
For our PSU testing, we are using various high precision electronic loads with a maximum power draw of 2700 Watts, a Rigol DS5042M 40 MHz oscilloscope, an Extech 380803 power analyzer, two high precision UNI-T UT-325 digital thermometers, an Extech HD600 SPL meter, a self-designed hotbox and various other bits and parts. For a thorough explanation of our testing methodology and more details on our equipment, please refer to our How We Test PSUs - 2014 Pipeline post.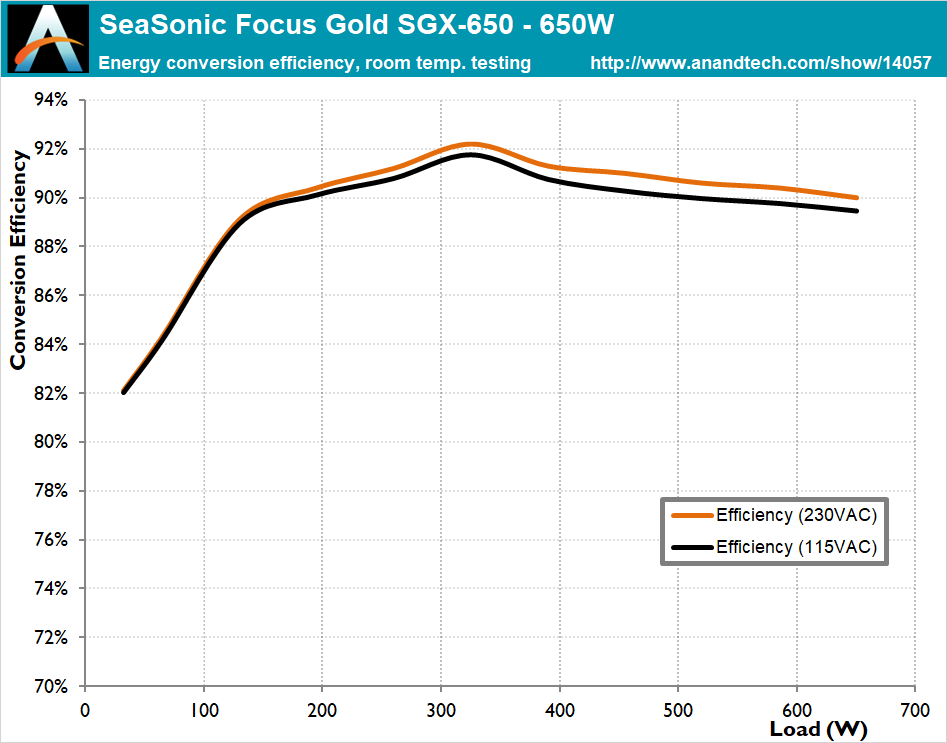 The efficiency of the SeaSonic Focus Gold SGX-650 SFX PSU is very good. Although the unit technically fails to meet the 80Plus Gold certification requirement for 90% efficiency at a 20% load when powered from a 230V AC source, it showcased exceptional efficiency across the entire load range. Conversely however, the efficiency drop when the unit is powered from a 115V AC source is very small, from practically zero at low loads up to a maximum of about 0.75%. This allows the unit to easily surpass the 80Plus Gold requirements for an input voltage of 115V AC.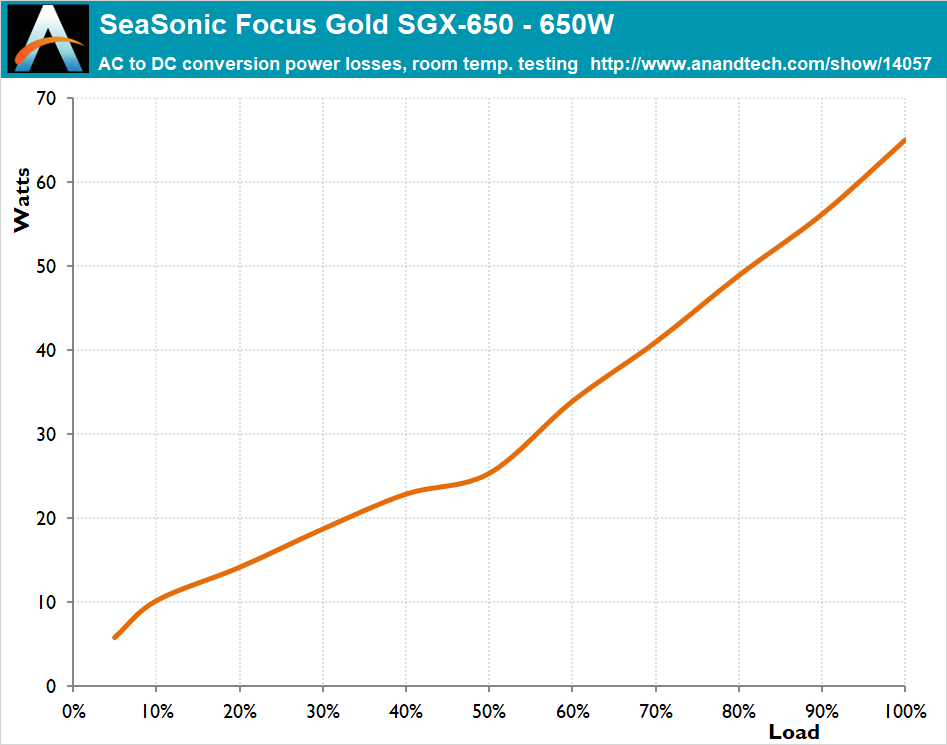 SeaSonic designed the thermal control of the Focus Gold SGX-650 to utilize a semi-fanless mode, meaning that the fan will start only after the load is greater than about 180 Watts or when it is absolutely necessary. As expected, the internal temperatures of the PSU rise sharply under low loads due to the lack of active cooling, but they quickly stabilize once the fan starts. Considering the size and compactness of the design, the internal temperatures of the Focus Gold SGX-650 are quite low.
Despite the use of a low-profile 120 mm fan, it seems that the cooling requirements of the Focus Gold SGX-650 are low. Even when the fan does start, it barely reaches audible levels even when the PSU is heavily loaded. Assuming that it takes a rather powerful system to heavily load a 650 Watt PSU, it is very likely that any sound coming from the PSU will be masked by the noise of other components.