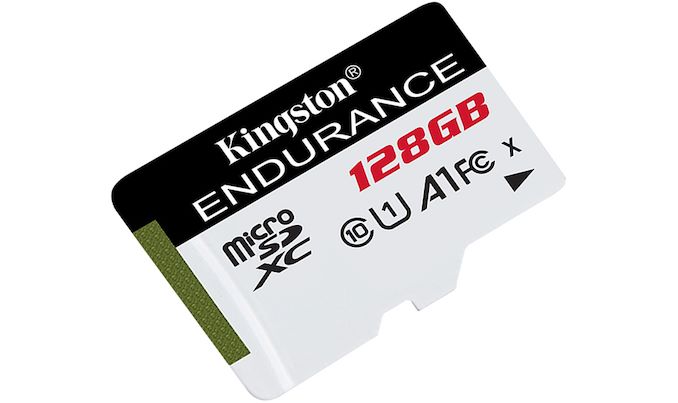 Kingston has introduced its new lineup of microSD cards designed for write-intensive applications in harsh environments. Kingston's Endurance family microSD cards promise extensive durability, an extended operating temperature range, and protection against rough conditions.
Aimed primarily at security cameras as well as dash cameras in vehicles, Kingston's High Endurance microSD cards come in 32 GB, 64 GB, and 128 GB capacities. The 32 GB and 64 GB versions offer up to 95 MB/s sequential read speeds as well as 30 MB/s sequential write speeds. Meanwhile, the 128 GB model features a sequential write speed up to 45 MB/s.
Kingston's High Endurance microSD cards use an UHS-I interface, with the cards officially rated for UHS Speed Class 1, meaning they support a minimum write speed of 10 MB/s. In addition, the cards carry the A1 app class badge, so they should offer solid performance for running Android applications as well.
Meanwhile in terms of durability, the High Endurance microSD cards from Kingston are IEC/EN 60529 IPX7 certified for protection against water submersion up to 30 minutes and depth up to one meter. And in terms of environment temperatures, the devices can withstand temps ranging from -25°C to 85°C. Furthermore, they are protected against X-ray exposure according to ISO7816-1 guidelines.
Kingston Endurance microSD Cards
128 GB
SDCE/128GB
64 GB
SDCE/64GB
32 GB
SDCE/32GB
Sequential Read Speed
95 MB/s
Sequential Write Speed
45 MB/s
30 MB/s
Minimum Sequential Write Speed
10 MB/s
Minimal Random Read IOPS
1500 IOPS
Minimal Random Write IOPS
500 IOPS
Operating Temperatures
-25° to 85° C
Interface
UHS-I
Availability
Q2 2019
SDA Labels
A1, Speed Class U1
Kingston's High Endurance microSD cards are backed by a two-year warranty and will be available shortly.
Related Reading:
Source: Kingston