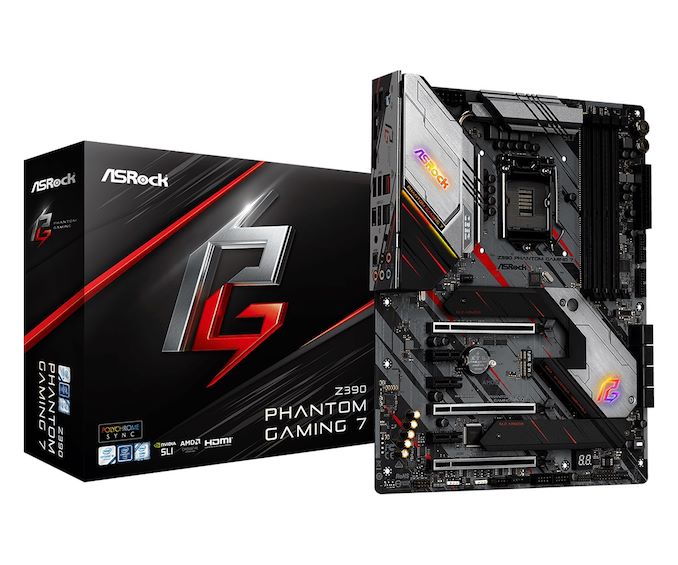 The battle between Intel and AMD fighting over market share is hotter than it has ever been. With each of the two colossal chip makers doing battle for brand supremacy, we've seen two primary desktop chipsets set the standard in the world of desktop motherboards; the Z390 and X570 chipsets. While the Z390 market is now mature, ASRock launched two new motherboards into its Intel Z390 product stack, and today we are taking a look at one of them, the ASRock Z390 Phantom Gaming 7. With a feature set spearheaded by a 2.5 GbE port, it sits between the ASRock Z390 Phantom Gaming 9 and Z390 Phantom Gaming 6, aiming for a more mid-range user.

ASRock has added two new gaming-themed Z390 models to its product stack which means ASRock now has a total of thirteen Z390 models available at the time of writing. The main caveat of releasing new models on an already long-established chipset is that they need to have more features or be at a better cost than the previously launched counterparts.
Enter the ASRock Z390 Phantom Gaming 7 with its updated heatsink and aesthetic. This new model has a similar core PCB design to the previous Z390 Phantom Gaming 6 ($166) and Z390 Phantom Gaming 9 ($244), with the new Z390 Phantom Gaming 7 ($196) bridging the gap between the two models. The non-gaming focused, but highly popular and unique ASRock Z390 Taichi ($226), also plays in this price bracket.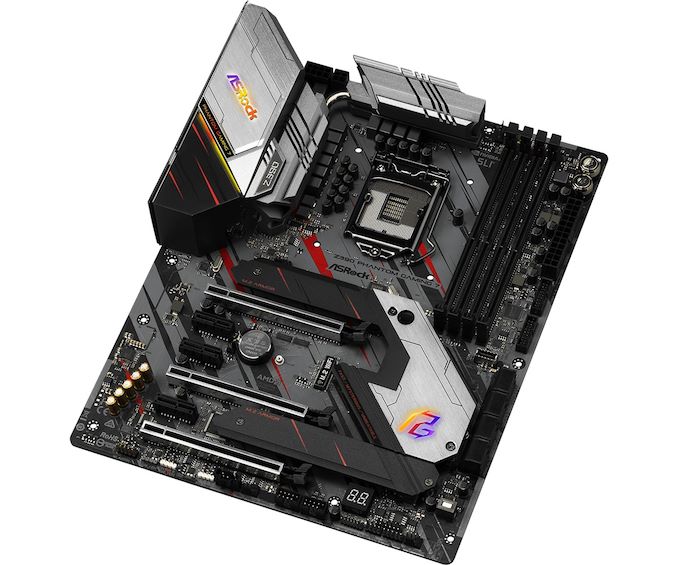 The ASRock Z390 Phantom Gaming 7 is an interesting addition with a solid looking core feature set including a Realtek RTL8125AG 2.5 GbE Gaming port, and a secondary Intel I219-V Gigabit NIC offering users with another Ethernet port on the rear panel. Also featured is a commonly utilized and premium Realtek ALC1220 HD audio codec, with an assist coming from a Texas Instruments NE5532 OP-AMP which can drive headsets up to 600 Ohms. ASRock has made a few interesting design tweaks when compared with its other models which we will investigate in the visual inspection, but its core feature set is competitive for the price point it represents.
Looking to the board's storage capabilities, ASRock has included dual PCIe 3.0 x4 M.2 slots which can run both PCIe 3.0 x4 and SATA drives, with eight SATA ports that support both hot-plugging and RAID 0, 1, 5 and 10 arrays. Memory compatibility across the four available memory slots includes up to and including DDR4-4300, with up to a maximum capacity of 128 GB. A total of three full-length PCIe 3.0 slots take up the bulk of the board's frame with usable configurations including x16, x8/x8, and x8/x8/x4; the bottom-mounted full-length slot is hard locked down to PCIe 3.0 x4 from the chipset. Users looking to add expansion cards for additional networking and audio, ASRock also includes three PCIe 3.0 x1 slots.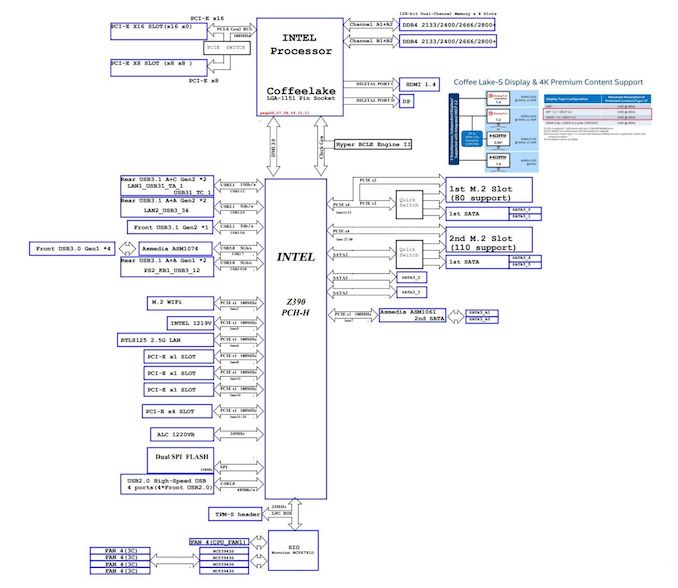 ASRock Z390 Phantom Gaming 7 Block Diagram
In our performance testing, the ASRock Z390 Phantom Gaming 7 performed well in our system testing with a strong showing in DPC Latency, power consumption in all three tested states, and in our POST time test. In computational performance, for the most part, the ASRock Z390 Phantom Gaming 7 is competitive with other models on the Z390 chipset, but we weren't happy with the performance in our WinRAR benchmark which yielded the longest competition time so far by a good three seconds longer than the rest of the Z390 models. This model also proved to be competitive in gaming too.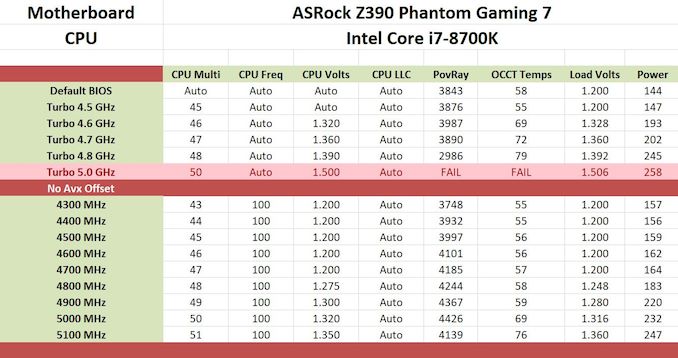 The ASRock Z390 Phantom Gaming 7 is using a 10-phase power delivery which operates in an 4+2 configuration with doublers on the CPU side. An Intersil ISL69138 6-phase PWM controller is tasked with the job of controlling things from a power perspective. That being said, the overclocking performance proved the ASRock Z390 Phantom Gaming 7 to be a mixed bag. First of all, compared with other models we've tested, we needed slightly more CPU VCore volts once we hit 4.8 GHz in our manual testing. Not only did this raise the temperatures, but it raised power consumption too which go hand-in-hand when overclocking processors. The performance was consistent throughout our POV-Ray benchmarking, but we did notice that ASRock has thermal throttling limits applied within the firmware which was prevalent when using the overclocking presets provide, we did see a noticeable and negative effect on performance. The VDroop on the CPU VCore was also quite tight, but this can be attributed to the fact that when setting the CPU VCore to a fixed value, it would automatically set the LLC to level 1; this is good from a voltage consistency point of view, but having a negatable amount of VDroop room to play with is also beneficial.
The features on offer are standard procedure for gaming-focused motherboards, but there is nothing substantial in terms of feature set over the cheaper ASRock Z390 Phantom Gaming 6 other than the aesthetic to make this model stand out on paper. For an extra $50, the ASRock Z390 Phantom Gaming 9 offers an extra PCIe 3.0 x4 M.2 slot (three in total), and an extra Ethernet port on the rear panel powered by an Intel Gigabit NIC (three in total). The ASRock Z390 Phantom Gaming 7 does seem to have a reason for existence with a slightly cut down feature set for a cut down price. The biggest point here is, the ASRock Z390 Phantom Gaming 6 which the Z390 Phantom Gaming 7 replaces at the $196 price point already exists, and it's hard to differentiate between the two boards looking at each model on paper, and that is important from a buyers perspective.