Features
Since the circuitry/chipsets of the DRU-540A are the same as the DR12A we assumed the features would also be quite similar amongst the two drives. We scanned the 540A using Nero's InfoTool to see what the drive offered and found the following...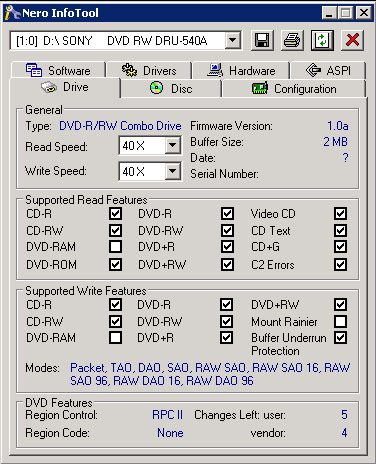 From the InfoTool results the drives seem to be identical, so far...
The Plextor PX-712A also featured support for the Philips Mt. Rainier standard which allows drag & drop writing to RW discs.
Sony DRU-540A 12x DVD-/+RW Drive
Interface
PATA
CD Write Speed
40X CAV, 32X PCAV, 24X PCAV
16X, 8X, 4X
CD Rewrite Speed
24X PCAV
16X, 12X, 8X, 4X
CD Read Speed
40X MAX (CAV)
DVD-R Write Speed
8X (Z-CLV)
4X, 2X, 1X
DVD-RW Rewrite Speed
4X, 2X, 1X (CLV)
DVD+R Write Speed
12X PCAV, 8X PCAV
4X, 2.4X
DVD+RW Rewrite Speed
4X, 2.4X (CLV)
DVD-RAM Write Speed
N/A
DVD Read Speed
12X MAX (CAV)
Supported Modes
DAO / DAO-RAW 16 & 96
TAO
SAO / RAW SAO, RAW SAO 16 & 96
Packet Write
Multi-Session
Supported Formats
DVD+R (DAO, incremental, seq)
DVD+RW (random)
DVD-R (DAO, incremental, seq)
DVD-RW (restricted overwrite)

CD-R, CD-RW, CD-ROM, CD-DA,
Mixed Mode, CD Extra
Photo CD, CD Text, Bootable CD, UDF
Access Time
CD: 130ms
DVD: 160ms
Buffer
2MB