Features
Below, you can see the Infotool readout from Nero. Nero incorrectly reports the drive as only an 8X read, 4X write drive. For a little more detail, we will have to rely on DVD Info Pro. You may notice that we are still using the version 1.04 firmware; you can download the 1.06 firmware from the
Pioneer Japan
or
Pioneer Australia
websites, but since we bought the drive in the US, it only makes sense to wait for a retail US firmware update.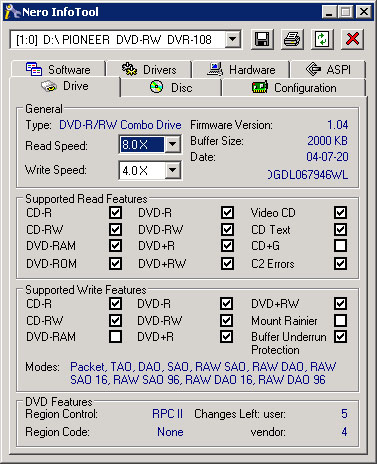 There are no stellar features on this drive. We do not have any HD-Burn capability, and Mount Rainier DVD+RW is obviously not supported either. However, DVD+R Dual Layer (DVD+R9) is fully supported, and we are excited to see such an inexpensive drive support such features.
Pioneer DVR-108D 16x DVD-/+RW Drive
Interface
PATA
CD Write Speed
32X, 24X ZCLV
16X, 8X, 4X CLV
CD Rewrite Speed
24X ZCLV
16X, 10X, 4X CLV
CD Read Speed
40X MAX CAV
DVD-R Write Speed
16X, 12X, 8X CLV
4X, 2X, 1X
DVD-RW Rewrite Speed
4X, 2X, 1X CLV
DVD+R Write Speed
16X, 12X, 8X ZCLV
4X, 2.4X
DVD+RW Rewrite Speed
4X, 2.4X CLV
DVD-RAM Read Speed
2X CLV
DVD Read Speed
16X MAX CAV
Supported Modes
DAO / DAO-RAW 16 & 96
TAO
SAO / RAW SAO, RAW SAO 16 & 96
Packet Write
Multi-Session
Supported Formats
DVD+R (DAO, incremental, seq)
DVD+RW (random)
DVD-R (DAO, incremental, seq)
DVD-RW (restricted overwrite)

CD-R, CD-RW, CD-ROM, CD-DA,
Mixed Mode, CD Extra
Photo CD, CD Text, Bootable CD, UDF
Access Time
CD: 130ms
DVD: 140ms
Buffer
2MB
From the chipset information, this is by far the most ambitious drive that we have seen to date. We see identical features surface on a few other drives, including the NEC 3500A and the ASUS DRW-1604P, but we will get more into detail about those drives later.
The DVR-108D has the capabilities to write to DVD+R DL media at up to 4x and read it back at up to 8x speeds.