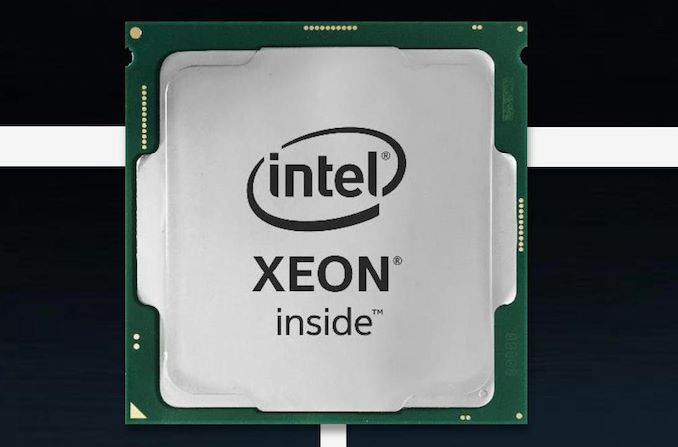 The Xeon-E family from Intel replaced the Xeon E3-1200 parts that were found common place in a lot of office machines and small servers. The Xeon E parts are almost direct analogues of the current leading consumer processor hardware, except with ECC memory support and support for vPro out of the box. Today's launch is a secondary launch, with Intel having released the Xeon-E 2200 series some time ago for the cloud market, but this launch marks general availability for consumers and the small-scale server market.
The main market for Xeon E tends towards small and medium businesses that want an internal office infrastructure that can be managed remotely but also tend to run critical applications that absolutely can't fail a rogue bit-flip in memory. This typically means traders and banks, as well as medical environments, but also Intel has forever expanded this into SMB server deployments, either as a local cloud or as part of the cloud providers, as a way to assist these businesses to scale their data requirements.
Xeon E-2200 Family
AnandTech
Cores
Threads
Base
Freq
Turbo
Freq
L3
Cache
IGP
TDP
8-core
E-2288G
8 / 16
3700
5000
16 MB
Y
95 W
E-2278G
8 / 16
3400
5000
16 MB
Y
80 W
6-core
E-2286G
6 / 12
4000
4900
12 MB
Y
95 W
E-2276G
6 / 12
3800
4900
12 MB
Y
80 W
E-2246G
6 / 12
3600
4800
12 MB
Y
80 W
E-2236
6 / 12
3400
4800
12 MB
-
80 W
E-2226G
6 / 6
3400
4700
12 MB
Y
80 W
4-core
E-2274G
4 / 8
4000
4900
8 MB
Y
83 W
E-2244G
4 / 8
3800
4800
8 MB
Y
71 W
E-2234
4 / 8
3600
4800
8 MB
-
71 W
E-2224G
4 / 4
3500
4700
8 MB
Y
71 W
E-2244
4 / 4
3400
4600
8 MB
-
71 W
These parts are almost direct updates from the Xeon E-2100 family – they are still based on the same 14nm class manufacturing process and are on the 'Coffee Lake Refresh' microarchitecture, rather than just simply 'Coffee Lake'.
Aside from some minor frequency increases (note, the base TDP has also increased from 65W to 70W to accommodate), the biggest news from this processor stack is the launch of the first Xeon E 8-core processors. The Xeon E-2288G and Xeon E-2278G have the honor of being the first 8-core Xeon Entry parts, differing in 15W TDP and 300 MHz base frequency, but both offering 5.0 GHz turbo on up to two cores.
The other thing to note is that the Xeon E-2100 family had a couple of parts in the '2104' range that were OEM-only hardware for particular customers and may have had long life-cycle support depending on the customer. These parts do not appear to have an updated version.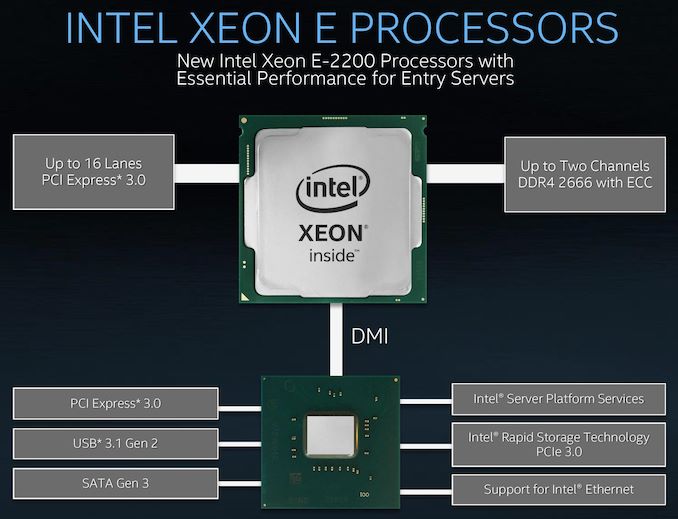 These processors use the same LGA-1151 socket C240 motherboards as the E-2100 generation, and feature dual memory channels up to DDR4-2666 at 2 modules per channel (maximum 128 GB). The CPUs have 16 PCIe 3.0 lanes, with the chipset adding up to 24 more lanes for add-in cards and controllers. The chipset also supports six USB 3.1 ports, 10 USB 3.0 ports, and eight SATA ports for storage.
Ultimately the Xeon E option is low volume but important class for Intel. Xeon E is designed for customers that need consumer-level x86 compute hardware (but also ECC/vPro) but for general purpose or 'entry level workstations' – i.e. those that don't need an intense focus on networking or PCIe lanes.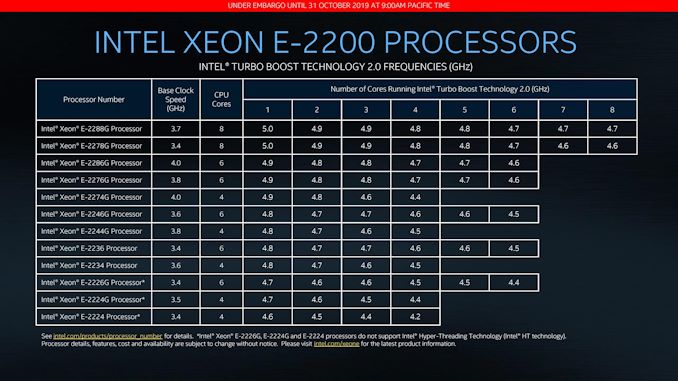 We have a couple of these processors in for review in due course.
Related Reading
Source: Intel