AMD Budget Gaming System
If price is your biggest concern, then even $25 for a slightly faster component can be "too much". Such increases add up quickly, and that's what makes this the most difficult price goal to achieve without making compromises. In fact, it really isn't possible to build a "Budget" system that doesn't make some concessions to the almighty dollar. We have done our best, however, to build a system that will be capable of playing all the latest titles at acceptable rates for the next year or two at least. We have a couple of options from the AMD camp as well as one from the Intel side to help you out. We'll start with the absolute cheapest system that we would recommend for gaming, and follow that with a slightly updated system.
Budget AMD Athlon 64 754 System
Hardware
Recommended Component
Price
Processor
AMD Athlon 64 2800+ 512K 1.8 GHz (754)
127
Motherboard
Chaintech VNF-250 (754)
73
Memory
1x512MB Mushkin Basic 2.5-4-4
75
Video Card
Sapphire Radeon 9800 Pro 128 MB 256-bit
196
Hard Drive
Seagate Barracuda 80GB EIDE model 7200.7
59
Optical Drive
NEC DVD+/-RW Drive Model 3500A
72
Case and Power Supply
Athenatech A602 Black/Silver with 350W PSU
62
Display
Samsung 793DF 17 Black/Silver CRT (1280x1024@75 Hz)
139
Speakers
Use what you have
0
Keyboard and Mouse
Logitech Optical Desktop Combo
26
Bottom Line
829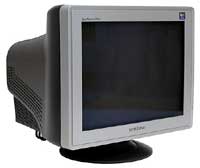 Click to enlarge.
The final price comes to a bit more than our $750 target. Unfortunately, it is difficult to get a quality gaming system without making some compromises. We don't include speakers either, on the assumption that most people will have some decent headphones or speakers already available. The same can be said of the monitor: if you already have a monitor with which you are content, you can stick with that for the time being. One nice feature of our Samsung is that it can provide a generally flicker-free 75 Hz refresh rate at its highest 1280x1024 resolution. Unless you need a complete system, those items are the prime candidates for reducing the cost to reach the $750 goal.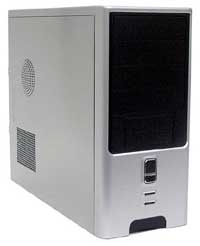 Click to enlarge.
Keyboard and mouse are a personal choice, but we have stuck with the bare minimum for the time being. We prefer Microsoft and Logitech keyboards and mice for a variety of reasons, but they are certainly not the only option; so if your opinion differs from ours, get what you like. The case was one of the more difficult items to select. We like Antec cases for their quality and overall reliability, but there are a huge number of cases from which to choose, so we wanted to give some other options. The Athenatech case comes with a generic 350W PSU, but that will suffice for this configuration. It also has a rear 120mm fan and a cooling duct that sits above the CPU, allowing the HSF to draw in fresh, cool air directly.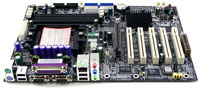 Click to enlarge.
The real core of any gaming system is not the case, speakers and monitor. Those are what others will see, and they may be important from an aesthetic point of view, but if you're only worried about games and you're on a budget, the motherboard, processor, and graphics card are where you want to spend the most money. The socket 754 platform may not have the long-term upgrade options of socket 939, but it does allow us to cut about $50 off the price without sacrificing a whole lot of performance. We have chosen the cheapest Athlon 64 available, the 2800+, which runs at 1.8 GHz. Performance in games is generally better than the Pentium 4 2.8 GHz chips, so the performance rating is deserved. The Sempron 3100+ is also an option that would save us another $20 or so, but we felt that the potential 64-bit enhancements, which should arrive in the next year or so, make it worthwhile, not to mention the larger 512K cache.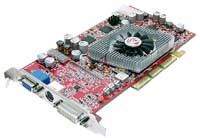 Click to enlarge.
Our choice of graphics card goes to the Radeon 9800 Pro 128 MB. It is important to emphasize that we're looking at the version with a 256-bit memory interface, so make sure you choose the correct model if you want to remain with our selection. There are "9800 Pro" cards now shipping with 128-bit interfaces, and there are also the 9800SE cards that have lower clock speeds and half of the pixel pipelines. For gaming performance, there's almost a linear scaling with the amount of money spent on your graphics card these days. So, if you are willing to turn down some details, you could go with one of the other 9800 variants or even the 9600 Pro or 9600XT, but they are likely to have some issues with upcoming games within the next year or so. For this price bracket, it is also worth mentioning that the 256 MB cards are mostly pointless unless you have a 256-bit memory interface, and that combination tends to cost quite a bit more. If the difference in price between a 128 MB and a 256 MB card is relatively small - i.e. less than $25 - then a card with more RAM might be useful. Otherwise, save your money.
The remainder of the system is pretty much what you've seen us recommend in the past. The 80GB Seagate hard drive comes with a five-year warranty and provides ample storage. Performance differences between the various hard drives really are not that great unless you really spend a lot of money. The DVD+RW drive is our Editor's Choice NEC 3500A from the recent
Fall 16X DVDR Roundup
, which provides good performance and features at a very low price. We could have gone with a cheaper optical drive instead of a DVD burner, but we prefer to have a system with CD/DVD burning capability. If you disagree, a DVD-ROM drive can be had for about $25, as can a CD-RW drive. We recommend DVD support for gaming systems, as some of the newer titles are shipping in both DVD and CD versions. Installing from one DVD is much more convenient than installing from four or more CDs, and we can only hope that more games will make the shift to DVDs. We did not include a floppy drive, but for an extra $9, you might want to toss one in just to be safe. There are still some hard drive controllers that require the use of a driver floppy in order to work with the Windows XP installation.