Setup Notes and Platform Analysis
Our review sample of the Cincoze DS-1302 came with all necessary components pre-installed - we only had to load up the OS to start our evaluation process. Prior to that, we took some time to look into the BIOS interface. It must be noted that the Xeon processor is vPro-enabled, and the Intel Management Engine BIOS Extensions can be activated to set up AMT for remote management. The main BIOS interface is a vanilla American Megatrends one. It has plenty of configuration options, given the large number of internal peripherals slots and overall flexibility. The video below presents the entire gamut of available options.
The overall high-speed I/O distribution relative to the CPU and the PCH is brought out in the diagram below.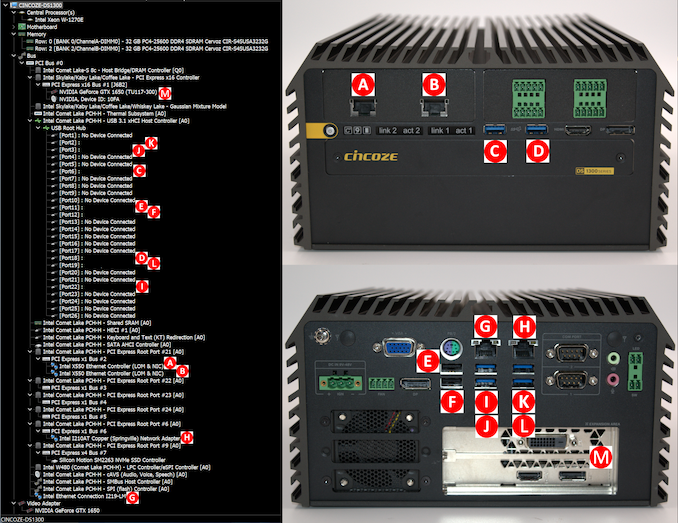 An interesting point here is the Intel X550 CMI board that apparently links to the host via a PCIe 3.0 x1 interface according to the I/O distribution. This would make the LAN ports support a maximum of 1GBps (not saturating even a single 10GbE link). We make it a point to always evaluate systems using the default BIOS configuration. It turned out that the BTB_FH2 mode selection entry in the PCH-IO configuration had to be manually updated to 1x4 instead of 4x1 (shown at timestamp 02:49 in the BIOS video). After the update, the CMI card reportedly a x4 uplink.
In today's review, we compare the Cincoze DS-1302 and the OnLogic Helix HX500. Since we recently refreshed our systems benchmark suite, the number of PCs that have been put through the paces and belonging to similar categories is minimal. Though both systems use a 8C/16T Comet Lake CPU, they are chalk and cheese otherwise in terms of graphics capabilities, cooling mechanisms, storage, etc.
Comparative PC Configurations
Aspect
Cincoze DS-1302
OnLogic Helix HX500
CPU
Intel Xeon W-1270E
Intel Core i7-10700T
GPU
Intel UHD Graphics 630
NVIDIA GeForce GTX 1650
Intel UHD 630
RAM
Cervoz CIR-S4SUSA3232G DDR4-3200 SODIMM
21-21-21-47 @ 2933 MHz
2x 32 GB
InnoDisk M4S0-AGS1O5IK DDR4-2666 SODIMM 19-19-19-43 @ 2666 MHz 2x16 GB
Storage
Cervoz Industrial Embedded Module CIE M8 T405 512GB
(512 GB; M.2 Type 2280 NVMe 1.3;)
(TLC NAND; Silicon Motion SM2263 Controller)
Transcend TS256GMTS800 (256 GB; M.2 Type 2280 SATA III; MLC NAND)
Price (in USD, when built)
$3400+
$1694
The next few sections will deal with comparative benchmarks for the above two systems.