The Micron XTR SLC NVMe SSD
The discontinuation of 3D XPoint / Optane development by both Intel and Micron has left a void in the data center SSD market. Despite its high cost, the Optane SSDs were attractive from both a performance and endurance perspective. For database-related workloads like journaling, these are important aspects.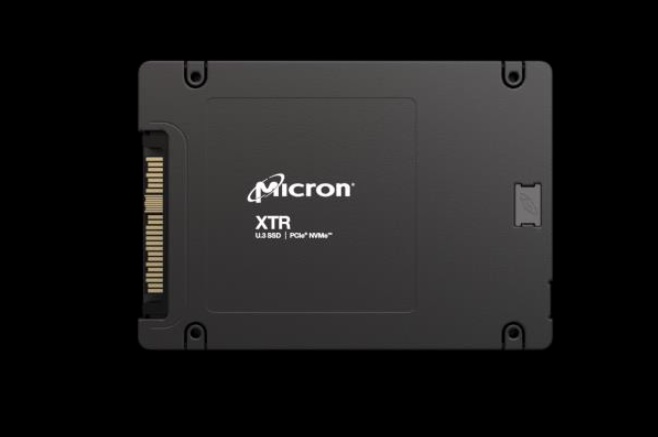 Along with the 6500 ION high-capacity TLC SSD, Micron is also launching the XTR NVMe SSD with SLC flash. While it is marketed as an alternative to Optane, it is not fundamentally a low-latency storage-class memory (SCM) option. Among its key advantages, according to Micron, are its low power consumption (up to 44% lower than the Optane P5800X), additional usable capacity (20% higher at each corresponding capacity point), and much lower pricing (20% of the equivalent Optane drive). Obviously, SLC flash endurance is not as high as Optane's, but Micron still promises 35% of the DWPD ratings of the P5800X's 100 DWPD.
Micron XTR NVMe SSD Specifications
Aspect
XTR
Form Factor
2.5" 15mm U.3
Interface, Protocol
PCIe 4.0 x4 NVMe 2.0
Capacities
960 GB
1.92 TB
3D NAND Flash
Micron 176L SLC
Sequential Performance (GB/s)
128KB Reads @ QD 128
6.8
6.8
128KB Writes @ QD 128
5.3
5.6
Random Access (IOPS)
4KB Reads @ QD 128
900K
900K
4KB Writes @ QD 128
250K
350K
Latency (Typical) (us)
4KB Reads @ QD 1
60
4KB Writes @ QD 1
15
Power Draw (Watts)
128KB Sequential Read
12.0
128KB Sequential Write
12.0
4KB Random Read
12.0
4KB Random Write
12.0
Idle
??
??
Endurance (DWPD)
100% 128KB Sequential Writes
60.0
100% 4KB Random Write
35.0
Warranty
5 years
This SLC offering makes perfect sense as a caching SSD when used along with the 6500 ION, or for write-intensive workloads involving heavy logging and journaling. Based on Micron's note about pricing relative to the P5800X Optane product, we should see the 1.92TB version come in around $600 - not entirely unreasonable for a SLC SSD. The competition in the market comes from Kioxia's FL6 series enterprise SCM SSD. Using 96L BiCS XL-FLASH, the FL6 series was introduced in 2021, and has overall better performance numbers in terms of speeds and latency. However, the Micron XTR appears to win out on the power consumption front. Given the use of 176L SLC (vs. 96L SLC in the Kioxia FL6), it is likely that the XTR has a pricing advantage also (pricing for the FL6 is not publicly available).
Concluding Remarks
Micron has completely revamped its enterprise SSD lineup over the last few years and brought in competitive offerings. With the two new products being launched today, the company is plugging the holes in its portfolio. While the Micron 6500 ION emerges as a compelling alternative to the Solidigm P5316 - the current de-facto choice for low-cost high-capacity SSDs aiming to maximize rack storage capacity, the Micron XTR is a new product that appears to be a storage-class memory (SCM) alternative at a much lower price point.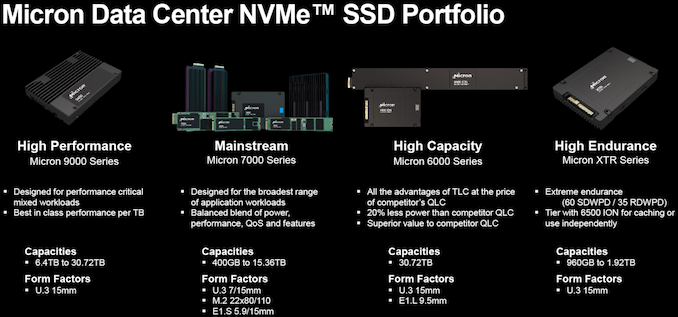 The new SSDs are already being sampled to hyperscalers, and are entering volume production towards the end of this month. Micron indicated that the drives would be available in the retail channel as well, similar to their current enterprise SSDs. Concrete pricing information was not provided. We will be taking a hands-on look at the performance of the Micron 6500 ION NVMe SSD in the coming weeks.