Feature Set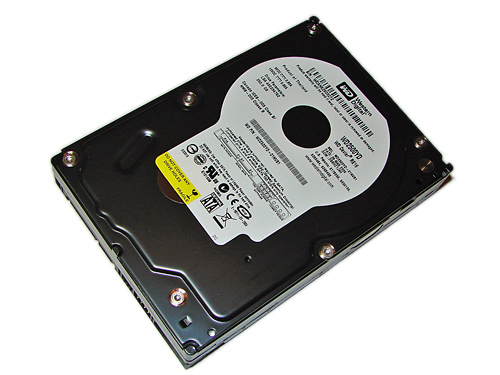 The external design of the Western Digital RE16 series is basically unchanged from the RE2 and Raptor series as it features the now familiar black casing. The drive is based on the industry standard 3.5" form factor platform with pertinent part number and warranty information embossed on a white sticker on the top of the casing.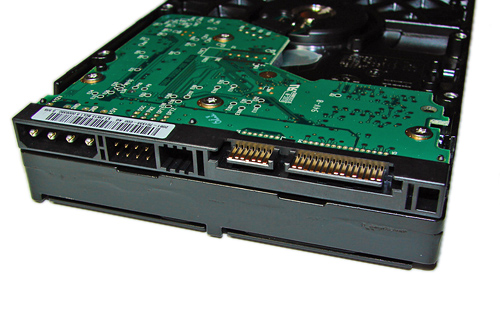 The RE16 family ships with the Serial ATA data and power connector along with a 4-pin Molex power connector designed for use with older ATX power supplies. To the left of the SATA data and power connectors is an eight-pin jumper block. This jumper block can be utilized to implement spread spectrum clocking or force SATA 1.5Gbs operation. This drive ships with SATA 3Gbs operation enabled. While this feature was advantageous for burst transfer rates in our synthetic benchmarks, overall we did not see any real improvement in our real world benchmarks.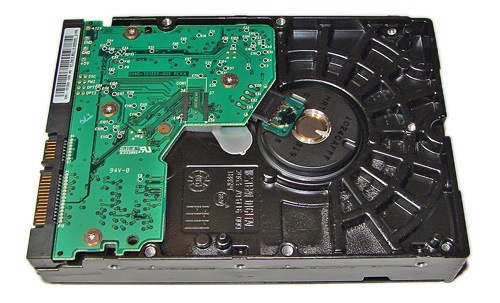 The PCB is openly visible on the bottom of the drive, and as in the previous series the 16 MB of cache memory and controller chips are located on the opposite side of the PCB. All in all, it's a very normal design; it is very difficult to make a hard drive look sexy unless you happen to have a windowed Raptor in your case.
Hardware Setup
Standard Test Bed
Playback of iPEAK Trace Files and Test Application Results
Processor:
AMD Opteron 170 utilized for all tests.
RAM:
2 x 1GB Corsair 3500LL PRO
Settings- DDR400 at (2.5-3-3-7, 1T)
OS Hard Drive:
1 x Maxtor MaXLine III 7L300S0 300GB 7200 RPM SATA (16MB Buffer)
System Platform Drivers:
NVIDIA Platform Driver - 6.85
Video Card:
1 x Asus 7600GS (PCI Express) for all tests.
Video Drivers:
NVIDIA nForce 84.21 WHQL
Optical Drive:
BenQ DW1640
Cooling:
Zalman CNPS9500
Power Supply:
OCZ GamexStream 700W
Case:
Gigabyte 3D Aurora
Operating System(s):
Windows XP Professional SP2
Motherboards:
MSI K8N Diamond Plus
We have changed our test beds to reflect changes in the current marketplace. While we wanted to change to the AMD AM2 or Intel Core 2 Duo platform, the product release schedules forced us into staying with a socket 939 based system. Based upon the continuing proliferation of dual core processors and future roadmaps from AMD and Intel signifying the end of the single core processor on the desktop in the near future we have upgraded from our AMD Athlon64 3500+ to an AMD Opteron 170. This change will also allow us to expand our real world multitasking benchmarks in the near future. We will review our test bed requirements once we have an opportunity to thoroughly test the AM2 and Intel Core 2 Duo platforms in the coming weeks.
We debated on the memory size for our iPEAK trace file creations and decided to move to 2GB of system memory. A system with a 1GB memory configuration is the predominant standard at this time in the enthusiast community although 2GB memory setups are becoming more common. While a 1GB memory installation allows us to capture and report a higher amount of disk activity in certain applications, we decided to make the switch at this time as the difference is minimal when compared to the 1GB trace files.