Dell's 22" Crystal "Artwork"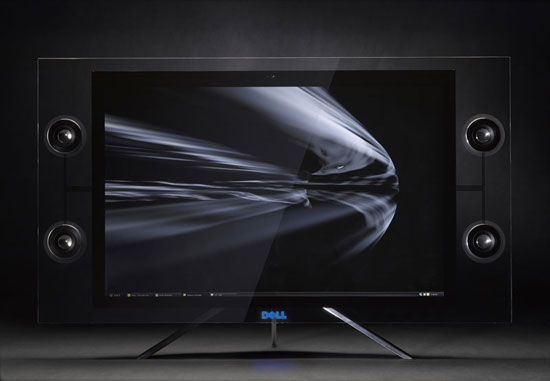 At the other end of the 22" spectrum we have the new Crystal (C22WFP) display. The LCD panel sports the same specs as the SP2208WFP, but the packaging couldn't be more different. Around the panel is a 4mm tempered glass pane, with four integrated speakers in chrome enclosures. Below the panel are five capacitive touch controls to access the OSD. Connectivity is provided by a single cable coming from the back of the display, which breaks out into HDMI (with included DVI adapter - though you would lose the functionality of the speakers if you don't use HDMI), USB, power, and subwoofer-out connectors.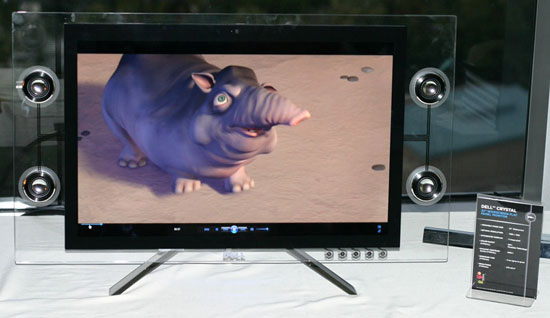 You don't have to read far into the product brochure to get sense of where Dell is going with Crystal: "Like a precious gem - ethereal and multi-faceted. A mesmerizing vision that breathes light and exudes advanced simplicity." Hyperbole? Almost certainly, but they aren't kidding about the precious gem part: the C22WFP has a current MSRP of $1199. We couldn't determine pricing for the optional subwoofer accessory mentioned in the literature either - possibly because it's not available. The bottom line is that this is a statement monitor. You buy this because it looks awesome in your corporate presentation room or sitting on your desk, or because you want people to come into your house and say, "Wow! That's a sleek looking monitor!" (Or at least think it.)
For the price, we would have liked to see a 24" S-PVA or S-IPS panel, and we're not sure there's a big enough market for this type of product. We also were unable to get a good demonstration of the audio output from the speakers; if Dell is delivering Bose Wave™ type audio from the four small speakers, we could probably overlook the pricing a bit. Then again, maybe the problem is that we're just not the target audience. The display does look quite stunning, but we're heathens (well, I am at least) that tend to go with function over form. Do you want the 27" 2707WFP or 22" Crystal C22WFP? Currently, the latter carries a higher price.