Midrange
In the realm of midrange gaming, best "bang for your buck" is the term heard most often, with users wanting the best possible gaming performance for their budget, with customization (bling) a secondary concern.
Midrange Supplier Choice: CyberPower
Of the system builders we've looked at, we feel CyberPower offers the best bang-for-your-buck scenario, especially under the elusive $1500 mark that many gamers set as a maximum price. In our look at their Xtreme XI, we found their margins were quite small, which translates into more hardware for your dollar. They also cover their systems with a 3-year warranty, lifetime 24/7 technical support, and offer a 30-day money-back guarantee with no restocking fee, which is a great option when making a purchase as a gift.
Our main criticism of CyberPower is that they have a vast array of choices on their website that change frequently, which makes it very difficult to reference a particular system. However, below is a system that we configured that's available now and offers a great mix of performance for the price.
CyberPower Core i7 "Holiday Special IV"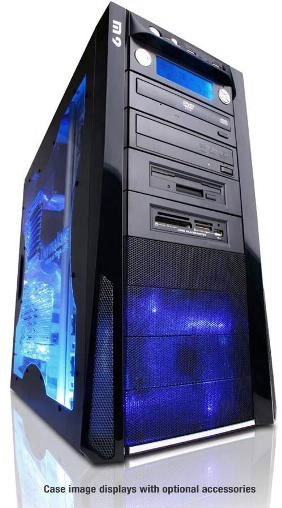 CASE: Thermaltake M9 VI1000BWS Mid-Tower Case w/ Side-panel Window
POWER SUPPLY: 800W NZXT PP800
CPU: Intel Core2 i7-920 2.66GHz 8M L3 Cache LGA1366
COOLING FAN: Cooler Master V8
MOTHERBOARD: MSI X58 Platinum Intel X58 Chipset SLI/CrossFireX Mainboard Triple-Channel DDR3/1600 SATA RAID w/ eSATA, DualGB LAN, USB2.0, IEEE1394a, and 7.1Audio
MEMORY: (Req.DDR3 Mainboard) 3GB (3x1GB) PC1333 DDR3 PC3 10666 Triple Channel Memory (Corsair or Major Brand)
VIDEO CARD: ATI Radeon HD 4850 PCI-E 16X 512MB Video Card (Major Brand Powered by ATI)
HARD DRIVE: Single Hard Drive (500GB SATA-II 3.0Gb/s 16MB Cache 7200RPM HDD)
DATA HARD DRIVE: 500GB SATA-II 3.0Gb/s 16MB Cache 7200RPM Hard Drive
OPTICAL DRIVE: (Special Price) LG 20X DVD±R/±RW + CD-R/RW DRIVE DUAL LAYER (BLACK COLOR)
INPUT DEVICES: Logitech Cordless Desktop Wave Keyboard and Mouse
FLASH READER: Internal 12-in-1
SOUND: 3D WAVE ON-BOARD 5.1 SOUND CARD
O/S: Windows Vista Home Premium 32-bit
OTHER: "Professional Wiring", Far Cry 2, Halo 2, briefcase, T-shirt, 3-year warranty, Lifetime 24/7 tech support
PRICE: $1365 with Free Shipping
System Rationale
CPU, HSF and Power Supply
The Core i7 is the latest and greatest on the block, and while there are cheaper gaming options out there, the i7-920 is well priced and provides a 1366 platform that can be upgraded in the future. The Cooler Master V8 will help keep the heat down and allow for higher overclocks if the user goes that route (and if they're comfortable with overclocking, we recommend it; there's a lot of headroom there and big performance gains to be had). And with an 800W power supply, the user will have the overhead to add a new processor or video card in the future.
Memory, HDD and Video
We stuck with 3GB of memory because we didn't feel that 6GB was worth the upgrade price at the time of configuration for the limited performance increase in most games. However, we wouldn't discourage adding more memory if it's cost effective. Likewise, we stuck with high capacity drives versus options like solid-state storage that would have pushed our price up for limited performance gains in this midrange area. The video card is a very critical choice for a gaming system, and we've chosen the ATI Radeon HD 4850 called out in our video guide. This is a great midrange card, and we felt the upgrades to any other choice were a little steep for the performance difference. There were some teething pains with i7 and ATI hardware initially, but most of those issues have been solved now, particularly for non-CrossFire setups.
Extras
Internal memory readers are always handy, the cordless keyboard and laser mouse keep the desktop free of clutter, and the games included are quality choices that will keep the recipient happy for many hours. As mentioned before, the lifetime support, warranty coverage, and 30-day "trial period" all add to peace of mind. Note that a monitor is not included, but for a total cost of a little over $1500 you can grab one of the 22" LCDs we mentioned in our display buying guide.