Windows 98 (FAT32) Performance
If all you'll be running is your standard set of Business Applications under Windows 98, the Business Winstone 99 performance comparison illustrates the relatively small difference between the fastest performing drive and the slowest performing drive. The impact on your system as a whole in applications where intensive disk usage is not dominant is barely noticeable. If you're the type of user that finds yourself running these types of programs, you're better off looking for the most inexpensive hard drive out of those presented to you, as well as the drive that offers the largest capacity for the price.
The two Ultra ATA/66 participants in the roundup, the Western Digital Caviar 20.4 and the Expert 9.1 both dominate the top of the charts in raw transfer rates. The Ultra ATA/66 specification's increased burst transfer rates aid the two contenders in improving their overall performance.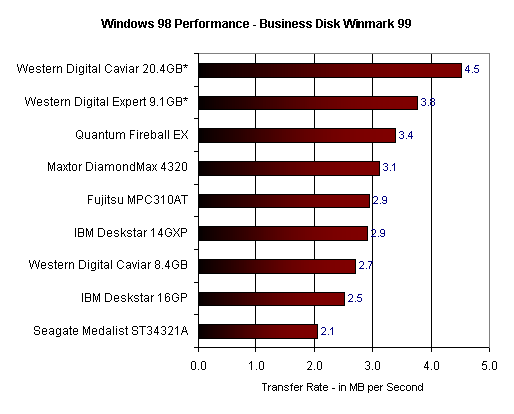 The same situation is transferred over into the High-End realm, where the Caviar 20.4 takes the quick lead over the rest of the competition, followed by a close second with the Expert 9.1. The slowest out of the bunch, as can be expected, is the aging Seagate Medalist ST34321A which can be considered the crippled veteran of this comparison.