To review or not to review: that is the question. As you might imagine, we get a lot of press releases sent our way, along with review opportunities. As the notebook reviewer, one product category I hear about on a regular basis -- from the vendors at least -- is ruggedized notebooks. For example, Getac and GammaTech both sent me press releases during the past couple weeks. This is not a category that we normally review, but I thought I would take this opportunity to ask you the readers whether or not you would be interested in seeing a review of this sort of system. There's a poll below where you can answer, and as always you can leave a comment explaining your choice.
The press releases for these sorts of systems almost read like another language, and that's saying something considering we routinely throw around acronyms and buzzwords here at AnandTech. MIL-STD 810F and IP54 standards for ruggedness? I suppose I could look up what those standards mean, but essentially they say these laptops can take a beating and withstand harsh environments without failing. I'm not even sure we're equipped to test these things properly, at least in terms of ruggedness, as pounding on a laptop until it breaks and doing so in a repeatable manner is beyond the scope of our reviews. (Maybe we could take six months and run around in Iraq or Afghanistan, then report our results?) In that sense, the reviews almost write themselves: list the various standards a laptop meets, give the spec table, and we're done. We would of course perform some standardized benchmarking, so we could find out what sort of differences there are in terms of display quality, battery life, and performance. So again, we ask: are ruggedized laptop reviews something you would like to see?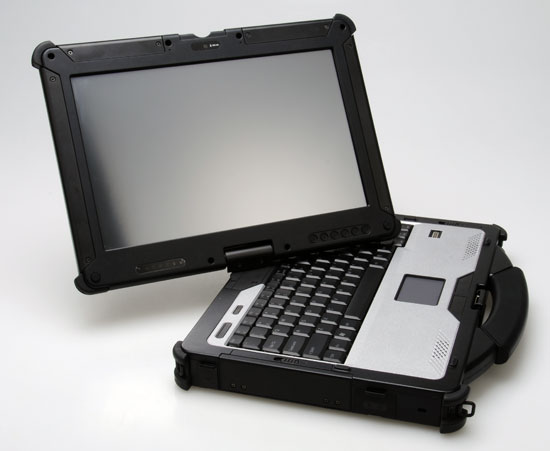 To go along with that question, here are some details about a couple recently announced ruggedized notebooks. First up we have the spec sheet from the GammaTech Durabook R13S/RTV7 (the focus is on the R13S, with the RTV7 being a tablet design).
See what we mean about the various standards for ruggedness? Outside of the rugged aspect, however, it should also be readily apparent that these are not high-performance notebooks by any stretch of the imagination. The Core 2 Duo U7500 runs at a paltry 1.06 GHz. That should still outperform the Intel Atom processors (by a pretty wide margin in some cases), and it should help with battery life, but you wouldn't want to do any CPU intensive work on such a slow system. We should also note that GammaTech appears to be first and foremost a supplier of government notebooks. Let's take a look at another company that caters more to end-users rather than large businesses/corporations/governments.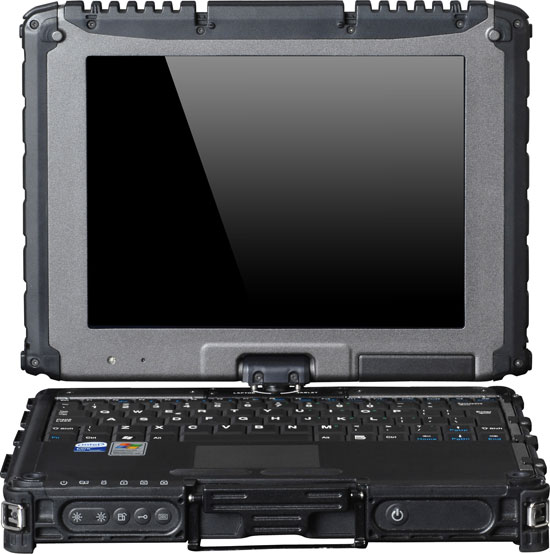 Getac specializes in ruggedized notebooks and PDAs. They've recently updated their V100, which already included some interesting features. One item that immediately jumps out as being different from any other notebook I've ever tested is the LCD, with LED backlighting rated at up to 1200 nits! As a point of reference, that's over four times brighter than the brightest notebook I've ever tested (the Dell Studio XPS 16) and over twice as bright as any desktop LCD I've tested. Brighter doesn't necessarily mean better in terms of color accuracy and contrast ratio, but if you plan on working outside (in a bright desert environment as an example), a 1200 nits LCD would almost be required. Yes, I also have to wonder what that will do to battery life.
Most of the other upgrades correspond to the availability of newer parts -- bigger hard drives, 802.11n wireless, more RAM, and a faster processor. The original V100 supported up to a U7600 (1.2GHz, 2MB shared, 533FSB, 65nm) and the new version now supports the SU9400 (1.4GHz , 3MB shared, 800FSB, 45nm). ExpressCard is also available now. The complete press release for the updated Getac V100 follows. We expect pricing to be in the realm of $3000 or more, depending on options.
---
GETAC UPGRADES ITS POPULAR V100 NOTEBOOK/TABLET PC WITH SEVEN NEW PERFORMANCE ENHANCING FEATURES

Extra Memory, Storage, and Communications Upgrades Adds Performance to Fully-Rugged Mobile PC with Super Bright 1200 NITS LED Display
LAKE FOREST, CA. June 2, 2009 -- Getac Inc., a leading innovator and manufacturer of rugged computers that meet the demands of field-based applications, is upgrading its popular V100 fully rugged convertible with seven new features. The latest enhancements to Getac's V100 fully rugged convertible include processor and memory upgrades, greater storage capacities and enhanced bandwidth and wireless capabilities.
"The V100 fully rugged convertible has been very popular because of its advanced feature set and super bright 1200 NITs screen," said Jim Rimay, president, Getac, Inc. "With better performance, memory, storage and wireless capabilities, the new Getac V100 is more advanced and flexible as ever and even better suited for mobile field workers and users of rugged notebook PCs."
The new performance enhancing features include a processor upgrade from 1.2 GHz Intel Merom to 1.4 GHz Intel Penryn. The front side bus has been increased from 533 MHz to 800 MHz; and the 2MB L2 cache has been increased to 3MB. Memory on the V100's RAM has increased from 2GB to 4GB. Storage capacities have been increased from a minimum HDD of 120GB to a minimum of 160GB and a maximum capacity increase from 250GB to 320GB. In addition, the computer's wireless networking capabilities have been upgraded to include draft 802.11n and the V100 now offers an ExpressCard slot in the standard configuration.
In addition, the Getac V100 has been UL 1604 certified by Underwriters Laboratories, an independent lab that tests products to ensure public safety. The optional UL 1604 certification allows safe, spark-free use of the V100 in potentially explosive environments typically found in the oil and gas, petrochemical, aviation and other industries.
The transformable Getac V100 features a swiveling LED screen for the ultimate in portability. It also features a Magnesium Alloy design, shock mounted hard disk drive and sealed I/O caps and doors to prevent damage from solid particles. Although it weighs a mere 4.9 pounds, the V100 is rough-and-tumble enough to withstand even the harshest working environments. It is fully compliant with MIL-STD 810F and IP54 standards for ruggedness including the ability to withstand heavy rain, airborne dust and debris. For further protection, the convertible notebook/tablet PC has a removable hard drive that is shielded by a special mechanism to prevent damage during operation; anti vibration compounds, which serve as a shock absorber during transport; and an anti-shock housing to further protect it if bumped or dropped.
The V100 also offers its Sunlight Readable Technology and can be upgraded to an industry-leading super-bright 1,200 NITs display, which provides unmatched outdoor viewability and screen brightness while decreasing reflectivity thus preserving battery life. Combined with an active anti-reflective process based on circular polarization to absorb reflective light, the V100's Sunlight Readable Technology enables viewability that is more than six times better* than competing solutions and creates a mercury-free solution. Other features include 10/100/1000 Ethernet, integrated GPS and Bluetooth. It also features a waterproof keyboard and an SD card slot.
---
Okay, on to the poll that I mentioned earlier. There are two questions I want to ask, and they are not necessarily related. The first deals with ruggedized notebooks and whether you would like to see us review such a system (or systems). The second question deals more with laptops/notebooks in general. I'd just like to know specifically what type of laptops you are most interested in seeing us review, including ruggedized notebooks as an option. As always, feel free to leave a comment explaining your choices, particularly if our options don't exactly match what you're thinking.
{poll 132:575}