In recent years, Acer has been doing an admirable job of condensing respectable hardware into affordable machines. Each successive generation, Acer has usually had one or two solid notebooks that were able to squeeze a decent gaming GPU into a reasonable price tag, and with the Aspire 5740-6979, that trend continues. Today we're able to take a look at a machine that features Intel's still relatively young Core i5 paired with – and this is the particularly compelling part – AMD's new mobile DirectX 11-class hardware.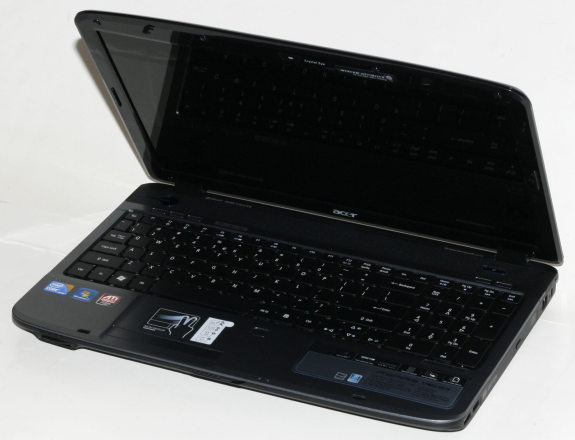 Click to enlarge
Acer offers a wide variety of machines – all direct to retail – in their Aspire 5740 lineup, but the 6979 is one of only two models available off of Newegg. The other model, the 6395, trades up the processor to a 2.4 GHz model and raises the price from the 6979's $799 to $849 while reducing hard drive capacity by 180GB. Note that Buy.com and Provantage both list a price of $749, though it's out of stock at Buy.com and shows as a "special order" (i.e. ships from the manufacturer) for Provantage. If you're not in a rush, you could potentially save $50, but Newegg is otherwise a safe bet. Frankly, the 6979 we received for review should be the more attractive of the two: the modest bump in clock speed on the CPU isn't worth an extra $50 on the price tag and a loss of hard drive capacity.
Acer Aspire 5740G-6979 Specifications
Processor
Intel Core i5 430M
(2x2.26GHz, 32nm, 3MB L3, Turbo to 2.53GHz, 35W)
Chipset
Intel HM55
Memory
2x2GB DDR3-1066 (Max 2x4GB)
Graphics
ATI Mobility Radeon HD 5650 1GB GDDR3
(400 SPs, 550/1.5GHz Core/RAM clocks)
Display
15.6" LED Glossy 16:9 768p (1366x768)
Hard Drive(s)
500GB 5400RPM HDD
Optical Drive
8x DVDR SuperMulti
Networking
Gigabit Ethernet
Atheros AR5B93 802.11n
V.92 56K Modem
Audio
HD Audio (2 stereo speakers with line-in, mic and headphone jacks)
Capable of 5.1 digital output
Battery
6-Cell, 12V, 46Wh battery
"Up to 3 Hours"
Front Side
Memory Card Reader (SD/MMC)
Left Side
AC Power Connection
Ethernet
HDMI
VGA
2 x USB 2.0
Line-in Jack
Mic Jack
Headphone Jack
Right Side
2x USB 2.0
Optical Drive (DVDRW)
Modem Jack
Kensington Lock
Back Side
Exhaust vent
Operating System
Windows 7 Home Premium 64-bit
Dimensions
15.1" x 9.9" x 1.03-1.5" (WxDxH)
Weight
6.16 lbs (with 6-cell battery)
Extras
Webcam
103-Key keyboard with 10-key
Flash reader (MMC/MS/MSPro/SD)
Warranty
1-year basic warranty
Pricing
$748 Online
$799 from NewEgg
Digging in, we find that Acer's Aspire 5740-6979 is remarkably powerful for a notebook in its price range. The Intel Core i5 430M may be the slowest in Intel's mobile i5 lineup, but at 2.26 GHz (with a Turbo Boost speed of 2.53 GHz) and based on Intel's efficient Nehalem architecture it's still an extremely potent chip. Like the rest of the mobile Core i5's, it comes equipped with 3MB of L3 cache. Filling out the other side of the unit's double whammy is the AMD Mobility Radeon HD 5650 with a full 1GB of GDDR3 video memory. This should be the really interesting part: while the 5650 is the slowest of AMD's DirectX 11-class mobile GPUs before we get into the 80-shader 5400 series, it's still a robust part sporting higher specifications than last generation's Mobility Radeon HD 4670, a powerful mobile graphics processor in its own right. At a core clock of 550 MHz and running its GDDR3 at an effective 1.5 GHz on a 128-bit bus, the 5650 packed into the Aspire is basically a desktop Radeon HD 5570 running at reduced clocks. Despite the reduction, though, it still packs 400 shader processors, 20 TMUs, and 8 ROPs, which should be ample for the Aspire's 768p screen.
Unfortunately that performance comes at a cost, and that cost is battery life. The Aspire offers no way to switch to the integrated graphics built into the Core i5 430M, and while this feature would've added cost and complexity to the build of the Aspire 5740, it also highlights a feature NVIDIA has that AMD doesn't. NVIDIA's Optimus switchable-graphics technology makes a very convincing case for choosing a notebook with NVIDIA graphics, because while a notebook with a modern, Optimus-ready GeForce can easily switch back to integrated graphics and completely shut down the dedicated GPU to save power, AMD's Mobility Radeons are forced to rely on their own power-saving measures to preserve battery life. The 5000 series Radeons may be very efficient chips, but the best mode for conserving power is always going to be "off."
The rest of the Aspire 5740 is less exciting but still healthy and modern. Acer packs the unit with 4GB of DDR3-1066 memory in two DIMMs (upgradeable to 8GB if you're willing to sacrifice the existing two sticks to the Gods of Online Auction Houses), a meaty 500GB hard drive running at 5400 RPM, and a DVD+/-RW drive. Networking options are short only Bluetooth (kind of a shame, really): Acer includes an Atheros 802.11n wireless networking adapter, a gigabit Ethernet port, and even a 56K modem (some people still fax out resumes.) To top it all off, there's a 1.3-megapixel webcam integrated into the screen bezel, right where you'd expect it.
If the hardware included in the Aspire 5740 is awesome for the price, the build of the machine is going to be where Acer cut corners. It's solid, sure, but the style is bulbous and bulky, and the plastic feels cheap. Connectivity is bog standard, and just as with the Dell Inspiron 15 review, we're disappointed with the lack of FireWire and eSATA connectivity. While the Radeon in the Aspire suggests what purpose the unit is meant to serve, it's a shame not to have included connectivity for media enthusiasts. Four USB 2.0 ports are all well and good for quantity, but you're still going to be backing up a 500GB hard drive at about 30MB/sec tops. And again, unfortunately like Dell, Acer omitted the ExpressCard port, thus preventing the user from expanding the unit's connectivity.