3dsmax 9 - SPECapc 3dsmax CPU Rendering Test
Today's desktop processors are more than fast enough to do professional level 3D rendering at home. To look at performance under 3dsmax we ran the SPECapc 3dsmax 8 benchmark (only the CPU rendering tests) under 3dsmax 9 SP1. The results reported are the rendering composite scores.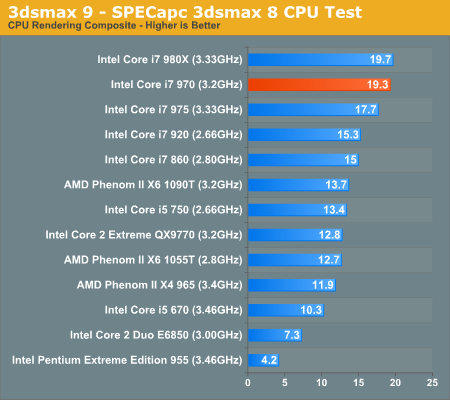 You get 9% better performance than a Core i7 975 and 98% of the performance of the 980X. Not too shabby, but then again you're not saving a ton of money by comparison. The Core i7 970 still costs roughly $900.
Cinebench R10
Created by the Cinema 4D folks we have Cinebench, a popular 3D rendering benchmark that gives us both single and multi-threaded 3D rendering results.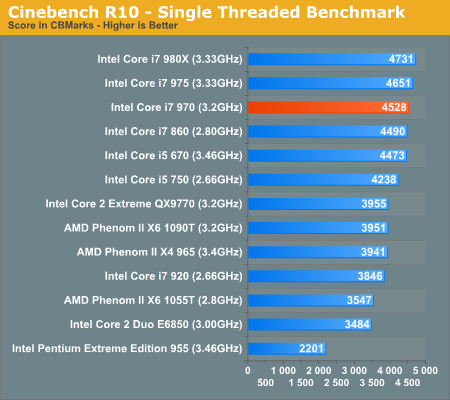 Single threaded performance is very competitive, which is due entirely to Intel's well architected turbo modes. You get a 6-core processor that can act like the fastest single-core CPU on the planet if needed.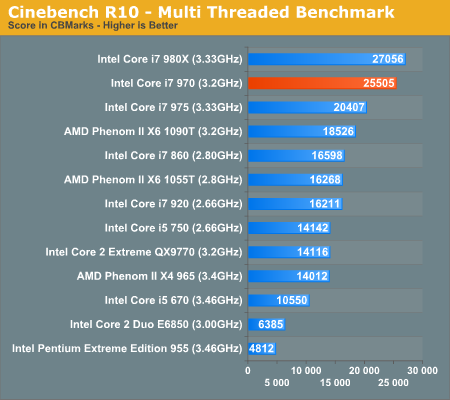 POV-Ray 3.73 beta 23 Ray Tracing Performance
POV-Ray is a popular, open-source raytracing application that also doubles as a great tool to measure CPU floating point performance.
I ran the SMP benchmark in beta 23 of POV-Ray 3.73. The numbers reported are the final score in pixels per second.