Network Storage Products:

At the CES press conference, it was announced that the RNDU2000, the 2 bay ReadyNAS unit based on the Intel Atom processor had obtained the 'Innovations Design and Engineering Award'. The interesting aspect in this product from my perspective is the integration of the Orb add-on to enable the NAS to serve media in a faster and more efficient manner. At first glance, it looks like some sort of transcoding engine, and we are very keen to evaluate how it performs when running on the Atom processor.

NeoTV 550: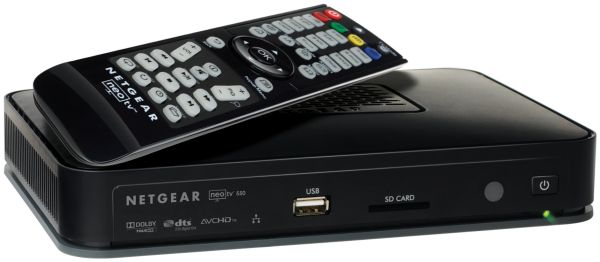 This is probably the most anticipated section for many readers. I have both good news and bad news regarding the product. First off, the good news:
I saw Netflix working on the NTV 550 in the demo at their suite today. The firmware is ready, but not loaded onto the review unit that has been provided to me yet. It is being sent to Netflix for certification next week, and the process apparently takes three weeks. By the end of January, Netflix should be up and running for everyone barring unforeseen circumstances. AceTrax for the EU/UK market is also under active consideration, but no timeframe was provided.
Zixi (ZVOS) will offer users with a better streaming experience, but only for local media streaming currently. The ZVOS ensures that there is a special handshake between the source and the sink to ensure faster startup time and minimal intermediate buffering delays. As evident, Zixi requires support at the source end too. This is available only on the WNDR3800 currently. There is no plan to get this onto other routers in Netgear's lineup because of the horsepower needed to run the ZVOS.
BDA certification is still being pursued. Commercial Blu-Rays can be played from both USB and eSATA drives without any special hacks soon.
Photo browsing speed / Ogg / Vorbis issues are going to be fixed in an firmware along with a host of other issues coming later this month, as per the PM.
Netgear is trying to explore the possibility of having some developers interact with the end-users on non-official forums like AVSForums
Now, for the bad news:
Cinavia is being planned for inclusion in the NeoTV 550 in an upcoming firmware update (There is no Cinavia implementation in the NTV550 right now). However, I indicated that AACS LA / BDA compliant software players (and in fact, many hardware Blu-Ray players) do not support Cinavia as it doesn't seem to be mandatory at present. Netgear indicated that it didn't want to be involved in any legal proceedings related to this, but promised to go over the legal agreement with the AACS LA / BDA once more. Pursuant to this, I also gave them a solution which woould continue to keep all users happy while also implementing Cinavia. It is going to be personally interesting for me to see whether they are going to act upon that idea further. (The details will have to remain secret till I see what Netgear decides to do with this new DRM mechanism).

In parting, I also looked at Netgear's vision of a connected home in the future using Sigma's Z-Wave technology for home control automation. It was quite futuristic and added Netgear's own twist to the demo I had seen at Sigma Designs last year. The non-availability of a launch date or any concrete products based on this was a dampener of sorts.
All said, the whole Netgear experience was exciting enough from a consumer perspective to be the subject of my first CES 2011 piece.
UPDATE: Netgear clarified their stance on Cinavia, stating that they will not include Cinavia support till Sigma includes it in the SMP 8642 SDK. They also indicated that users would be forewarned about any firmware including support for Cinavia. Firmware updates for the NeoTV 550 are not mandatory, and it is in fact possible for a user to disable checks for firmware updates in the settings.