Sparrow just wants things to be simple, and to that end you don't have to dig deep to find most of the program's advanced preferences. There are a few simple sort options – Inbox view is the default, but you can also choose to view your Priority Inbox or your unread messages, and you can also view messages by label or folder. You can label individual emails or move them to folders, though you'll have to dig into your account settings a bit to actually create a folder or label.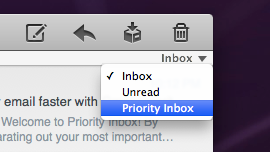 Also buried in the account settings: the ability to create account signatures, setup aliases for your different accounts, and configure keyboard shortcuts – you can set your own for showing and hiding the program, and you can also tell Sparrow just to use Gmail's default keyboard shortcuts.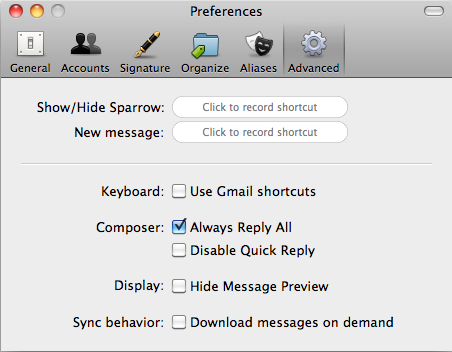 Setting up a Gmail account is seamless and automatic, since Sparrow was built with that service in mind, but setting up any old IMAP account is as easy as putting in the proper server addresses and ports, same as any email client.
Once you've setup your IMAP account, it behaves almost exactly as does a Gmail account – labels are turned to folders, but you get your message stars and your conversation view and the nice, simplified interface. Depending on how awful your email account's web client is, Sparrow could breathe some fresh air into it. By the same token, though, people who are already put off by Gmail's movement away from a traditional folder structure probably won't find Sparrow to help much, since your folders are buried a bit by default in standard IMAP mode.
One substantial difference between a Gmail account and an IMAP account: adding a label to a Gmail message will add the label to the message but leave it in the Inbox view, same as Gmail. Moving a message to an IMAP folder, however, makes the message disappear from the Inbox view. It's not that hard to wrap your head around, but could take some getting used to depending on how familiar you are with the way Gmail labels work - for new Gmail users coming from other email systems, labels can often be one of the trickier concepts to grasp.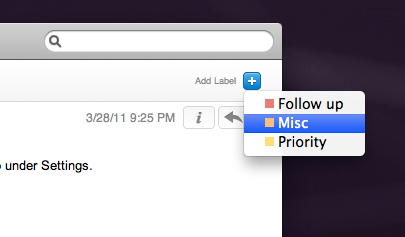 Adding a label to a message in a Gmail account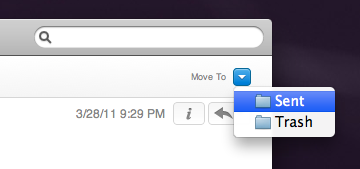 Moving a message to a folder in a standard IMAP account
I like Sparrow a lot, but it's going to appeal to a very specific set of users: heavy Gmail-centric email users with multiple accounts who need something that just gets you your email and then gets out of the way. For users who rely on feature-rich clients like Outlook, it may be a bit too streamlined; for current users of more traditional clients like Thunderbird and Apple Mail, it may be a bit too different. For myself, though, I can say that it presents a pretty good compromise between features and minimalism - it's easily the only email client I prefer to Gmail's web client.
Sparrow is available in several flavors: On the Mac App Store, the full version of Sparrow is available for $9.99. You can also download Sparrow Lite for free - this version, which only supports one account, is ad-supported and also inserts and mandatory "sent with Sparrow" tag in your signature. OS X 10.5 users without the App Store can download Sparrow from its Web site.