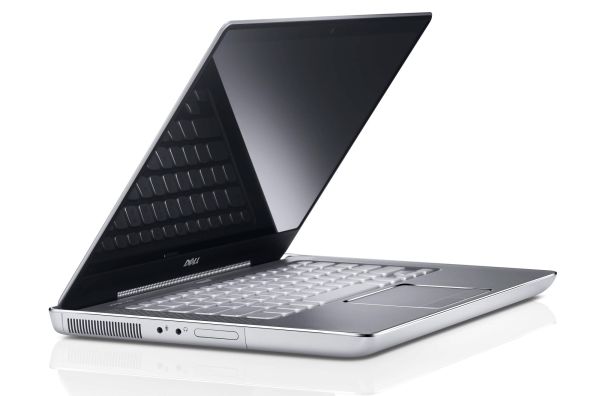 We did a thorough review of the base model Dell XPS 14z last week for the official announcement, and starting today the XPS 14z is available for ordering. At 0.9" thick, the 14z flirts with ultrabook sizes but comes equipped with a much larger 8-cell 58Wh battery and an optical drive. For those that want battery life and still need an optical drive, the added girth relative to ultrabooks is unlikely to matter much. We measured peak battery life of over seven hours, with over five hours of useable (e.g. web surfing) mobility and four hours of H.264 video playback.
For casual users, the $1000 base model should be sufficient. It comes equipped with a Core i5-2430M, 6GB RAM, a 500GB 7200RPM hard drive, and the usual assortment of ports and other features (e.g. USB 3.0, webcam, wireless networking, etc.) If you'd like a little more oomph in the graphics department, the $1200 model adds a GeForce GT 520M and increases the RAM and HDD to 8GB and 750GB, respectively. Add another $100 and you upgrade the CPU to the i7-2640M, which should boost CPU performance by 17% (in both base speed and maximum Turbo Boost). Or at the top-end you can get all of the above and swap out the HDD for a 256GB SSD for a final cost of $1600.
Where the XPS 14z fails to impress is in its LCD, a 1366x768 run-of-the-mill offering that does nothing to stand out from the crowd of basic 14" laptop displays. In fact, it has one of the lowest contrast ratios we've measured in the past two years. That's a shame, as there's otherwise plenty to like with the core 14z design, including a thin bezel on the sides that allows Dell to fit a 14" LCD into a chassis size typically used with 13.3" LCDs.
Source: Dell Marketing