I've always been a huge fan of apps that live in the OS X menu bar because they provide status updates, system information and quick access to program functions. These apps are popular becuse they pack a lot of functionality without taking up a lot of space.
iStat menus, is an excellent example of an app that provides a plethora of system information quickly and efficiently; apps like SkipTunes let you conveniently control your music without cluttering your desktop, right from the menu bar. So last week, I came across this new app for OS X called CloudPlay, developed by Amir Malik (check out his other projects here), which totally blew me away.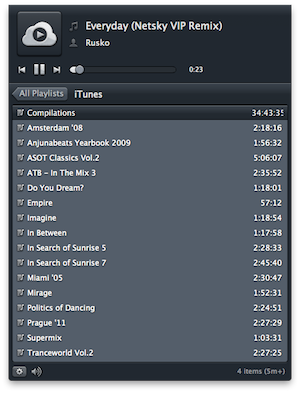 We've all been to house parties; there's always a laptop, and its almost always playing music from YouTube or Soundcloud or some other music streaming service. But sometimes it's cumbersome to search for music on the internet with so many diferent websites. This is where CloudPlay comes to the rescue; it's an absolute godsend if you listen to music from a lot of different sources.
With CloudPlay, you can search for any song, across multiple sources and play it almost instantaneously. Its searches across popular sources such as YouTube, Soundcloud and also across some not-so-well known places such as ex.fm, Jamendo, BandSoup and Official.fm. In addition, you can also listen to livestreams from online radio stations as well. It goes without saying that it searches your iTunes library too.
Even if you have a subscription to a music streaming service like Spotify, depending on your location, there's always a few songs that you'll never find; and CloudPlay is a lightning fast way to look them up and start listening. There's also support for keyboard shortcuts and ability to create playlists from within the app. CloudPlay has has a clean, resizeable UI that doesn't take up too much space. It also supports the Retina display on the new MacBook Pros.
CloudPlay is currently in a free beta and available for OS X 10.7+ until it hits the Mac App Store in the near future. Hit up the link below to try it out for yourself.
Source: CloudPlay for OS X