Assembling the SilverStone Sugo SG09
Part of the "joy" of reviewing small form factor cases is just how much of a royal pain in the neck they can be to put together. In trying to cram all of this hardware into such a small space, elbow room is generally the first thing to go. So while the SG09 supports tower coolers and full-length video cards, other spaces are decidedly much more cramped.
That said, SilverStone was still remarkably considerate when it comes to assembly. Motherboard standoffs are already built into the tray, but you do have to remove the sliding power supply bracket in order to fit a Micro-ATX board in. When you do, you'll also find that the AUX 12V line is going to be much harder to connect than usual, and two of the innermost mounting screws may be next to impossible to actually install. The problem is the close proximity of the 120mm and 180mm fans, a tradeoff made for what you'll see is pretty superior cooling performance.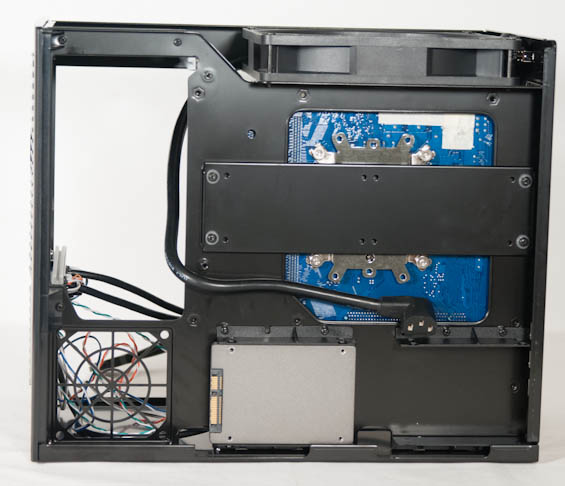 Drives are mounted into the SG09 using three removable trays behind the motherboard. The topmost one is for mounting two 3.5" drives side by side, and the top 180mm fan actually overhangs this side of the tray just enough to get some cool air flowing. Unfortunately the 3.5" drives are bottom mounted, taking our standard Corsair Link kit out of the running. Meanwhile, just beneath them are four plastic brackets for mounting four 2.5" drives, stacked on top of each other. Finally, slimline optical drives are installed by attaching a mounting bracket included with the case to the drive, then attaching that bracket to the case itself.
Getting the power supply into the case is actually a pretty easy affair. You attach it to the sliding, removable power supply cage, then slide it back in, screw in the cage, and connect the routing cable. For testing I opted to orient the power supply's intake to the front of the case instead of the interior, as this isolates the power supply from the rest of the components while still allowing it to receive fresh air. This also prevents it from competing with the tower cooler for intake air. Installing expansion cards is also simple; there's a covered bracket (I do hate these even though I understand why they exist) that has to be removed, then the ventilated expansion slot covers come out.
Where things generally go to hell with small case designs is cabling, but SilverStone has actually done a reasonably good job allowing for this. The nature of the layout basically forces you to route cables intelligently; there's simply nowhere else to put them. Again, a modular power supply is pretty much essential, especially if you're planning on utilizing 3.5" drives. I do think they could've tried to allow at least a little more space at the top for squeezing all those cables through, though.
Unfortunately, putting the panels back on the SG09 is an exercise in frustration of the very highest order. What SilverStone needed to do was split the wraparound panel to handle just the motherboard and fan side and then make a separate panel for the side behind the motherboard tray. Though SilverStone does allow for a decent amount of space for cabling, it still isn't quite enough, and I had to struggle a lot to get the panel to fit correctly.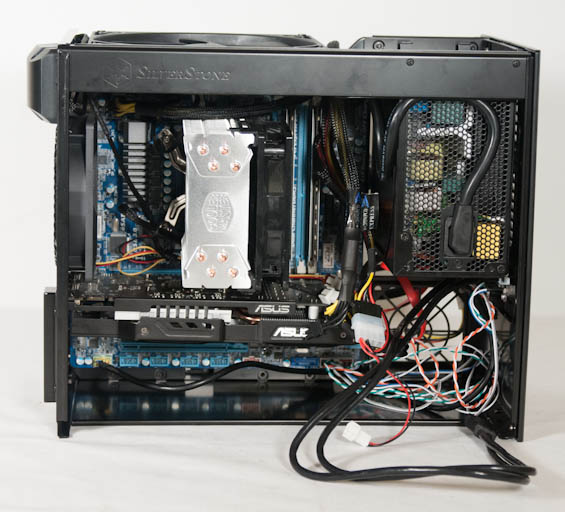 There are some design elements that I think are really strong, and then there are some that obviously need work. As I mentioned, the panels need to be split even if it increases complexity a bit, and the single 80mm fan mount seems superfluous and can probably be cut entirely, possibly in favor of using that real estate to mount one or two 3.5" drives laterally. The brackets for mounting the 2.5" drives also seem to be placed too low and you'll be struggling trying to get them installed again. An extra couple of millimeters would make all the difference, even if it meant shrinking the opening for the cooler backplate slightly.
With all that said, though, it's impressive how much you can actually cram into the SG09. I was able to fit our standard case testbed in without any real trouble. Better still, there's potential here for some really stellar performance.