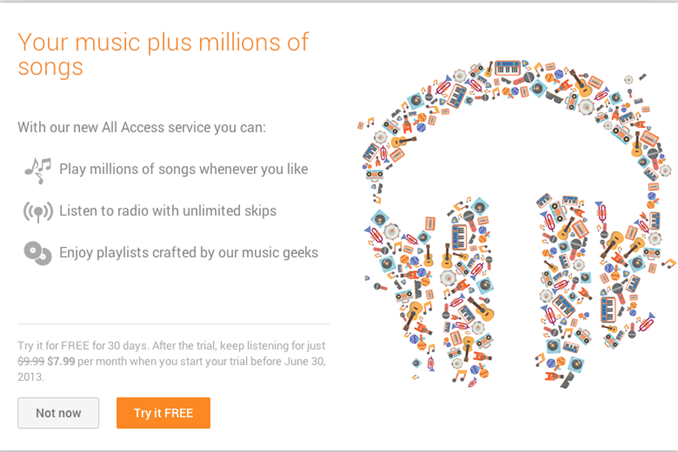 Google's Chris Yerga took the stage this morning at the company's sixth annual I/O Conference to announce Google's own flavor of a subscription-based music service called Google Play Music All Access. All Access promises to leverage Google's deep understanding of your preferences, listening habits and social circles to deliver a highly tailored music discovery experience.
Google aims to one up the competition by enabling users to get to their own and potentially new music (that they'll hopefully like) as quickly and intuitively as possible. Google showed off a brief demo of the app running on Android, but the service can be accessed via a traditional web-based interface as well. The orange and white colored UI was slick and aesthetically pleasing, allowing users to instantly queue up songs and listen to personalized radio stations. The demo did however leave a lot of unanswered questions such as mobile cross-platform compatibility, support for traditional desktop operating systems and other features such as offline syncing, but we can definitely expect tight integration across all of Google's services, especially Google+.
Google Play Music All Access launches today in the United States for $9.99/month, with the promise of a gradual international rollout. There's also a 30-day free trial and users that sign up before 30 June 2013 get a discounted rate of $7.99/month. It is unclear whether this is a lifetime or a limited time offer, but Google's been known to be notoriously generous in the past, so we can always hope.
Although the subscription-based music streaming market is by no means nascent with heavyweights like Spotify and Rdio, Google's undoubtedly beaten Apple to the punch here, which is long rumored to be developing its own subscription-based music service, presumably for launch later this year.
For the time being though, if you are in the US, head on over to Google Music and try All Access out for yourself.