Gigabyte is a company that is attempting to diversify. The graphics division is almost a different company altogether within the corporate structure, where perhaps synergy between other areas could be improved upon. The Gigabyte GPU range has been known in recent generations with their Windforce coolers, and for Computex we saw the next evolution of Windforce which removes the fans on the top of the GPU and puts larger fans on the GPU Cooler.
Gigabyte is also stepping more and more into the mobile space, and while I personally see very few Gigabyte mobile devices out and about, the product stack at Gigabyte is diversifying – I was told that Gigabyte is moving more into making their own models rather than relabeling OEM versions, which can only be a good thing by putting some expertise in the PC market to good use. Several models around the suite caught my eye: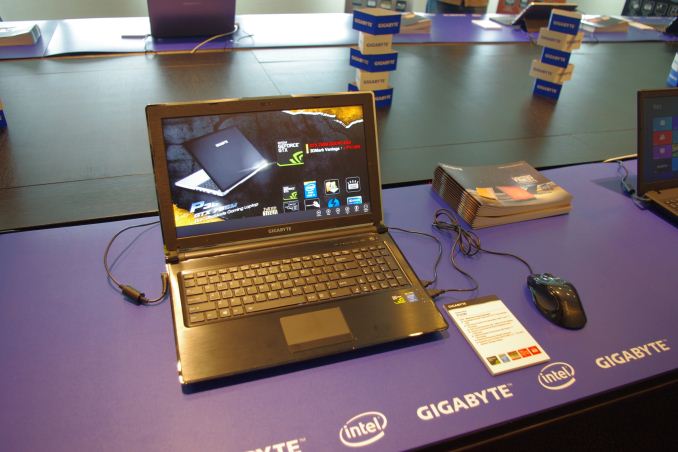 First up is the P25W, a 15.6" Haswell laptop with a GTX 770M, full 1080p and support for two 2.5" SSDs and an mSATA for caching or RAID.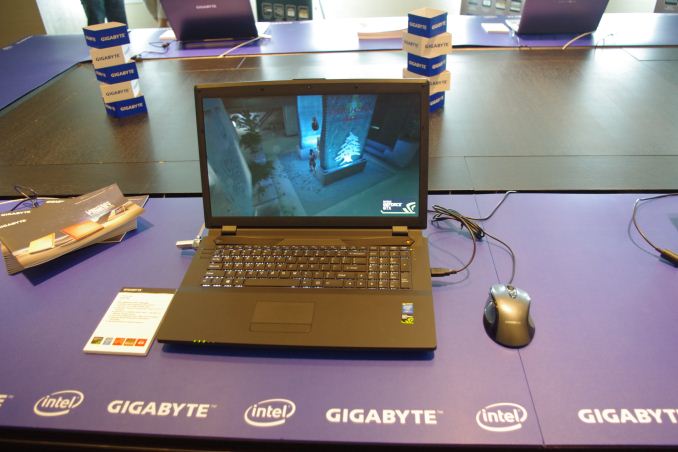 The P27K is the 17" variant of a similar build, but with a GTX 765M. Both feature backlit keyboards and NVIDIA Optimus, and will weigh in at almost 3 kg.
Gigabyte also had on show a 'Power Slate', which is essentially a Windows 8 tablet with adjoining keyboard but with a 256GB SSD / 500 GB HDD storage. Both Intel and AMD variants were listed, with IO and connectivity ports part of the tablet.
The Future
For our coverage this week Gigabyte have a few more places for us to explore. At the weekend Gigabyte have an overclocking event back at HQ planned for some of the world's top overclockers which we will be covering, interviewing their chief in-house overclocker HiCookie and investigating at their new 'Gigabyte OC Lab'. We also have lined up an interview or two with a couple of people who make the important decisions, involving Senior R&D and/or Sales. As with most companies, the sales department tells R&D what the customers want, and R&D discuss what is actually possible. Also marketing is also dealing with end users and media such as AnandTech, asking what we think about all the products – it becomes a push from all sides as to what gets into the products in the end. But AnandTech is being given the opportunity to talk to the senior staff, so watch this space.
Image Gallery